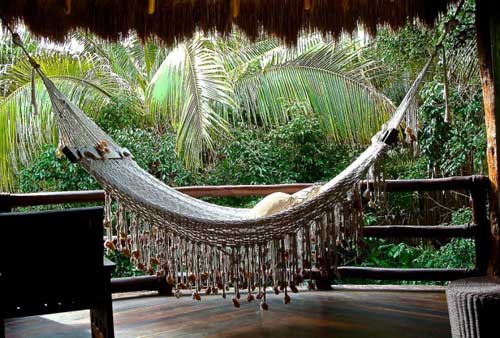 Riviera Maya, which parallels the Caribbean coastline of the Mexican state of Quintana Roo, is located on the eastern portion of the Yucatán Peninsula and starts at the city of Playa del Carmen and ends at the village of Tulum.
I'm headed there to check out the oh-la-la Viceroy Riviera Maya (all photos are of the resort) with three travel bloggers from the UK and two other U.S. travel bloggers. And I'm glad I'm going now, as very soon that whole Mayan calendar end-of-the-world is slated for this year. But, I'm staying in the present and enjoying all the Mayan magic while it lasts.
Here are some of the highlights I'm thrilled to be a part of, which I'm sure you'll hear more about in the posts to come:
October 1st
Coba – We'll be biking through trails in the jungle then climbing the tallest pyramid of the Yucatan Peninsula. Afterwards, to cool off, I'll be throwing myself into the turquoise-colored ocean nearby.
Tzolkin Spa Treatment – Tzolkin means the count of days. The ritual, in the middle of the jungle, starts with a cleansing of energy using healing herbs such as basil, rosemary and rue and finishes with mud bath. If the end of the world happens on Dec 21st as the Mayan calender predicts, I'll be ready.
Ceviche & Tequila Tasting – I will sit at the tequilier's (like a sommelier of tequila) feet as they expound on the glories of Mexico's liquid gold and how it pairs with a variety of ceviches.
October 2nd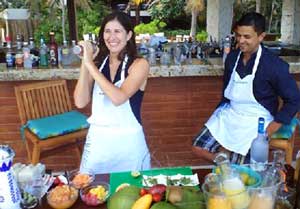 Snorkeling – Hope to spot some sharks, followed by a Mexican cuisine cooking class.
Mixology Class – Viceroy has just rolled out a new mixology class and I'm looking forward to picking up some new cocktail-making tips.
Street Food Dinner – Will be going to Antojería or "a place of little cravings" to feast on some traditional Mexican "street food" in an authentic market setting. Dishes like "Carnitas" (pork), "mixiote" (lamb cooked in agave leaf), "chalupitas and sopes" (corn dough filled with beans and salsa) and "marquesitas" (crisp crepe filled with Gouda cheese). Wanderfood Lauren, why on earth aren't you coming with me for this one?
October 3rd
Touring Tulum – My girlfriend, who has been to the sleepy village of Tulum dozens of times, says there is some kind of unexplained spirituality in Tulum. Looking forward to tapping into it in Tulum.
Cenote Swim – Taking a swim in the healing powers of a cenote. No clue what a cenote is? I didn't either. A cenote is a deep water-filled sinkhole in limestone that is created when the roof of an underground cavern collapses, thus creating a natural pool filled by rain and underground rivers. Mayans held cenotes sacred. They believed they were passages to the underworld. I'll let you know if anything spooky happens.
Temazcal Purification Ceremony –  I could use some cleansing about now, via steam and healing herbs in a mortar and stone hut symbolizing a mother's womb. The ceremony incorporates all four natural elements:
Water—symbolizing blood, fluids and emotions
Earth—the body and physical matter represented by the Temazcal (hut) itself
Air—aromatic steam as life's energy and breath
Fire—the embodiment of the spirit through hot volcanic stone
October 4th – Return to reality… but lucky for me, I have a late afternoon flight out so I can spend a wee bit more time in the jungle hut with the outdoor shower and hot tub.
¡Ay, caramba!
I invite you to join me on the UK/US blogger adventures in Riviera Maya, Mexico by liking Viceroy Riviera Maya's facebook and following along on Twitter/Travel Blogs here:
UK Travel Bloggers
Ian Mallory – @MalloryonTravel / MalloryonTravel
Isabelle Kenis – @IsabellesTravel / IsabellesTravelGuide
Abi King – @InsideTravelLab / InsidetheTravelLab
Viceroy Riviera Maya – @ViceroyRM

US Travel Bloggers

Beth Blair – @BethBlair / BethBlairTravels
Lanee Lee Neil – @Wanderlushdiary
Nina Kokotas Hahn – @Ninakhahn / Ninakhahn
Photos courtesy of Viceroy Riviera Maya