One of the best things I did during my first full day in Toronto was go on a tour of the West Queen West neighborhood with Betty Ann Jordan.
I tend to stay away from organized group tours when exploring a new city. This one was offered as part of a conference I attended and I'm so glad I signed up!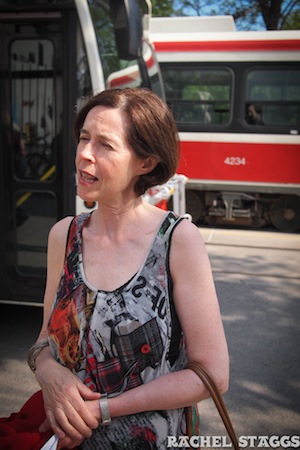 Our group met at the Toronto Metro Convention Centre, but the bus took us directly back to the neighborhood I was staying in. My hotel, The Drake, was the second stop.
The Drake Hotel
The tour not only gave me a great overview of the neighborhood and its history, I found two boutiques I would later shop in and purchase wonderful staples for my wardrobe.
These two lamps were located at our first stop, Gladstone Hotel, the oldest continuously operating hotel in Toronto. It's a beautiful boutique hotel and each room is one-of-a-kind. Going over my photographs, I seem to have a lot of images of the light fixtures! I was also moved by the artwork from Jonathan Hobin that was on display in the 2nd floor gallery – a series of photographs called In The Playroom.
At one time, I tried to create art inside vintage suitcases. I ran out of storage space and ideas. I loved this, almost constellation-like, installation of two suitcases by Bruno Billo.
Gravity Pope is a unisex boutique with over 2,000 shoes to choose from. It's located on Queen Street West at Ossington. I only made it through the shoe collection downstairs, but I hope to visit the clothing section upstairs next time I'm in Toronto. I fell in love with a pair of handmade Italian ankle boots, so I didn't walk away empty handed!
There wasn't time to explore and try on my Italian boots during the Art & Design tour, but I made a mental note and went back the next day since it was just a few blocks from my hotel.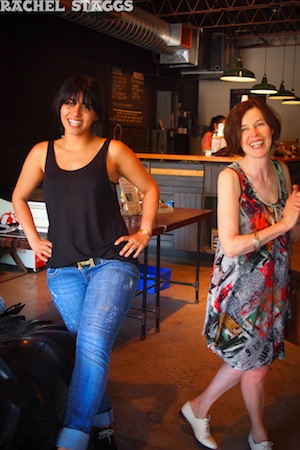 We stopped by Academy of Lions Gym, General Store, and Cafe on Ossington. Betty Ann encouraged us to come back to this area in the evening, when the restro-bar scene comes to life. I did just that on a Friday night and could barely find a seat for one!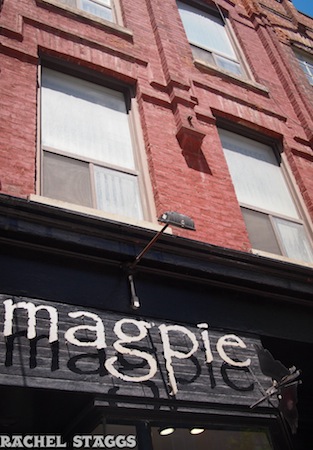 We popped into Magpie Design to have a look at their creative, edgy, one-of-a-kind pieces. Actually, Prince wore a jacket they designed for him to the Grammy Awards in 2013. I wanted to go back and try on some items, but never had time. It's on the list for my return!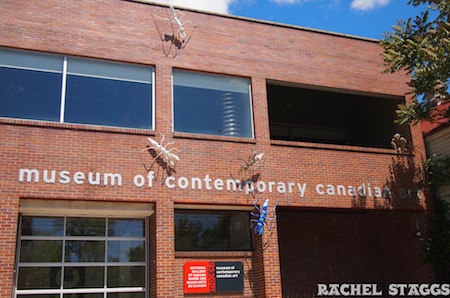 The Museum of Contemporary Canadian Art is "pay what you can", so in other words, "free" if you are on a tight budget. It's located on Queen Street West and is easily accessible by the 501 street car, which is a great travel tool for the seeing the city.
We also popped into a small, beautifully curated clothing and accessories boutique called Fawn. I came back the following day to try on clothes and purchased a couple of dresses to deal with the heatwave. I didn't bring the right clothes for the weather and I was so happy to find this spot on our Art & Design tour.
I've actually been a little obsessed with getting back to Toronto, partially because I want to shop here again. 😉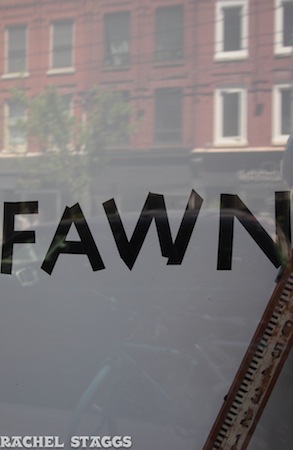 I cannot recommend a tour with Betty Ann Jordan highly enough. I learned about the history of artists in Toronto and their migration within the city. I discovered independent boutiques that I wish existed in my hometown. I saw multiple art exhibits by Canadian artists. Good restaurants were pointed out, and her fantastic tips for the West Queen West neighborhood were invaluable. Cheers, Betty Ann!
May your journey be your muse,
Rachel
Related links: 18 Hours in Toronto, Canada: Part One
<iframe src="http://rcm-na.amazon-adsystem.com/e/cm?lt1=_blank&bc1=000000&IS2=1&bg1=FFFFFF&fc1=000000&lc1=0000FF&t=traveltracks-20&o=1&p=8&l=as4&m=amazon&f=ifr&ref=ss_til&asins=1931257507″ style="width:120px;height:240px;" scrolling="no" marginwidth="0″ marginheight="0″ frameborder="0″></iframe>