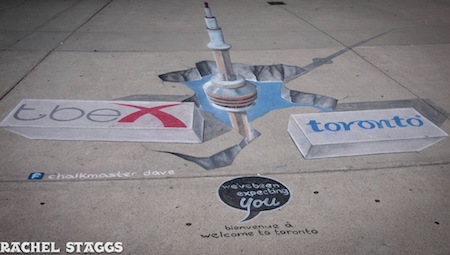 Yes, It's true, I arrived to the largest gathering of travel writers without a pen. I had endured the all-night packing experience that sometimes happens when you get sick in Mexico, bring it home, and have four days to unpack and repack. I'm SO lucky I had four days. I mostly slept and ate a "Magic Soup" created by Lolo Lorena of rice, ginger, and garlic. This settled my belly and tamed the beast, but only hours before my flight to Toronto.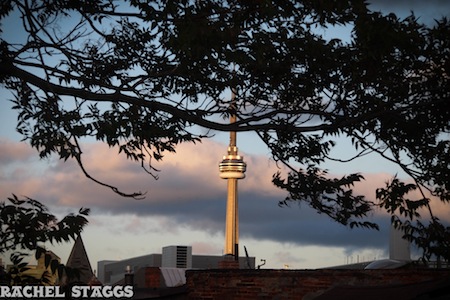 My view of the CN Tower from the window of my room at The Drake Hotel.
Of course I didn't realize I had forgotten a pen until I was half asleep on an American Eagle flight from Chicago to Toronto and the flight attendant started handing out customs forms.
I started searching through my purse, which I had carefully organized.
My thoughts…
"Crap."
"I don't have a pen."
"How can I not have a pen?!"
"The flight attendant already hates me because I wouldn't let her tag my bag for gate vale."
I ensured her I specifically purchased my carry-on to meet American Eagle overhead bin criteria. Which I had. It fit perfectly, but she watched me like a hawk to make sure I didn't "force" it in the overhead bin. This didn't happen to the business men around me and I swear their bags were slightly larger than mine. I certainly didn't want to bother her for a pen.
I asked the man across the aisle from me if I could borrow a pen and he was not impressed. He did lend me one and patiently waited to use it himself, but he wasn't happy about it. I had upgraded to business class, using frequent flyer miles, to help ease my claustrophobia. I'm guessing forgetting a pen isn't very business-like 😉
Myself and fellow Wanderlust and Lipstick blogger, Angie Hilbert of Wanderlit.
It was wonderful to meet my fellow bloggers in person!
I've attended the SXSW Music Festival for the past 13 years as a performer. I have been to a few panels during the day, learning new ways to promote and manage my bands, since I am hands-on DIY with everything I do as a creative.
TBEX was very different for me, as I wasn't behind a guitar. The introvert in me cringed at the thought of "pitching" myself as a "brand" to tourism boards and companies. It took me way out of my comfort zone, but I did it and I'm glad I did.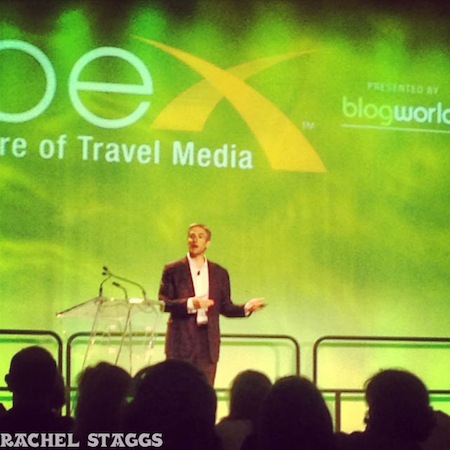 I really enjoyed the keynote by Erik Lindbergh.
He was positive without being a cheerleader. His delivery was genuine and inspiring. The wood furniture he creates is amazing and reminded me of Antoni Gaudi.
Trying to choose which panels (aka sessions) to attend was difficult and I made some wrong choices. I'm not going to tell you which ones I walked away from feeling like I had wasted my time, but one of the commerce sessions I attended turned me off. I wish I had skipped it and stuck to the content and community sessions.
It was all pretty overwhelming and I could have easily not slept the entire time and attended EVERYTHING. Evening events and late night after parties were tempting, but I was afraid I would miss connecting with the city I was in, Toronto. Which I fell madly in love with. Especially my neighborhood, West Queen West. I stayed in an area that would stimulate me as a traveler, as opposed to close to the conference.
I'm still processing the information I obtained and sorting through the mound of paperwork I brought home, but I can tell you that meeting other bloggers and people with a passion for travel was the best part of my weekend.

My fellow Wanderlust and Lipstick blogger, Sarah Shaw of WanderShopper.
My fellow Wanderlust and Lipstick bloggers, Lauren Van Mullem of WanderFood and Beth Whitman, Ms. Wanderlust and Lipstick herself!
I have been writing for Wanderlust and Lipstick for a year and a half, but up until TBEX Toronto, I had only met one of the ladies from the team. It was fantastic to meet these women at the conference and we had such a good time together. I can't wait for my film to be developed! I took so many film photographs at the Expedia party on Centre Island. Lots of Wanderlust and Lipstick shots. 🙂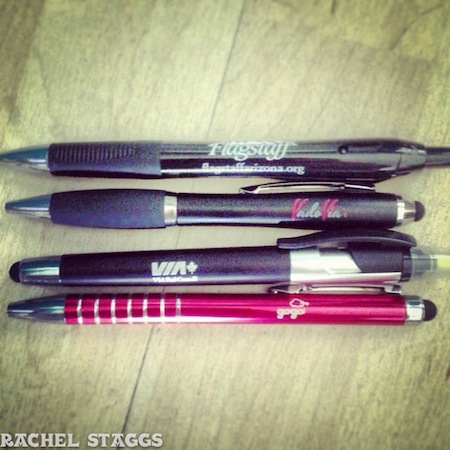 Thanks to these companies, I was prepared to fill out my customs card when leaving Toronto! Cheers!
May your journey be your muse,
Rachel