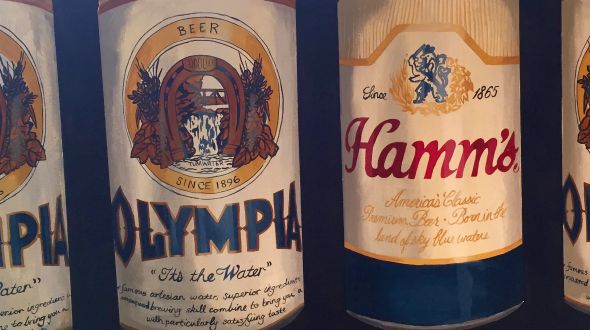 I grew up happily in Olympia, Washington. For those of you who haven't been, it's a pretty sleepy place – it's on the water, the downtown is walkable and artsy and just weird enough to qualify it as a true Pacific Northwest holdout. Aside from 'artsy' and 'Evergreen State College,' Olympia is also affiliated with beer, Olympia Beer.
Olympia Beer is the stuff of legend. Olympia Beer was brewed in Olympia until the early 2000's – it held out from corporate beer moguls longer than most. Some even suggest that Olympia beer may have created that slightly 'weird' culture for which Olympia is so famous. The Olympia Brewery (originally called Capital Brewery) was housed in a gorgeous, historic brick stackhouse, framed by greenery, nestled next to the water.  That stackhouse still rises from the valley, you've probably seen it from the freeway, you've probably wanted to go exploring in it. Problem is, it's not readily available for exploring. Of course, unsanctioned exploring is always an option, but not a very good one. The building is not necessarily super-stable at this point, and getting caught trespassing on a brewery is likely not as fun as it may seem (especially because there is no longer any beer at said brewery). That lack of beer issue might be changing, however – explorers and beer lovers alike, rejoice!
Olympia Beer, in it's hay day, was actually brewed in Tumwater, an even smaller town right next door to Olympia. Tumwater holds the title of oldest permanent American settlement on Puget Sound, the parties of Michael T Simmons and George Bush – no relation – bush wacked their way from Vancouver, Washington to settle at the raging Tumwater Falls. Wisely, the group decided to make camp at the falls because of the potential for built-in energy, they soon had a full-fledged settlement, complete with sawmills and farm land.
In the early 1890's, successful Montana brewer Leopold Schmidt visited Tumwater on a business trip. On a hunch, Schmidt sent some of the famous artesian water back east to be tested. Confirming his own musings, Schmidt was told that the water was was ideal for brewing beer. In fact, the water was one of the only naturally occurring waters in the world that was perfect for beer making. Schmidt packed up his family, sold his Montana brewery and headed west, opening a new brewery in Olympia.
Schmidt had a lot of things going for his fledgling beer operation, the artesian water was simply the icing on the cake – and a wonderful marketing addition. Schmidt was revolutionizing beer making in the US – bringing his German beer school secrets to the trade. He used yeast intentionally to make consistent product, a practice that wasn't well-known in the states at the time. Schmidt also used a gravity brewery system to create his product. The building itself contributed to the brewery process – beer traveled from the top of the building and went through the various brewing stages as it made it's way closer to the ground. Olympia Beer was the first beer to be bottled with metal caps rather than corks – allowing for pasteurization, and greater shipping distances. Employees were well paid – and the beer cost more. Consumers gladly shelled out for the famed beer – it was apparently the best thing on the west coast.
Eventually, after trying to see themselves through prohibition (the old brewery served as a papermill, fruit and jam factory before eventually shutting down), Schmidt's sons sold the brewhouse.
When prohibition was repealed in Washington State, the Schmidts were ready – they managed to build a new, state of the art brew house at the top of the waterfall. The company was competitive in a saturated market – they had a loyal customer base, their workers were the best in the business and they were creative marketers. They held out until the 1980's when they were finally forced to sell – Olympia Beer was brewed in Tumwater by various corporate owners until 2003, when the final whistle blew on the brewery floor.
As I mentioned, the old brewery and the older brewery are currently both empty – devoid of their beer makers and wares alike. All hope is not lost for Olympia Beer lovers, however. The city of Tumwater has some plans up it's sleeve that have many beer fans rejoicing. A potential partnership with a local community college would bring a groundbreaking craft brewing and distillery lab to the old buildings. Couple this learning environment with spots for retail, restaurants and brewery start ups and the city might have Washington beer lovers convinced.
The cult-like following of Olympia Beer seems to be well – founded. Craft to the core, original German recipe, well compensated workers who love their job, an iconic design that was way beyond the time – not to mention a potential craft brewery incubator in historic buildings. But where is the beer that started it all now? Olympia Beer does still exist, it's brewed in Irwindale, California. I tried a glass at the Tumwater Artesian Brewfest, where it was served on tap. It's tasty – fresh, light, comparable to the more common Rainier. It's apparently the original recipe – missing only the water.