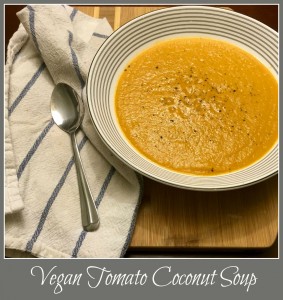 Alas, the end of summer is upon us. The days will surely get shorter, colder and wetter. There is little to comfort us as we become indoor people once again, destined for winter-time rituals of over eating and over sleeping. We in the Northwest can however, take comfort in the post summer bounty of, fresh fruit and veggies. Our markets are exploding with peaches, berries, and, you guessed it, tomatoes. This is the best time of year to craft salsa, sauces, tomato salads and every variety of tomato soup you can imagine.
I went a little overboard on the tomato dishes this year, and found myself in need of a different twist on a classic dish. Pleasantly surprised I was – this vegan tomato coconut soup is comforting and classic, with just a hint of the non-traditional to keep things fresh. With a pot of this soup bubbling on your stove top, you might even wish for cooler days.
Ingredients:
1 Tablespoon olive oil
1 red onion, diced
2 carrots, peeled and diced
2 cloves garlic, diced
5 fresh and flavorful tomatoes, chopped
5 basil leaves, chopped
1 can chick peas
1 Tablespoon balsamic vinegar
1 Tablespoon sage
1 Teaspoon crushed red pepper
1 can coconut milk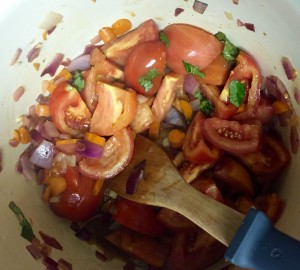 Directions:
In a large, heavy bottomed soup pot, heat olive oil over medium heat.
Cook onions, garlic, and carrots until fragrant, about 3 minutes.
Add salt and pepper, to taste.
Add tomatoes, basil, chick peas, vinegar, sage and red pepper, stir and cook until slightly softened.
Add coconut milk, stir and bring to a low boil.
Reduce heat to simmer, cook over low heat for about an hour, or until veggies are very soft.
Working in batches, blend soup in a counter top blender.
Add salt and pepper to taste, serve with crusty bread or grilled cheese sandwiches.