If you live in the PNW, you know that the end of August normally marks prime blackberry picking time. I went out the other evening, basket in hand, only to find that most of my usual blackberry picking spots were devoid of the juicy plump berries of my dreams.  I can only assume that the season happened early this year – the unusual heat causing early blackberry prime.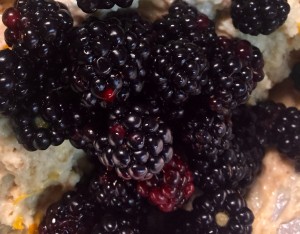 Though my picking exploits were less fruitful than I may have imagined, I did manage to snag a few good berries from my yard and roadside. The catch? There were not enough berries to make a pie, or a cobbler, or a crumble. There were, however, enough of the little devils to make blackberry buttermilk breakfast muffins. Maybe not as exciting as a blackberry cobbler, but potentially more practical. These fluffy muffins are perfect for busy summer mornings – they are especially tasty with a smear of butter.
If you're interested in foraging for your own berries – be mindful. Picking berries in city parks is technically a no-no. Read up on those rules on this great post from Wild Harvests. If you end up finding something other than blackberries – have at it. These muffins are great with other fruit, different citrus, chocolate chips or nuts. Buttermilk generally makes for a rich and fluffy muffin, so feel free to experiment.
Ingredients
2 Cups flour
1/4 Cup brown sugar
1 teaspoon baking soda
2 teaspoons baking powder
1 teaspoon salt
1/4 Cup melted butter
1 egg
1 Cup buttermilk
1 teaspoon vanilla
3 Tablespoons honey
zest of 1/2 a lemon
zest of 1/2 of an orange
3 Tablespoons fresh squeezed orange juice
1 Tablespoons fresh squeezed lemon juice
1 Cup fresh blackberries
Directions
Preheat oven to 375
Butter a muffin tin, or line with muffin cups
In a medium bowl, sift together flour, brown sugar, baking soda, baking powder and salt.
In a separate, large bowl, whisk together melted butter, egg, buttermilk, vanilla, honey, zests, orange and lemon juices.
Add the dry ingredients to the wet ingredients, mix until combined. The batter will be slightly lumpy, that's fine!
Bake for about 17 minutes, spread on some butter and enjoy!