Celebrating Diwali, the Hindu festival of lights, in a Delhi garden patterned with lighted clay diyas and festooned with pink rose petals and orange marigolds was nothing short of magic.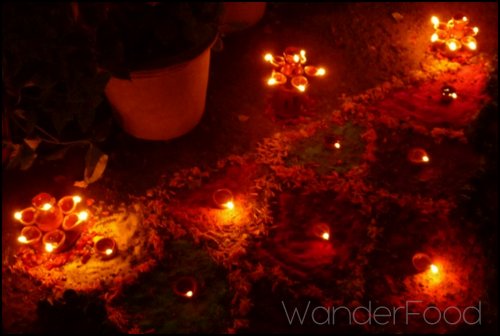 Wide white mattresses kept us inches from the damp grass of the lawn as servers passed around trays of savory snacks, sweet pastries, and Indian wine. We – the rest of the ladies on the tour and I – had only just arrived in Delhi for the first Indian WanderTour, and were treated to a Diwali soiree without even knowing what the holiday was. Now I can tell you that it's about light emerging from darkness, good triumphing over evil, and the hope for a prosperous new year – along with quite a bit of gambling, eating, and playing with fire. But four years ago, all I knew was that it, like everything I had seen in India thus far, was a sensory overload. I loved it.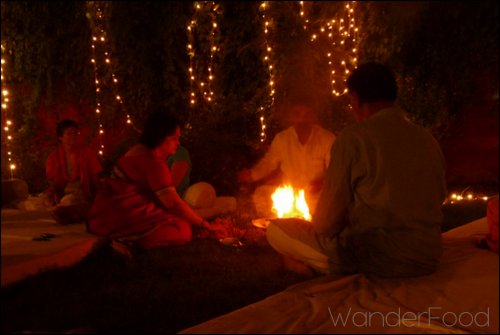 The first event of the evening was the Lakshimi puja, the prayer to the goddess of fortune for a peaceful and prosperous new year. This, incidentally, is also why games of chance are popular during Diwali as a way to invoke the goddess of fortune. Lakshimi and Ganesh (the god of wisdom, learning, and the remover of obstacles) are co-patrons of the holiday. We were all blessed with scented smoke and significant smudges.
The last event of the evening was the fireworks, handled inexpertly yet gleefully by the men. If it weren't for all of the incense in the garden, we probably could have smelled some singed eyebrows. The ladies opted for the tamer recreation of holding sparklers, waving them in gentle zig-zags through the black Delhi night.
There are two parts of that Diwali party I remember best. The first was the incredible conversations I had with the other women, most of whom were in their 40s through 60s, many of whom were single or widowed, and all of whom were independent, smart, funny, well-traveled, and to me – a 25 year old beginner-at-everything – inspiring. The other part of the party that lives in my memory was, of course, the food.
Spicy vegetable pakoras and rich, savory samosas were my favorites and are still the first finger-foods I go for if I see them in an Indian buffet. It's taken me longer to appreciate Indian snack food, and still longer to develop a taste for Indian sweets. This year, I was reintroduced to both at my friend Rucha's Diwali party.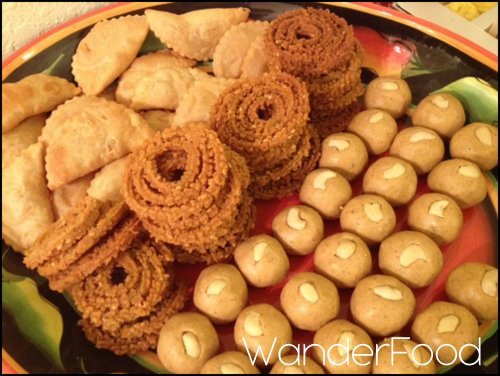 While there are shops dedicated entirely to Indian snacks in Orange County's Little India, I never paid them much attention. But after sampling Rucha's homemade Diwali snacks, I'll have to take another look. My favorite is that spiral-shaped biscuit in the center. That, I learned, is Chakli – flavored with cumin, red chili powder, asafoetida and sesame. It requires a special chakli-maker, so if you're an obscure kitchen gadget nerd like me – rejoice! Otherwise, you can find chakli at most Indian grocery stores pre-made. Instead of pretending like I can make these things, I'll simply link you to someone who can.
Traveling to India was certainly a new beginning for me, in so many ways. In fact, that Diwali party in Delhi was the first time in a long time that I felt like I was exactly where I should be, living the life I was meant to live.