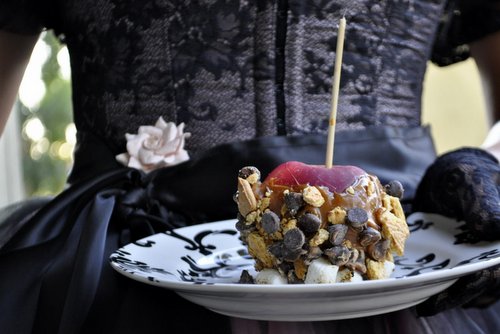 Whether you call them toffee apples (UK) or caramel apples (US), apples coated with caramel and rolled in any delicious topping you can think of is one of the best parts of Fall. In fact, October 31st is National Caramel Apple Day – in addition to being Halloween. But, you can also find them on November 5th for Guy Fawkes day in the UK (or buy them off the back of a bike in China). Yes, everyone loves a good toffee apple!
In looking up the history of these treats, they seem to go back to the Middle East where fruits were often preserved by being candied. Their latest incarnation first appeared in the 1950s when a Kraft Foods sales rep printed the recipe for caramel apples on packages of individually-wrapped caramels.
It's those individually-wrapped caramels that make the recipe for this simple treat such a pain. I fail at caramel unwrapping. And to unwrap enough to make a proper coating for several apples requires more patience than I possess. So I enlisted the help of my sweet husband who took a few caramels as payment for his hard labor.
Smores Toffee Apples Recipe
You need:
6 small apples
14oz bag of caramels
an assistant unwrapper
2 Tb milk
6 sticks
graham crackers, dark chocolate and marshmallows
wax paper
a blow torch
While your assistant unwraps caramels into a microwave-safe bowl, wash and dry the apples, then remove their stems and replace them with sticks plunged straight through the middle. Crumble the graham crackers and dark chocolate into a wide bowl and toss in a handful of marshmallows. Once the caramels are all unwrapped in the microwave-safe bowl (3 hours later – or longer if your assistant keeps eating them), add 2 Tb milk and microwave the bowl for 2 minutes. Stir and microwave for 30 more seconds if it's not gooey enough.
Dip your apples into the caramel so it's coated most of the way, then roll the caramel apple in the graham cracker/chocolate/marshmallow mixture. Set the apple upright on the wax paper to cool while you coat the rest of the apples.
Finally, take a blow torch to the marshmallows stuck to your apples and give them a nice toasty brown crust – then serve!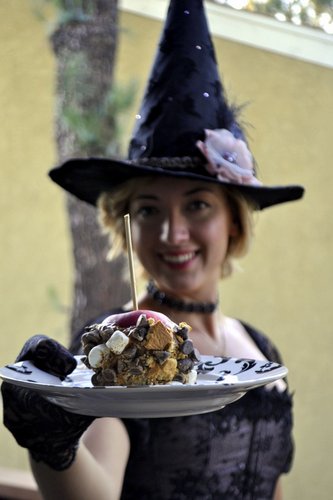 Have a favorite Halloween or Fall recipe to share? Tell me about it in the comments and join the link party below!