It's apple-picking season, so I thought I'd ring in the Fall with a dish of German pork chops with apples, onions, and sauerkraut. The secret to the sauce is dry Riesling, and if you like Riesling – the Mosel Valley in the West of Germany is the place to go. My husband and I spent half of our honeymoon drenched in the stuff, thanks in major part to the incredible wine museum and Vinothek in Bernkastel-Kues (hundreds of Rieslings to try!).
If you think Riesling is one of those awful sweet dessert wines – they can be, but the trend right now in Germany is towards dry Rieslings ("Trocken"). I haven't liked sweet wines since college, so I used a  dry Riesling for this recipe. But I'm sure a sweet one would be delicious also.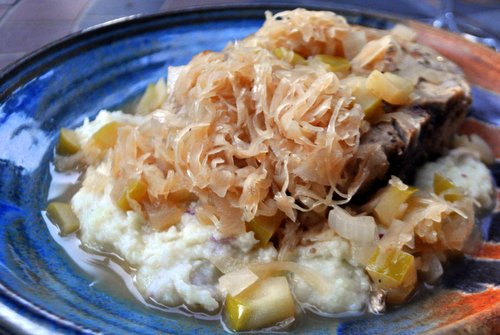 Sauerkraut & Apple Pork Chops  (on pureed cauliflower and red potato)
Serves 4
4 Pork Chops
Butter
1 Cup Sauerkraut, rinsed with fresh water and drained
1 large tart apple, cored and diced
1/2 onion, chopped
1 tsp cinnamon
1 C. Riesling
1. Salt and pepper the chops on both sides, and brown in butter (3 minutes per side). Set aside.
2. In the same pan, add the apple, onions and cinnamon to skillet and saute until the onion turns golden brown.
3. Add the Riesling and stir, cook for a few more minutes.
4. Stir in sauerkraut, place chops on top (including any juices they've collected), cover skillet and cook over low heat until chops are done (another 7 minutes).
For the pureed cauliflower & red potato, I just microwaved a head of cauliflower with two red potatoes for 10 minutes in a covered dish, then used my immersion blender to puree them with a large spoonful of plain Greek yogurt, butter and salt. They're the perfect base to soak up the delicious sauce made by the apples, onions, sauerkraut and wine!
What is your favorite recipe for Fall? Tell me in the comments and don't forget to add your link and photo for the WanderFood Wednesday link party!
Here's how to join the WanderFood Wednesday Food & Travel Link Party:
Post a travel or food-related post on your blog.
Include a link to WanderFood Wednesday in your post, like "Part of the WanderFood Wednesday Recipe Swap."
Add your blog name and post title to the "Mr. Linky" form below, with a link directly to your post. That's it!