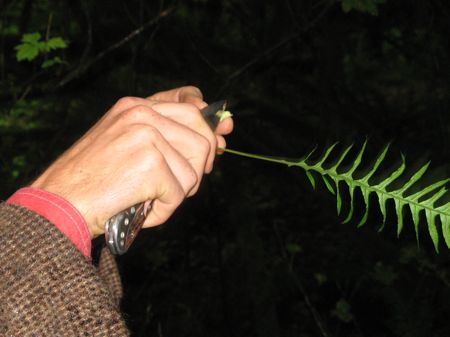 On the recent learn-to-forage Wild Edibles Tour that I took on Vancouver's North Shore, one of the wild foods that our guide, Alexander McNaughton, identified was the licorice fern.
Before you make licorice fern tea of your very own, make sure you research or learn from a forager how to identify licorice ferns in the wild. There are a lot of look-alikes in nature and you don't want to find out the wrong way that you picked the wrong plant!
However, licorice ferns are common in Northwest forests!
Once you pick some, what do you do with a licorice fern? You can use its spicy, strong-flavored root to make a caffeine-free tea.
Here's the recipe:
Licorice Fern Tea
Adapted from Chef Robin, Swallow Tail Tours
Instructions:
Harvest about a teaspoon of licorice fern root. Wash well and loosely chop the roots.
Put the roots in a saucepan with about 4 cups of water, and bring to a boil.
Once the water has boiled, turn off the heat and let the roots sit in the water for about 20 minutes.
Strain and enjoy!
Tasty Travels!
Carolyn
Photo credits:
Photos © Carolyn B. Heller