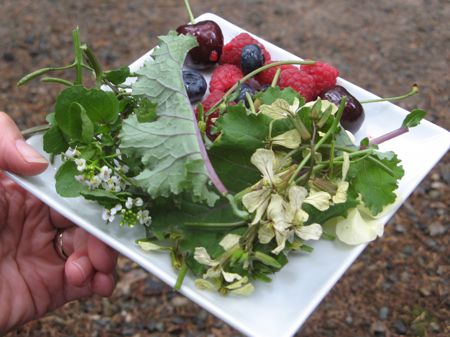 We're not 12 steps from the parking lot, and Alexander McNaughton has already identified more than a dozen plants we could eat.
On an uncharacteristically rainy July morning in Lynn Headwaters Regional Park, on Vancouver's North Shore, McNaughton is guiding a Wild Edibles Tour, teaching our group of mostly-novice foragers how to identify edible plants.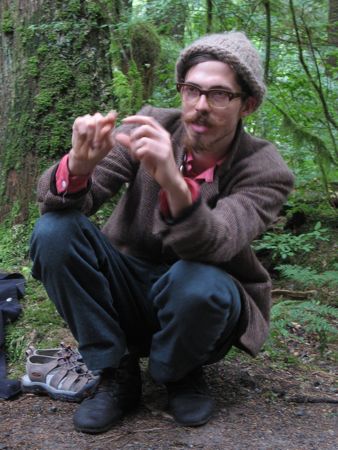 McNaughton, an urban gardener, freelance chef, and avid forager, leads regular foraging expeditions for Vancouver's Swallow Tail Tours, and his wild food tips come fast and furious.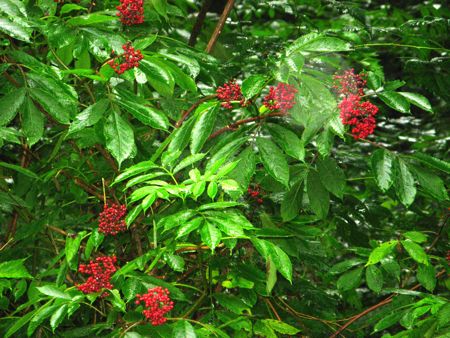 "The leaf smells like a foot," McNaughton says, as he points out an elderberry bush, but you can use the elderflowers to make a simple syrup — a delicious drink mixer — or fry them in a tempura-style batter, lightened with a carbonated beverage like beer or champagne, for an unusual appetizer.
Next up, is a wild blueberry bush. It's early in the season, so the berries are still sparse and very tart. Soon, he says, you'll find blueberries all over.
He points out a skunk cabbage, explaining that the Coast Salish First Nations people historically used its large, shiny leaves to wrap fish before baking it, helping to seal in the juices, similar to the way denizens of more tropical climates might use banana leaves.
Salal berries, too, were popular in First Nations communities, with berries that ripen into a deep purple.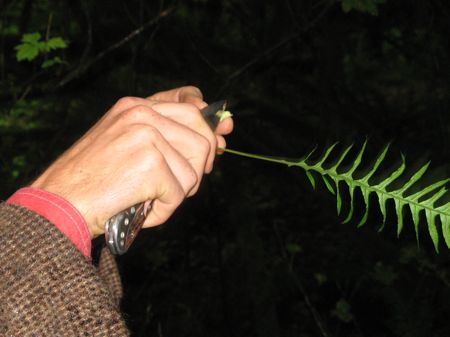 "Look at the size of this fern cluster," McNaughton says, gesturing into the underbrush as we walk down a rainforest trail. They'd be a good source of spring fiddleheads, because, he explains, "You don't want little wussy ferns. They'll taste wussy."
He then points out a different variety of fern — the licorice fern — and gives us each a tiny taste of the fern's root. Wow! It's a blast of slightly bitter, slightly peppery licorice. You can use the root, he tells us, to make tea.
You can make tea from wild roses as well, which are growing nearby. McNaughton says he's also used dried rose petals to garnish a cheesecake.
After about 90 minutes of exploring and identifying potentially edible plants, it's time for lunch. We can't harvest our own lunch, since our Wild Edibles Tour is taking place in a protected regional park, but McNaughton has brought his own picnic supplies.
We spread blankets next to the forest trail and start off with cups of warm Douglas fir tea, which tastes soothing, if slightly mossy.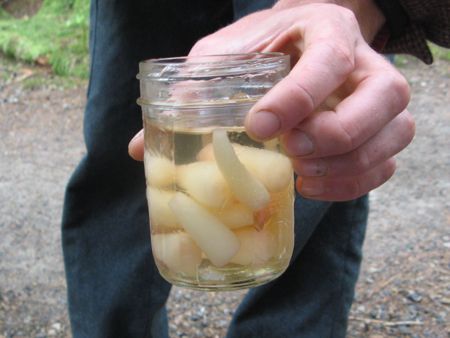 We each get a heaping plate of just-picked wild greens that McNaughton harvested from his garden. A taste of garlicky pickled ramps (above), from McNaughton's kitchen. Mushroom pate, made with wild mushrooms, and served with fresh bread from a local bakery. And fresh raspberries, blueberries, and cherries, from the farmer's market. While it's not an entirely "foraged" lunch, it's still delicious, and we've all worked up an appetite on our walk through the woods.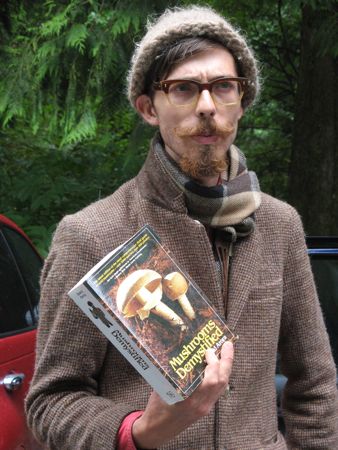 "How did you learn about wild plants?" one of the tour participants asks McNaughton.
"From old people," he replies. "Italian grandmothers. Old Ukrainian ladies. Aboriginal elders."
There are numerous books that can teach you about wild plants that are native to your region, McNaughton says, but foraging is part of many people's heritage, too.
And with this Wild Edibles Tour, he can help you make it part of yours.
Tips for Safe Foraging
During our tour, McNaughton interspersed his commentary with tips about how to forage safely:
"If you have any doubt, chuck it out." Don't eat anything that you can't positively identify as 100 percent edible.
Avoid foraging in spots where there's significant run-off from a road, since many plants absorb chemicals from vehicles.
Make sure someone knows where you've gone. "Leave a little note with your car," McNaughton suggests, listing the time you set out and the general direction you're heading.
Be careful not to stay out in the woods as darkness approaches. When you have your head to the ground foraging, it's easy to lose track of the time and get disoriented.
Similarly, McNaughton cautions, "Don't get distracted by your foraging and trip over a log!" Pay attention as you walk.
If you want to forage in a farmer's field or other private land, ask first. And offer to share what you find with the land's owner.
About Wanderfood Wednesday
Every Wednesday, we host the WanderFood Wednesday blog carnival, where you can share your own food adventures. If you're new, here's how to join the fun:
Post a food photo or story on your blog.
Include a link to WanderFood Wednesday.
Add your blog name and post title to the "Mr. Linky" form below, with a link directly to your post. That's it!
[mrlinky owner=wanderfood postid=24Jul2012 meme=2888]
If you go…
Swallow Tail Canada offers the Wild Edibles Tour on weekends from spring through fall. Check their website for the current schedule and tour location.
Tours, which typically last about two hours, are CAD$39 per person, including a vegetarian lunch. Swallow Tail will provide transportation to and from Pacific Central Station in Vancouver (near the Main Street/Science World SkyTrain station) to the tour's starting point for an extra $10. I was Swallow Tail's guest on this Wild Edible Tour, but as always, my opinions are my own.
Tasty Travels!
Carolyn
Photo credits:
Photos © Carolyn B. Heller