"I love cheese! Love it! Love it!" shouts Julian Bond, Executive Chef at Vancouver's Pacific Institute of Culinary Arts (PICA).
He's darting through the crowded aisles of the Granville Island Public Market, leading our group of eight food lovers on PICA's "Plugged-in Market Tour," and he can hardly contain his glee about the market's offerings.
Through a radio transmitter, which projects his comments to headphones that each participant wears (that's the "plugged-in" component), Bond confides, "A lot of people don't like blue cheese, because it stinks."
But the problem, he insists, as he grabs a blue-veined wedge from the cooler at Dussa's Ham and Cheese, isn't the cheese – it's the plastic wrapping.
"Let's say I took your foot, your beautiful foot, and I wrapped it in plastic for a week. What would happen?" He wrinkles his nose. "Take it out of the bloody plastic! Let it breathe!"
During our swift-paced 90-minute tour, we learn about stinky cheese, lobster anatomy, tomato nipples, nose-to-tail eating, and sustainable seafood, interspersed with cooking tips and introductions to the market's best seasonal products.
One minute, we're at Tenderland Meats, and Bond is instructing us on using all parts of the animal, from lamb shanks to pig ears.
The next, we're at a produce stand, where he counsels, "When you buy Roma tomatoes, you want to look for the nipples." The best Romas, he explains, have a nipple-shaped protrusion on the bottom.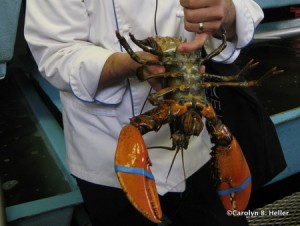 At The Lobster Man, we learn that female lobsters have sweeter flesh.
Bond grabs a writhing crustacean, flips it onto its back, and instructs us how to tell a lobster's gender. "I don't want to be crude," he says,  before pointing out that male lobsters have a bone-like protrusion on their undersides.
We learn to peel ginger with a spoon — "the skin will just drop off" — and as we sniff keffir lime leaves at South China Seas ("My favorite store," enthuses Bond, "all kinds of weird ingredients…"), he instructs us that one of the cook's most useful tools is one of the oldest: the mortar and pestle.
Of course, there are tastings, too. A bite of BC spot prawns comes with a brief history of shrimping and how a group of local chefs banded together to help keep the prawn catch here in British Columbia.
As we sample jam made of figs and walnut wine from Vista D'oro Farms in suburban Langley, paired with Vancouver Island-made Little Qualicum Cheeseworks Brie and prosciutto from Oyama Sausage, Bond raves, "It's all local!"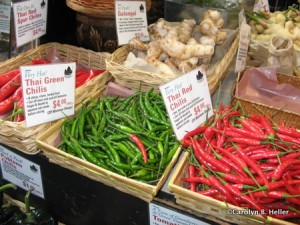 And as we chase after our chef-guide — "Crossing the street!" he warns as we scramble out of the market — and unplug our headsets, he asks, suddenly serious, "Did you have fun? Did you learn something?"
Yes, chef.
We'll unwrap our cheese, we'll crush our keffir lime leaves in a mortar and pestle, and we'll look for local products whenever we can.
And when we're shopping for lobsters, we can now tell the boys from the girls.
If you go…
The Plugged-in Tours of Granville Island run every Friday at 10 a.m. year-round. Tours ($40 per person) meet at PICA's Bakery 101 (1505 West 2nd Avenue).
Book online at the Pacific Institute of Culinary Arts website or by phone at 604-734-4488 or toll-free 800-416-4040.
[mrlinky owner=wanderfood postid=28Jun2011 meme=2888]