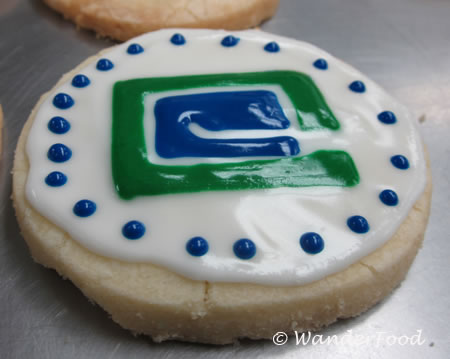 In honor of the final game of the Stanley Cup Playoffs, here's a cookie with the Canucks' logo on it.
During a tour of the Pacific Institute of Culinary Arts in Vancouver over the weekend, the students there were busy whipping out versions of this cookie prior to game 5.
I didn't get to taste one but I still cheered on the Canucks that night (to a win, by the way). That night, the streets filled up with screaming fans that kept me awake very late that night – despite me being on the 15th floor of my hotel.
Please join WanderFood Wednesday! Here's all you do:
1) Add a food-related post to your site (it can be a recipe, food photo or any other foodie find)
2) Include a link to WanderFood Wednesday so your readers can enjoy other food posts
3) For the best click-through results, add your name OR your blog name and the title of that day's post to the Mr. Linky form below
4) Include a link directly to your food post (not your main blog)
If you're a newbie, see more about WanderFood Wednesday here.
Life's Short, Eat Well!
[mrlinky owner=wanderfood postid=15Jun2011 meme=2888]