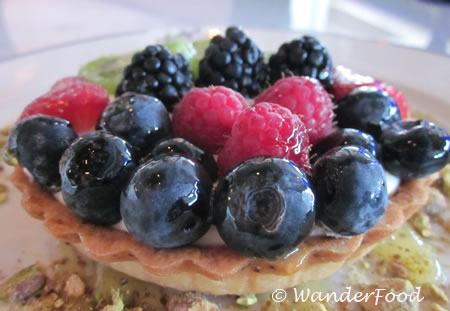 It's time for enjoying the freshest fruit of the season in a sweet tart.
This is from Salty's on Alki in Seattle. This Fresh Fruit Tart includes lemon curd, white cream and a kiwi coolie, all sitting on top of ground pistachios. While I had every intention of sharing, Jon could hardly get his fork into it and before I knew it I had eaten nearly the entire thing on my own. (Sometimes I don't play nice when it comes to desserts!)
Please join WanderFood Wednesday! Here's all you do:
1) Add a food-related post to your site (it can be a recipe, food photo or any other foodie find)
2) Include a link to WanderFood Wednesday so your readers can enjoy other food posts
3) For the best click-through results, add your name OR your blog name and the title of that day's post to the Mr. Linky form below
4) Include a link directly to your food post (not your main blog)
If you're a newbie, see more about WanderFood Wednesday here.
Life's Short, Eat Well!
[mrlinky owner=wanderfood postid=21Jun2011 meme=2888]