Looking for a spur of the moment weekend or mid-week getaway? Hop on a plane, walk or run to Seattle Art Museum's latest exhibit, "Miró: The Experience of Seeing." The program focuses on the synergistic play between the Spanish artist's sculptures and paintings at the end of his six-decade career and is the only stop on the West Coast. But hurry: the exhibit closes on May 26th.
For Boomers wondering if it's too late to reinvent oneself late in life, take heart: Miró's boldness in creating dynamic new art from found objects inspires us to keep on playing and imagining as well. Take your time strolling through the exhibit of some 50 paintings and sculptures and be sure to catch the short film to learn more about Miró's brilliant artistry. Here are a few of my favorite quotes in Miró's own words from the documentary:
"When I'm awake I'm always dreaming, but not while sleeping." Take away: Dreaming is about waking up to life's possibilities.
"It is the adventure that interests me, always & above all." Take away: Yes, yes and yes. Make new discoveries. Be bold.
"It is the material which dictates what I must do." Take away: Creativity is less about making something new from nothing and more about making new associations from what's in front of you.
"When I work I commit myself totally." Take away: Stop multitasking.
Hotel Max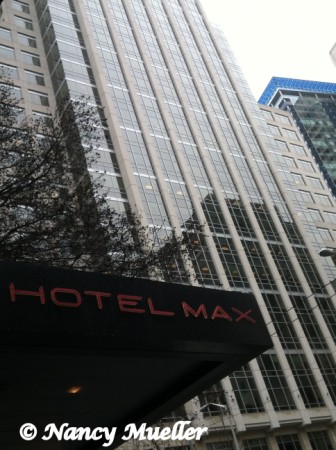 Extend your Seattle Art Museum date with a stay at Hotel Max in downtown. The hotel celebrates art and creativity through its commissions by innovative artists displayed in the lobby and on each of the ten guestroom floors.
At first glance, Boomers might wonder about feeling at home among the over-sized photographs of grunge musicians like Nirvana and Pearl Jam. But this boutique hotel offers amenities that any guest will enjoy: ideal location close to downtown stores, Pike Place Market and Seattle landmarks; casual, sophisticated design; and friendly, responsive service.
In addition, Hotel Max offers several unique amenities, including a range of pillow options, spiritual books of faith, and pet-friendly toys, treats and resources. Guest rooms even come complete with their own vinyl turntables and a selection of vinyl LPs. Don't find anything that strikes your fancy? No problem. Ask to borrow an iPod pre-loaded with your favorite genre selection.
Miller's Guild
But before you get too cozy in your room, drop your bags and head for Miller's Guild, the hotel's stunning bar and grill. The interplay of oak floors and black walnut tables, masonry and tile, and metal accents creates a warm, comfortable setting that you won't want to leave anytime soon.
Start off with a Joan Miró cocktail created to celebrate the artist's exhibit at Seattle Art Museum. With a combination of Cask Aged Moonshine, Dry Curacao and Martini & Rossi Gran Lusso, what's not to love? Mmm . . . Don't be surprised, though, if your cocktail comes with an unexpected twist, as the extremely talented bar staff always seeks ways to heighten the cocktail complexity for a richer experience.
Try several of the small plates developed by James Beard award-winning chef Jason Wilson to accompany your cocktail. You can't go wrong with steak tartare, vodka-cured egg and capers served on grilled potato bread or the shaved kale and merguez salad with hazelnuts, currants lemon, olive oil and mint. And how can you not sample the fried brussel sprouts with Harissa aioli and roasted lemon? You must.
Artistry in any form requires boldness, a willingness to step outside the norm and look at things from a fresh perspective. For me,  inspiration comes through travel and art, whether viewing Miró's sculptures and paintings, appreciating the contemporary art design of Hotel Max or enjoying the culinary creations at Miller's Guild.
Tell us what inspires boldness in your lives, wanderboomers? I'd like to hear.
Be Bold & Wander On!
Nancy
Many thanks to Seattle Art Museum, Hotel Max and Miller's Guild for the opportunity to experience artistry in action.