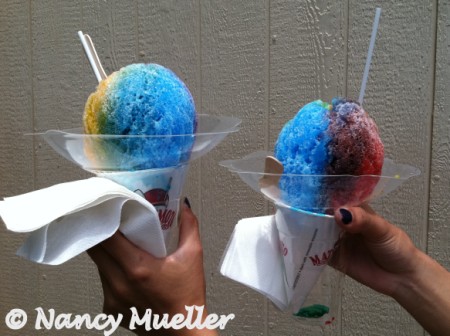 I used to love having a snow cone on a hot summer day when I was a kid. Served in a cone-shaped paper cup, this crunchy ice treat was topped with basic flavored syrups like cherry, blueberry, lemon-lime, orange and grape. Once you made your way through the snow cone itself, there was the promise of slurping up all the juice that had drained into the bottom of the cup. It was cold, messy, and above all, very sweet. My friends and I would smile, open our mouths wide and say "Ahhh!" to show each other how the rainbow colors had stained our teeth, tongues and lips. In other words, snow cones were our kind of treat!
But before visiting Oahu, I hadn't heard of the Hawaiian alternative to my not-so-secret childhood pleasure.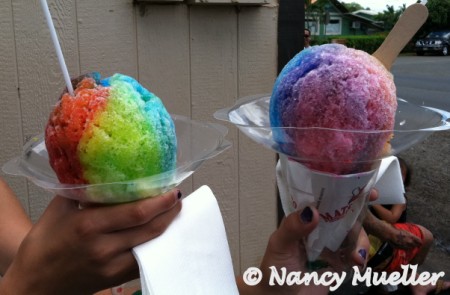 Shave (without the "d") ice is a different animal altogether. Gone is the crunch of the snow cone's coarse ice, replaced by a soft, fluffy confection that more closely resembles the texture of powdery snow. The server pats the ice into a rounded ball, pokes a few straw holes around the cone, and tops it off with yummy island syrup flavors like coconut, pina colada, guava, mango and passion fruit. But wait – there's more . . . In the center of the rounded ball, underneath the razor-thin packed ice, lies a surprise: ice cream! Of course, you can have the shave ice without the ice cream if you so choose. Either way, the entire concoction is served in a colorful plastic cup and served with a spoon and a straw. Mmm . . .
What was your favorite childhood sweet, Wanderboomers? Have you tried shave ice?