When you think of Seattle, what's the first thing that comes to mind? The Space Needle? Sure. Mt. Rainier? Maybe. Rain? Definitely! But when Seattle gets a dusting of snow instead of a dousing of rain, it's time to get outside and enjoy the wonder.
Where better to take a stroll on a cold winter's morning than Pioneer Square, the city's oldest neighborhood? Just don't be surprised, if you hail from a snowbelt region like I do, to see Seattleites use an umbrella for both rain and snow (see the photo below), even in the wind.
Popular for its low-rise brick buildings and pedestrian mall-park, the 20-block area of Pioneer Square provides a peek into Seattle's fabled past – including this ghost sign of a local brew that was a Seattle favorite for over a century, Rainier Beer.
Even more legendary than the beer itself were the clever, quirky commercials touting the beverage.
The quirkiness continues in Occidental Park with its blend of local art and diverse patrons. Four totem poles, including a human figure with open arms, are surrounded by leafy trees cloaked in colorful sweaters.
Here, too, you'll find the Seattle Firefighters Memorial Sculpture, honoring fallen firefighters from the time of the devastating Great Fire that consumed the business district and waterfront in 1889.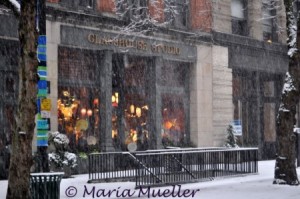 To view more local artwork in Pioneer Square, stop in at Glasshouse Studio which offers visitors the chance to watch glassblowers honing their craft.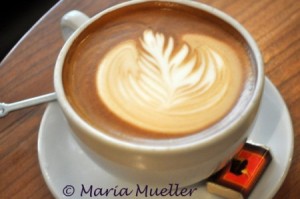 At the end of a day of play in Seattle's snow, it's time to ward off the winter chill with a cup of you-know-what. We are in Seattle after all. And they call the Big Apple the City That Never Sleeps . . .
What are your favorite winter activities, Wanderboomers?