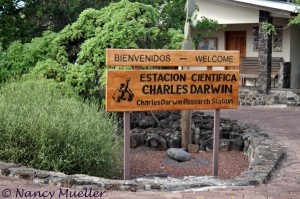 Six hours after our midnight departure from Española,  we've anchored at Santa Cruz Island for our day visit to the Charles Darwin Research Station and the land of the giant tortoises. In fact, the Galapagos Islands were so named because the shape of the tortoise shells resembled the Spanish word for "saddles."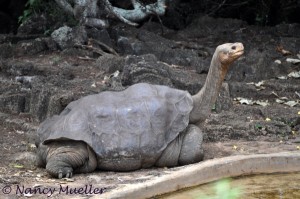 Just how giant are these tortoises?  Consider Lonesome George, for example. Weighing in at about 200 lbs., Lonesome George is the most famous icon of conservation efforts underway in the Galapagos.
Discovered on Pinta Island in the early 1970's and thought to be the last remaining tortoise of his species, the Chelonoidis nigra abingdoni, he was brought to Santa Cruz for observation and protection.
Lonesome George's caretakers had hoped he would take interest in at least one of  two potential female mates that were relocated from Isabela Island just for him.
But alas! So far there are been no tortoise offspring, which means when George's time is up, his subspecies becomes extinct. Maybe his lack of interest has to do with age, estimated at 80 – 100 years old.  But scientists believe he could live another 30 years. So maybe he just hasn't found the right female tortoise for him yet. In any case, he'd better hop to it because hopes for a baby George or Georgette are diminishing with each passing year.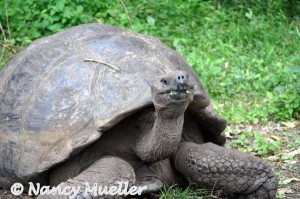 Yet George is hardly the largest living tortoise roaming the island. In the Highlands of Santa Cruz, we find 600 lb. domed tortoises. Imagine what it must have been like for early island visitors like Darwin to come across these huge creatures for the first time.
Separated at birth?
Visitors to the Galapagos islands have described the creatures here as "other-worldly," "prehistoric" and "primordial." When you think about it, is there not a suspiciously familiar facial resemblance to another of our beloved, out-of-this-world creatures at play here? 
Lonesome George, phone home!
You be the judge, Wanderboomers. What do you think?