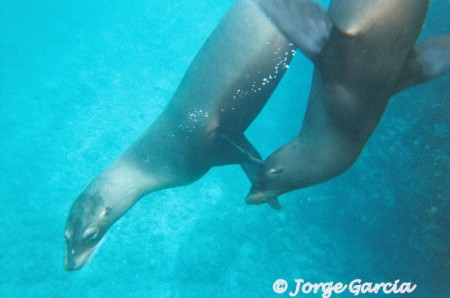 Snorkeling in translucent, turquoise seas ranks high on the bucket list of many travelers to the Galapagos Islands. Imagine swimming among sea lions, sea turtles and penguins – maybe even hammerheads – in their natural habitat, an underwater playground!
This morning it's time for our first snorkeling adventure in Española's Gardner Bay. We don our wet suits and grab our gear. Once again, I remind myself that this is not a fashion shoot. But before taking off, we receive a safety briefing: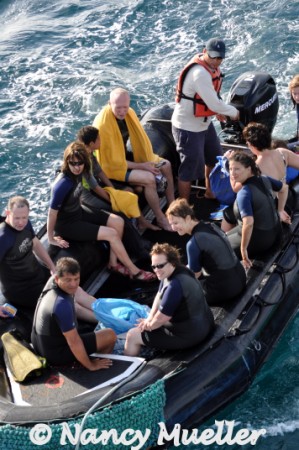 "Put your fins and mask on in the pangas. Slide into the water off the side, not near the back by the propeller."
Good idea.
"You'll have 45 minutes to snorkel here. Put one arm up if you need assistance. The zodiac will always be near by."
45 minutes!? Uh-oh.
While the excitement builds among passengers anticipating their first Galapagos encounters underwater, I'm silently wondering how I'm going to snorkel with one arm up the whole time.
Unfortunately, swimming is one of those life skills I have yet to master. I can swim but prefer having the security of ground underfoot when surfacing for air. Barring that, I like to have something solid to hold onto, which in this case, quickly becomes my guide, Jorge.  "Not a problem," he assures me. "We're here to help everyone have their own Galapagos snorkeling adventure."
And I do. Jorge coaches me to relax and breathe through the snorkel, no small coordination feat on my part. After a few starts, stops and water spits, I gingerly try again, slowly getting the hang of it. Within seconds of submerging my face underwater, a sea lion shoots past, zips back around in case I missed him the first time, does a few back flips and disappears.
Wow! Now I understand what fellow passenger, 10-year-old Jesse, had known all along:
"Snorkeling here is AWESOME!"
Have you had any good snorkeling adventures of your own, Wanderboomers? Share your story here.