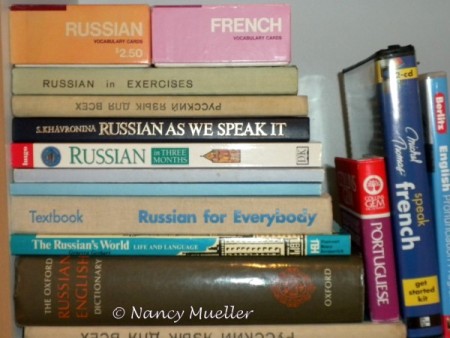 That's mostly true, though I do have an affinity for a few languages more than others. I love the spoken and written word in English, my native language, but I'm also drawn to French, Russian and Portuguese. And how can I leave out Italian when I love Italian food and Puccini operas so much? I can't.
For me each language is a portal to an exotic, mysterious way of life so different from my own. Over the years I've studied several foreign languages, but fluency in any has eluded me. There's a well-known joke in international circles that goes like this:
"What do you call someone who can speak many languages?"
Answer: Multilingual.
"What do you call someone who can speak three languages?"
Answer: Trilingual.
"What do you call someone who can speak two languages?"
Answer: Bilingual.
"What do you call someone who can speak one language?"
Answer: American!
Yikes. I never wanted to be that person. So I've learned a few basic phrases for various situations I might encounter when traveling to other countries, such as meeting and greeting others, learning how to ask where the nearest bathroom is, how to order in restaurants, and what to do in case of emergencies.
Of course, a little knowledge can be a dangerous thing. When visiting Paris, I stood in line next to a "Tours" sign outside Notre Dame Cathedral, planning to learn from an authoritative guide to enhance the educational value of my visit. I did think it was odd when the single line started climbing up, up and away, without a tour guide in sight, until we reached the top of the cathedral where several gargoyles were poised to greet us outside. Only later did I discover that "tours" in French means "towers." Oh.
Reflecting back on that experience, I've decided the time has come to brush the dust off my French language books and tackle the language one more time. The question is: can we Baby Boomers truly master a second language at our advanced age?
Let's look at the facts:
1) We're motivated to learn, especially if we plan to travel to a place where the language we want to acquire is spoken.
2) We have more time on our hands, especially if we're retired. But I'm not, and have no plans to for the immediate future. So where am I going to find the time to study French? I've enrolled in a self-paced, on-line program.
3) We have more disposable income, at least we did until the economy took a nose-dive. But . .
4) We're resourceful and know how to find discounts. For this time around on my language learning, I've decided to sign up for a course with Livemocha. Why this program as opposed to others I could have chosen? Because of a special offer I discovered on Groupon. I can take a one week free trial and then take advantage of my two-month Groupon special.
5) We're optimists. Okay, I made that one up. But we are, aren't we? If we weren't, why would we travel and seek out new destinations to explore? Because we hope something marvelous lies right around the bend, just beyond the horizon, over the next hill. Heck no, we're not over the hill. We can do this!
Tell me, Wanderboomers:
What foreign language(s) do you still want to learn?
Are there particular phrases you've found helpful to know in another language when you travel?
Have any of you had any language mishaps, like mine at Notre Dame?