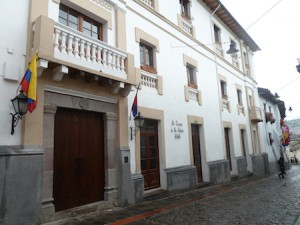 La Casona de la Ronda is a heritage boutique hotel in an amazing location on Quito's La Ronda – a beautiful pedestrian-only street in the Old City that comes alive in the evening. It's in a gorgeous old colonial home that has been renovated with very creative touches making it cozy yet updated, traditional yet functional.
I came to La Casona de la Ronda after a run of muddy, adventurous days in the Amazon. Quito was in the midst of a seasonal downpour, and I entered through the old wooden gate like a bedraggled jungle rat. From the m
oment I walked in, I was greeted with warmth and felt that special thrill of knowing that I had found a travelers' sanctuary: a place to rest and recharge, and a perfect springboard for my explorations of Quito's historic center.
Entering my guest room, I was greeted by warm hues, lovely natural light and beautifully hand-carved furniture. The king-sized bed with its cozy down comforter cradled my road-weary bones, and I got the best nights' sleep during my stay there of my whole time in Ecuador. Stepping into the well-appointed bathroom's rain shower brought goosebumps of delight – the ultimate luxury to wash away the soggy layers of my adventuring.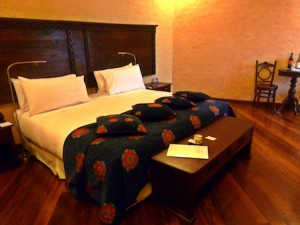 La Casona de la Ronda proved to be a great base to explore Quito's old city on foot. It was the perfect point to set out from each day and wander the most captivating part of the city, with plenty of easy access to great restaurants and cafes, plazas for people-watching, historical buildings to admire and the city's transit options, including the local bike-share fleet. As a solo female traveler, I loved being able to step out into the lively (and very safe) night scene of La Ronda without having to take a taxi.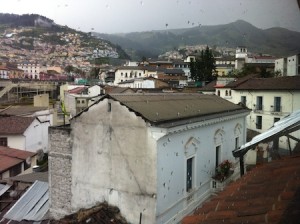 When I wanted to give my feet a rest, I loved coming back for some downtime at the hotel. I often took my travel journal and nice up of tea up to their very cool 'mirador' viewpoint room, accessed at the top of the hotel by a spiral staircase, to take in the amazing view of El Panecillo and the surrounding neighborhood.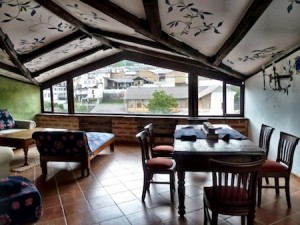 The interior courtyard features a very creative vertical garden – a 3-story green wall covered in over 150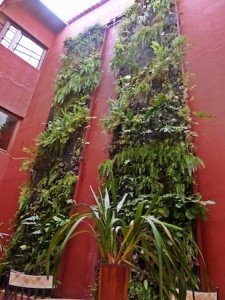 indigenous plant species. I also spent an evening in the main lounge by the fireplace, enjoying a tasting of local wines and cheese and practicing my remedial Spanish with the very kind doorman. I was impressed and very pleased to find water filtration stations on every floor to fill up my reusable bottle each morning before venturing out.
For an authentic, thoughtful and relaxing place to stay in the beating heart of Quito's  Old Town, this is the place!
One thing to note: since La Casona de la Ronda is located on a pedestrian-only street, you will want to ask your taxi to drop you nearby, such as the Plaza Santa Domingo one block away.
Enjoy your stay!