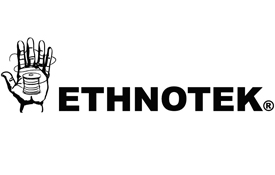 Whether it's for work or for writing, I rarely travel without a laptop these days. And I know I'm not alone! Laptops are common companions for both business and pleasure travelers around the globe. When Ethnotek offered me the chance to test and review their Acaat Messenger Bag, my laptop and I were thrilled.
Ethnotek's travel-friendly messenger bag first popped up on my radar last year, and I was immediately intrigued by their packs with a purpose. The Minnesota-based company began when founder Jake Orak discovered the gorgeous, intricately embroidered textiles of the hill tribes of Northern Vietnam and was inspired to share these treasures with the world. Jake and his crew began working with the village to support their rich textile traditions by providing a direct trade link to the world marketplace, giving  a sustainable voice to the local economy. And the results have certainly been impressive! Since Ethnotek's original visit to the Cham Village in October 2011, they've been able to continually employ the villagers they work with, yielding the equivalent in fabric of 9 Eiffel Towers stacked on top of each other!
The Ethnotek bag that I received is the Vietnam 5 Messenger Bag.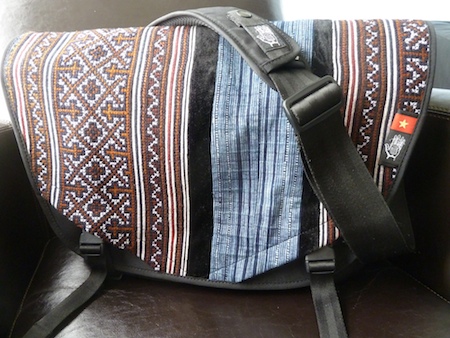 The first thing you notice is the strikingly beautiful hand-woven outer panel. Ethnotek partners with villages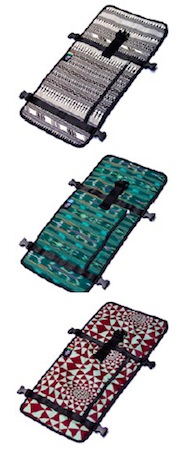 around the world to produce these one-of-kind flaps, which Ethnotek calls a THREAD, for all their bags. Each THREAD is a handmade creation sourced directly from the artisans' village. Mine's from the original Cham Village in Vietnam. This is what really makes Ethnotek's bags unique and sets them apart. But get this – the THREAD panel is detachable and inter-changable, so you can swap it out to change up your look and support another village!
Ethnotek has a Ralph Waldo Emerson quote on their website that sums it up perfectly, "Though we travel the world over to find the beautiful, we must carry it with us or we find it not." Indeed, this is the thing I absolutely love the most about my Ethnotek bag – every day that I look at it, I'm reminded of my own travel memories in Southeast Asia and beyond, and it makes the bag feel like a reflection of who I am.
Gorgeous as it is, this baby is pretty sweet under the flap, too! My laptop rides along safe and snug in its own built-in sleeve, as you'll find in most messenger bags, but this one doesn't skimp on the rest of the space. If I'm going out for the day with my laptop, I'm definitely going to be carrying some other swag – a water bottle, camera, wallet and passport, snacks, book, maybe a sweater. There's nothing I love more than not having to lug an extra purse along with me, because there's plenty of room for everything else I want to carry in the bag too!
There's also some very handy pockets for organizing the smaller stuff. Three sets of interior pockets are varying shapes and sizes for a menagerie of items. Velcro closure inner pockets are perfect for wrangling chargers and cords, a slender zip pocket is the perfect size for my journal and my phone — and even includes a few pen holsters. Snacks slide easily into open-topped pockets under the flap for easy access. This is awesome because it
means that everything doesn't merge into one lumpy mass in the middle of the bag as I'm walking around. And we travelers can appreciate the special zipper on the back that allows the bag to slide onto the handle of a wheeled carry-on.
It really has room for everything, and yet the Acaat Messenger Bag is not too big. I'm a fairly petite gal and loathe the feeling of being dwarfed by an outsized bag. And the shoulder strap? It's super ergo. It snugs onto your body, and a second cross-strap  locks it in place, making it a true messenger bag – ready to hop on the bike! Ethnotek didn't skimp on the shoulder strap padding, and for that I thank them. I've suffered from twisting, welt-inducing shoulder straps too many times before.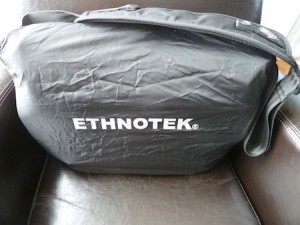 As a special bonus, I also got the VaRuna raincover. This custom-fit raincoat for my messenger bag is as essential here in the Pacific Northwest as it is in the monsoons of India. It packs quite small into its own bag, and gives my precious laptop instant protection whenever the clouds may part.
I never thought I could get so excited about something so utilitarian as a messenger bag, but Ethnotek's doing a great job of making quality bags that tell a global story. Find yours at www.EthnotekBags.com.