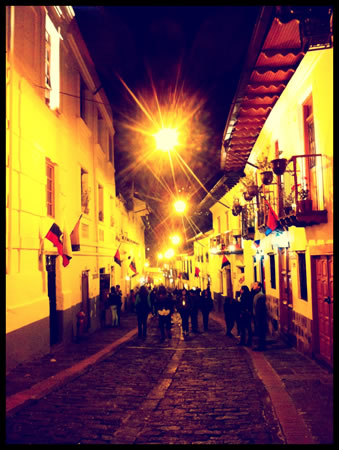 I was instantly captivated by Ecuador's capitol city, Quito. After arriving, I quickly learned that Quito's old town was the first UNESCO World Cultural Heritage Site and is exalted as the best-preserved historical center in the region. Nowhere is this more apparent than Quito's Calle de la Ronda – a beautifully-renovated historical street, packed with historical buildings and ambiance, at the heart of the Centro Historico.
The pedestrian-only promenade, known simply as 'La Ronda', can be rather sleepy during the daytime. But at night La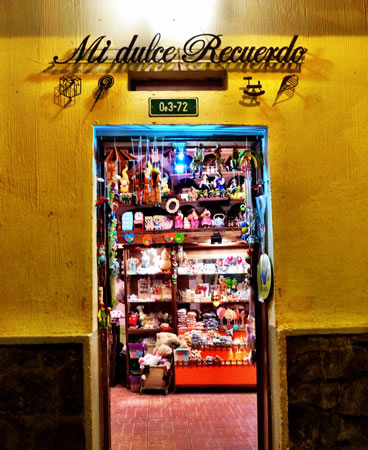 Ronda comes alive! Live music spills out of tiny bars onto the cobbled street, the aromas of local delicacies mingle in the air, and people from all walks of life amble slowly along the thoroughfare, where artisans' shops elbow up alongside warm cafes and vibrant galleries. The old Spanish colonial buildings are festooned with colorful flower boxes, wrought-iron balconies and colorful Ecuadorian flags. Each evening here feels like a celebration of Quito's grand past.
La Ronda, which means "small alleyway", has an old and storied past. It was once an ancient footpath for locals to access the nearby Pichincha River during Pre-Incan times. It became the lively heart of the city after the Spanish left a legacy of art and architecture here. In the early 1900's, La Ronda was known as the bohemian center of Quito, and it's thriving night scene was frequented by the city's poets, painters, writers and musicians. But by the end of the 20th century La Ronda had fallen into terrible disrepair, and had developed a bad reputation as one of the most dangerous spots in the city. (Some people blame the construction of the nearby bus terminal, in part, for this.)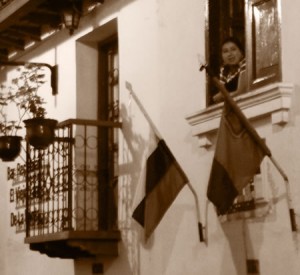 Thankfully, La Ronda did not languish too long as a tarnished gem. A thoughtful restoration and revitalization project took place in 2006, and now a group of traditional craftspeople have returned to the neighborhood and opened the their workshops to visitors. Strolling La Ronda now provides not only the chance to observe, but also to buy directly from these artisans, working out of traditional casas lining La Ronda. You'll find treasures such as handmade toys, fresh quesadillas, an old-school silversmith, a chocolatiers, piano and violin makers, and traditional Panama hats. (A great gift, since Panama hats actually come from Ecuador.) On chilly nights, locals sip canelazo – a warm, sweet, spicy cider-like drink with (sometimes) just a bit of booze, to warm up.
Though Quito is still fighting a negative reputation for safety, and still has some 'hoods that are best visited judiciously, La Ronda is very safe at night. As a solo female traveler, I greatly appreciated being able to step out of my hotel at night (La Cason de la Ronda – amazing, review coming soon!) and enjoy some nightlife safely by myself. It's also very family-friendly. Traditional games like hopscotch and 'El Sapo' (where players try to toss coins into a brass toad's mouth) are brought out into the street, and grandparents look on as kids play the games they remember from their youth. There's a noticeably large (but friendly) police presence looking on; it's apparent that Quito is assuring La Ronda does not fall back into darker days again.