Taking the bus for long distances has been shown to have the lowest emissions of all transit methods. The BoltBus service between Seattle and Portland is one of the newest, low emissions mass-transit options for trips along the I-5 corridor in the Pacific Northwest.
Operated by Greyhound, it's an upgrade from regular ol' bus travel for a few reasons:
Non-stop Service: unlike the regular Greyhound, it blazes directly between Seattle and Portland's downtowns with only the originating pick-up and destination drop-off stops.
Upgraded Coaches: these sleek black and red buses boast leather seats with (slightly) more legroom than an average Greyhound, with power outlets, footrests and cup holders for most passengers. Oh, and they have an on-board bathroom, so no pit-stops necessary.
Free WiFi: yep, the on-board WiFi is a big draw for people looking to make the most of the 3+ hour journey.
Cheap Fares: a selection of fares for each departure are offered at rock-bottom rates as low as $1.00. As the bus fills, seats become increasingly expensive; currently, they seem to top out at $24.
At first blush, it sounded too god to be true to me, so I tested it out – I recently took the Bolt Bus from Seattle down to Portland and back on a family visit.
The website advises passengers to arrive at least 15 minutes early, and I had planned to arrive with a good 20 minutes to spare so I could pop into the neighboring Uwajimaya store for a snack. Alas, my local Metro bus going downtown came early and I missed it by about 30 seconds. (I hate it when that happens!) I arrived at the pick-up/drop-off spot in Seattle on 5th Ave S between King and Weller just 10 minutes prior to departure. By this time, everyone had boarded and were shuffling their packs and running to the Starbucks for final latte-grabbing.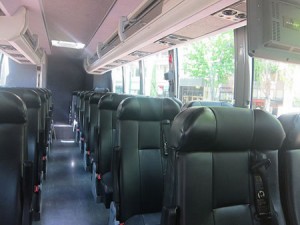 The bus was very nearly full, and the remaining seats all seemed to be on the inside of people who stubbornly held their ground with bags sprawled across them and eyes conveniently averted elsewhere. I managed to squeeze into an aisle seat near the front of the bus and cram my bags under my feet. I had read that BoltBus offered below-bus luggage storage, but the hatches weren't open when I arrived and the overhead bins inside were too narrow for my weekender pack.
Though it was rainy and nasty out, our driver assured us that he'd provide a smooth and safe ride as he eased us on to the freeway. Indeed, the ride was great, and we made good, steady progress. I was glad that our driver had an eye to safety in these conditions.
I hopped on the WiFi with my iPhone and was able to connect without a problem. The WiFi connection was consistent throughout the trip, and good enough for simple tasks like email or Facebook. It probably goes without saying that you should not, however, expect to stream any video or do any other bandwith-hogging activities.
The quarters are a bit tight, as is always the case in mass transit, but I was plenty comfortable and relieved that I could listen to music, catch up on email and read rather than having to negotiate traffic myself. And luckily, we arrived early; my mid-day trip was scheduled to be 3 hours and 15 minutes, but we were pulling in at the downtown Portland drop-off spot on SW Salmon St between Broadway and 6th in just under 3 hours.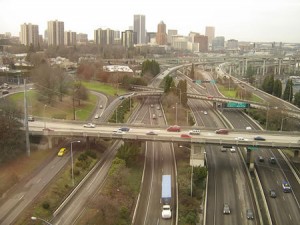 For my return trip home the following Sunday afternoon, I was picked up on the other side of the intersection between 6th and 5th. I was able to score a window seat this time, but the bus filled up again and so I ended up with another seat mate. Our driver encouraged us to introduce ourselves to our seat mates, which was a nice sentiment, but a bit annoying to be told to do so. Only a few people complied; the rest were already buried in their iPods.
This return trip is where I learned that the BoltBus drivers can vary…though it was equally rainy and nasty out, this guy was hauling ass and swerving across lanes enough to make me nervous at times. At one point, he almost hit a car that he obviously didn't see in the next lane. I had to steel my nerves and recall some harrowing taxi rides I've had in the developing world to keep my heart rate down. Thankfully, those slick leather seats have seatbelts!
We arrived in Seattle a full 40 minutes ahead of schedule, which wasn't a surprise with the way he drove like the devil was on his back. My sense is that the Bolt Buses often get in "early" because the scheduled arrival times allow for a bit of padding. That's great and all, but my ride wasn't ready to pick me up 40 minutes early, and it certainly wasn't worth the wild ride.
[adsenseyu2]All that said, the Bolt Bus is a good option overall. It is super affordable – I paid $17 and $19 for my seats, so only $36 round-trip. If you can book early you will get the cheapest tickets; however, they only list departures for a few weeks out. A little patience and persistence means that you can find great prices, and maybe even get that elusive $1 ticket.
It's very convenient, with 6 scheduled departures from Seattle and Portland daily, and as a carpooling transit option, far better on the environment than driving solo. If you are someone who finds holiday driving extremely stressful, it may be well with it for you just to let someone else do the driving. (So long as it isn't the race car driver!)
And, good news! The Pacific Northwest Bolt Bus is now serving Vancouver, BC and Bellingham too.
TIP: Join the My Bolt Rewards program (for free) before you buy your ticket, and then be sure you are logged in to your rewards account when you book online. This will automatically put you in Boarding Group A, with the greatest chances of scoring your preferred seat. It also keeps track of all your Bolt trips and will give you a free one-way trip after completing 8 trips. For me, that's only 4 visits to my friends and family in Portland – totally going to happen, and while it's only a value of $24 max, it's still nice.
Photo credits:
BoltBus exterior by squirrel83
BoltBus interior by Portland Afoot
Portland skyline by Bjørn Giesenbauer