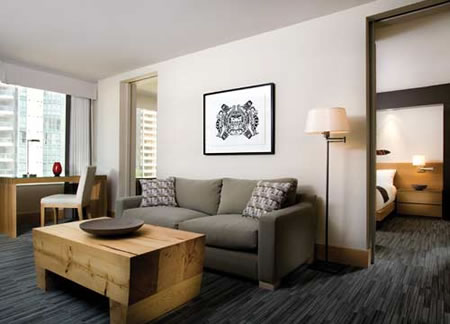 There seems to be a disturbing trend in the "eco-lodging" title these days. Magazine and websites herald "top green hotel picks" aplenty, but rarely reveal any true sustainability beyond organic cotton sheets or recycling bins. (A good start, but not a long-term sustainability plan!) Vancouver's Listel Hotel does just the opposite. Beneath its classy exterior, this art-centric hotel has green running deep.
Ideally located in downtown Vancouver's West End, The Listel Hotel is close to the sparkling waterfront, the sprawling green gem of Stanley Park, fantastic restaurants, eye-popping window shopping, galleries galore and easy transit options to the outlying neighborhoods. If you come to attend any of the numerous festivals, concerts, theater showings, or cultural events you are in a great spot to access it all.
My partner and I recently enjoyed a late-winter long weekend at The Listel. Stepping into the lobby, we found a modern, fun space with the art right up front. The Listel is known as Vancouver's "most art-full hotel", and rotating art installations throughout the property make this more than just a place to hang your hat – it becomes part of the experience. After checking in, making our way up to our room was a drawn-out affair. Whimsical kinetic sculptures by the elevators kept us entertained for quite a time, and we lingered to admire the Northwest Coast carved mask on display as the elevator delivered us to our floor.
We were thrilled to stay on the Museum Floor, where all the rooms are decorated to "celebrate the Great Pacific Northwest". Through a partnership with UBC's Museum of Anthropology, these rooms showcase original art by Northwest Coast artists – no standard-issue hotel art here. The focus of our visit was enjoying First Nations' art and culture, so this really cranked it up a notch on the geek-o-meter. The room's color palette of soothing earth tones and hemlock and cedar furniture complemented the surrounding mountains, water and forest fringing the city. We had a great view up the lighted thoroughfare of Robson Street, as well as slivers of Vancouver Harbour between the tall shards of glass skyscrapers, from both the full wall of windows and a surprising, spacious corner deck. Being surrounded by art, even finding The Vancouver Stories – West Coast Fiction from Canada's Best Writer's in place of Gideon's in the night stand, made for a special stay.
I could have stopped right there and been happy with my stay. But looking deeper, I learned about The Listel's commitment to green initiatives, and that's when I realized this was more than a sweet boutique hotel. The Listel takes its sustainability to heart.
Among The Listel's impressive sustainability initiatives:
The hotel is 100% zero waste; that means all organic waste is composted, all recyclables are reused, and all their non-recyclables are converted into electricity (through a partnership with green electric company Bullfrog Power).
They are participants in the City of Vancouver's "Corporate Climate Leader" and Tourism BC's "Tourism Ambassador for Conservation" programs and they've received 4 Green Keys from Hotel Association of Canada (their highest rating, and the only independent hotel in Vancouver to receive it).
The installation of 20 solar panels and an innovative heat recapturing program has reduced their natural gas use by nearly 50%.
The Listel has re-outfitted virtually every piece of equipment on the property – from the cappucino machine to the air-conditioning unit – with new, high-efficiency models to save loads on energy and water and reduce pollution.
Their sustainable purchasing program means not only green cleaning products, 100% recycled paper toilet paper and tissue, and organic coffee, but also that all products are sourced as locally as possible with a focus on green practices in selecting vendors.
The Listel has done away with the tiny amenities bottles and has launched a bulk amenities program instead, resulting in eliminating over 45,000 plastic bottles annually.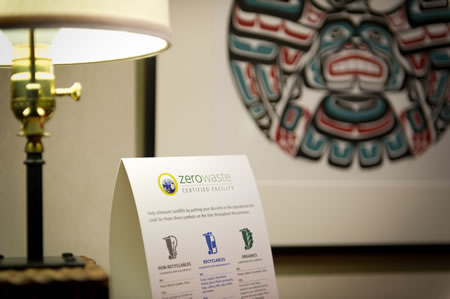 The eye to sustainability certainly extends to the on-site restaurant, O'Douls Restaurant and Bar, as well. As members of the Green Table Network as well as the Ocean Wise seafood program, O'Douls chef Chris Whittaker showcases the local bounty. The space is lovely during the day, even mid-winter, with light pouring in via skylights. At night, it turns into a cozy noted jazz venue, hosting some of the best jazz acts to pass through town.
In addition to the rotating art installments to enjoy, The Listel's services also include valet parking, WiFi and free local and US calls. The valet parking is a bit spendy, but parking in this 'hood is tight, and the secure underground lot provides some extra peace of mind. Not to mention, the valet driver left us cookies on the dashboard when we checked out!
The Listel is a fun, friendly and comfortable place to come "home" to after a day spent exploring Vancouver. As a champion of both the arts and sustainability, I can't think of a more inspirational place to stay!
Guest room photos provided by The Listel. I was generously hosted for this stay by The Listel; the thoughts and opinions in this review are strictly my own.