Getting to, and around, the magical Sunshine Coast of British Columbia can be an adventure of many mediums. I've told you about the thrill of sleeping in a luxury tent house suite and dining on the fruits of the sea and field; here's how to connect the dots on your own bucolic adventure.
~ fly ~
On my recent adventure to the Sunshine Coast, I took to the sky on an Air Canada flight between Seattle and
Vancouver, courtesy of the kind folks at Tourism BC. (Keep the Tourism BC website handy as you plan your trip; they've got all the info you need!) Several hours of battling the I-5 and the sometimes-endless wait to cross the border were replaced by a beautiful, relaxing flight that took less than an hour, gate to gate. Vancouver has a very nice airport (don't miss the spectacular Bill Reid sculpture in the main terminal!) and, when I was there, it was amazingly quiet and efficient to move through. The Canada Line connecting the airport to town makes for perfectly seamless and stress-free transit experience. Watch for airfare specials on Air Canada, as this can make ALL the difference for a quick and easy way to get a long weekend started.
~ soar ~
I've already waxed poetic about another airborne adventure on the Sunshine Coast – a flight-seeing trip by float plane with West Coast Air! Relive the ups (and one down!) of this amazing flight through my photo journal post here.
~ float ~
I've always had a special love of ferry rides, and the ferry rise from Horseshoe Bay to Langdale (gateway to the
Sunshine Coast) did not disappoint! Sliding quietly away from the harbor, you know you are leaving the hustle and bustle of Vancouver, a mere 40 minutes drive form here, a world away. Snow-capped peaks welcome you to Howe Sound, reminding me of SE Alaska where I spent a summer years ago. The ferries are clean, comfy and punctual to boot. Check out the BC Ferries website for fares and schedules.
~ paddle ~
For most Sunshine Coast visitors, a trip to the area is not complete without getting out on the water. Luckily, kayak trips are easily arranged with any of the numerous outfitters in the area. At the Rockwater where I stayed, on-site rentals and guided trips are available with Halfmoon Sea Kayaks, which sadly my group had to forgo due to weather. It's one of the activities I am most excited about returning for!
~ saunter ~
Cool Hand Luke and his brother Oyster Andy at Malaspina Ranch are the ultimate stewards of their own sweet backyard. Astride "G-note", a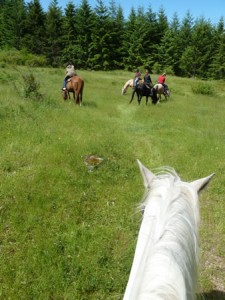 feisty young Fjord/Arabian horse who was a bit of a young punk, I sauntered along with Oyster Andy while listening to stories about life and land, colored with humor and love, straight from the local (horse's) mouth. Guides since 1966, Luke and Andy had an undeniable love for the great open spaces of their home, and share it in a candid, funny, and reflective stories about life on the ranch while guiding you down the trail. It's an unforgettable (and carbon-neutral!) way to spend an afternoon learning from the locals. No website here; contact Cool Hand Luke and Oyster Andy on the telephone at 604-883-1126 to set up a tour from Malaspina Ranch.
~ crawl ~
Living in such an amazing place is obviously a source of great inspiration – artists abound on the Sunshine Coast, and during the annual Arts Crawl visitors are invited to share in their craft at over 100 participating galleries and studios. The Art Crawl, presented by the Coast Cultural Alliance, is coming up on October 21-23 — a great time to get out of the city and see that not all the masterpieces of this region are made by nature. Click here for some great seasonal deals and snag a sweet spot for your stay.
Photo credits:
BC Ferries by Kam's World
Air Canada by JamesZ Flickr
Kayaking Sunshine Coast by bronwynmaye
Horse riding by the author