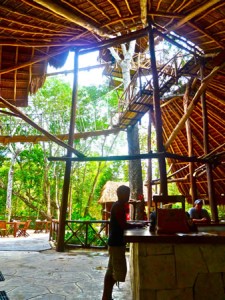 The Swiss Family Robinson Lives HERE. Or at least they vacation here.
That's what I'm thinking as I look up and see a web of hanging bridges and walkways strewn between tiny treehouses in the canopy above me. Splaying out from the central hub, a huge round Great Palapa, were the silver spaghetti strands of ziplines that were about to hurtle me through the jungle.
But, safety comes first when preparing to dangle your life on a steel line. The young, fit guides at Selvatica (as this Swiss Family Sports Complex is called) run through the basics for this group of green gringos, travel bloggers from the Hinterlands, here in the Yucatan as guests of Tourism Mexico. They show us how not to lose a digit or knock each other off the narrow platforms when we come zipping in to each of the 12 stations on the zipline run. We exchange nervous glances.
Suited up and feeling about as sexy as a Fraggle Rock doozer, I'm repeating all the rules when I approach the
first station for zip-off. Knees up. Brake hand far back. Fingers looped. Ankles crossed.
Suddenly, it's go time! With a push I whoosh off the platform and the Yucatecan jungle becomes a vegetal blur. The high "bzzzzzzzzzzzrrrrrrrrr" of the mechanism that is keeping me dangling on this cable drowns out the natural buzz and chirps coming from the trees. Next thing I know I've landed on the far platform and am being quickly clipped and scooted to the next stop.
Over the course of 12 stations, I learn a few tricks about ziplining. Within a few runs I've perfected the "standing up" motion to slow down and land daintily at the receiving platform on my toes. Around Station 5 I feel a gut ache growing in my sadly non-toned belly muscles, and the harness starts to dig into my muffin-top region, but by about Station 9 I figure out that if my knees are higher it relieves some of that pressure. And I realize on about Station 11 that I'm tense and keeping my head too high, making my neck stiff.
By the time I finish the circuit, I feel a sense of relief. I've mastered the zipline. Greater daredevils than me performed dazzling feats, going tandem, hanging upside down. I found just zzzzzzzzzzzipping along to be actually quite nice all on its own. But my body is ready for a little terra firma.

The Selvatica crew loads us up in a parade of army trucks, and with a puff of dust and diesel we are bumping down a dirt road, off into the jungle again. It's getting hot as we creep towards mid-day, and the promise of a cooling dip in a cenote, a freshwater sinkhole fed by an underwater river, is enticing.
Cenotes were sacred places to the indigenous Maya of the Yucatan, who believed they were gateways to the underworld. Stepping up to the edge of the cenote, it does feel like we've entered a lush magical playground. Threads of greenery dangle over the rim of this dreamy green-water crater lagoon. A couple of ziplines spanning the maw of this emerald kiddie pool reminds me that we're still on the Swiss Robinson's back 40.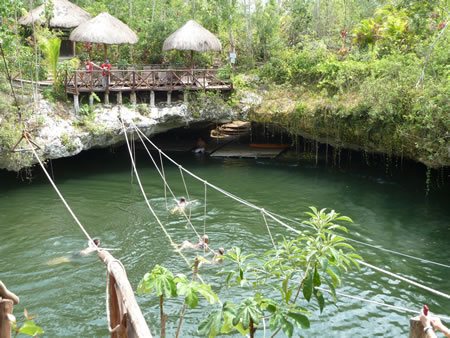 Slipping out of the muggy Mexican blanket of air, the cool fresh water of the cenote is somehow the perfect temperature. The feistier among us take turns doing backflips and bomb drops off the zipline for the amusement of the onlookers in the chillout shack above, or for those of us just floating lazily along, buoyed by mineral Mayan magic water. It's easy to imagine generations coming to the cenotes to relax and play. I can hear the birds and watch crimson flowers sway, fiery little stars in the sea of greenery above me. This is how I like my jungle: slow and easy.
Selvatica offers a host of different activities packages, and they've received lots of praise from adventure-seeking visitors from around the world. They're located roughly halfway between Cancun and Playa del Carmen in the Riviera Maya – check out their website for an adrenaline-infusion to your Mexico travels.
Thanks to Cancun.travel for sharing the photo moments of my colleauges daring zip-feats as well as me in my Doozer-outfitted glory.