Vancouver, BC is a world-class city, a thriving cultural crossroads situated in one of the most breathtaking natural settings you can find. But not all of the region's treasures are held within the city center! A day trip to the Fraser Valley on the self-guided Circle Farm Tour is a fantastic way to connect with a real sense of place and get to know the area's residents.
The Circle Farm Tour is a choose-your-own-adventure into the countryside just down the road from big city Vancouver. Simply hop on the website and download maps of participating businesses in the area, broken down into 5 regions, then head down the road and watch for the signs. The Fraser Valley has an amazing agricultural and artisanal community to showcase, and Circle Farm lays out all the options.
There's over 60 participating businesses to visit on Circle Farm, but I had only one day to explore some of the highlights. Thankfully my hosts at Spectacular Ink and Tourism BC worked with the regional Circle Farm Tour group to create a great day of sampling the farms, gardens, craftspeople, heritage sites, restaurants and markets who proudly come together and showcase their talents and passions as the Circle Farm community.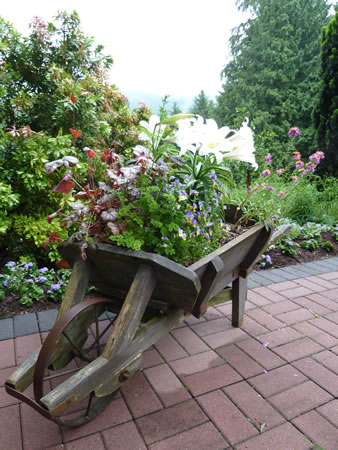 Just 1.5 hours out of Vancouver, on a typically Pacific misty June morning, we arrived at our first stop – Mintner Country Garden, in the Chilliwack region. Erin Minter, whose parents established the garden in this uniquely beautiful spot back in 1980, guided us around the grounds, which have been hand-crafted to fit the natural space. As we stroll down the path into a welcoming world of green, she tells me the staff spent the weekend chasing a local bear off the grounds. Occupational hazard, I think to myself with a grin.
Erin explained that the grounds, which are composed of several types of show gardens, were crafted to tuck and flow with the rolling hills and valleys that characterizes their 32 acre property, created by rock slides from the neighboring mountains. Each turn brings a new view and a surprise – for such a sizable piece of land, the Mintners have painstakingly created a wide array of moods, and little touches like sculptures and water features bring a sense of whimsy and discovery.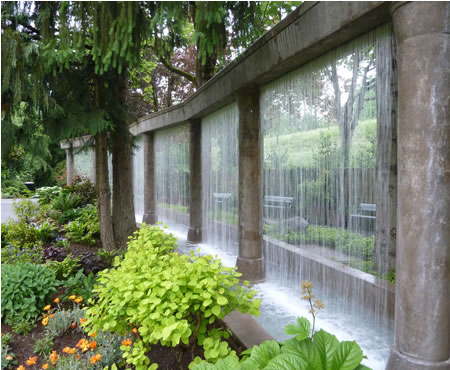 Erin's pride for the living gallery her family has cultivated, along with horticulturist Bruce (at the helm since 1981) and a team of seasonal gardeners, shines through as we stroll through the gardens. Though positioned close to the freeway in some spots, they've made the most of the landscape, with features such as the breathtaking
"water wall" creating an instant sense of peace and reflection. It's no surprise to learn that Minter hosts countless weddings each year – there's a variety of garden areas to choose the perfect setting, the colors are an ever-changing palette from season to season, and the on-site banquet facilities can accommodate parties both small and large.
Back on the road, we pass through the little hamlet of Aggasiz before arriving at The Farm House Natural Cheeses,  where open pastures are hemmed in by hazy mountain foothills. Master cheesemaker Debra Amrein-Boyes greets us in the little country store and pulls out a tasting block of her fresh handmade cheeses that immediately sets me to drooling. Outside, Guernsey, Brown Swiss and Holstein cows graze happily, while two draft horses called Dick and Blake and a donkey called Magoo look on. We are so not in the city anymore.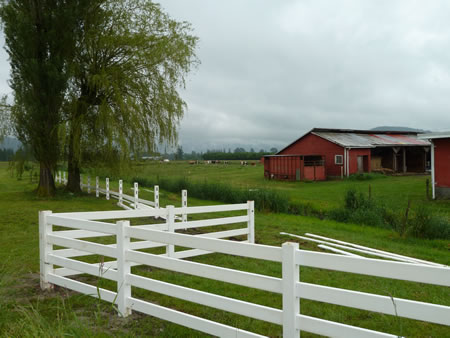 "Cheesemaking is very creative," Debra tells me, "you have to have a sort of sixth sense to make cheese." The force is obviously strong in her, I think, as soft, mild goudas and rich Alpine Golds dance across my palate.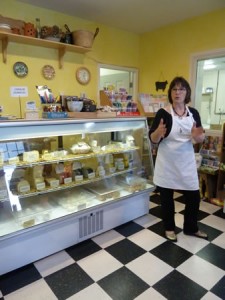 Debra's a member of the French Guild of Cheesemakers, recognized as one of only a handful of people in the world who is guarding and keeping the old cheese-making traditions. She's humble when she mentions the ceremony she attended in France, and the acclaim that her cheese-making book has attracted here at home. Debra, who works hard with her entire family to keep the farm running smoothly, is obviously not in this for fame or glory. She speaks passionately about the importance of removing processed foods from our diets, creating things the slow way by hand, and getting people out of the city to connect with rural life.
Next I taste a goat cheese called Kabritt, named after the Haitian word for the animal in honor of the goat dairy they've established in Haiti as a simple cottage industry to benefit the local community. I learn that they've bought the land and began construction, but the earthquake has forced them to start again. Rebuilding continues and soon they'll send good breeding goats on a one-way ticket to Haiti, along with easy recipes
they've developed for their Haitian friends to get started. The Kabritt has an edible rind which adds both texture and a pleasant bite. Though this may be a cheese with a purpose, it's not short on flavor.
Debra tells us they'll be adding a bistro soon, and I can't imagine a sweeter place to sip local wine with the freshest of cheese plates on a summer afternoon. The Farm House Natural Cheese is sure to be a popular stop on the Slow Food Vancouver Cycle Tour, a self-guided bicycle version of the Circle Farm establishments, cruising the Agassiz area on July 23 and the Chilliwack area on July 24.