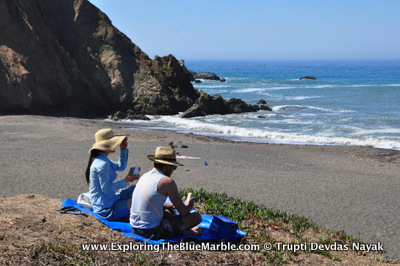 There are so many lesser known places in our own backyard, as beautiful and scenic as well known destinations. But one has to actively seek out such places and go off the beaten path. Then you will be rewarded with vistas of black sand beaches, vast stretches of ocean, cliffs and bluffs, and nobody around except a handful of peace seekers like yourself.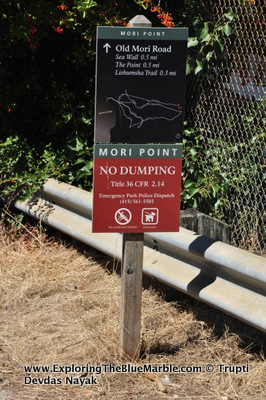 California is no stranger to beaches. But apart from the popular Half Moon Bay Beach, Santa Cruz and Monterey seaside destinations, there are tons of hidden beaches all along the coast. Despite having lived in California for so many years, we just recently discovered Pacifica State Beach and Pacifica Pier.
Looking up reviews online, Pacifica beach seemed like a nice place to go hang out in the afternoon. Scenic black-sand stretches flanking the ocean, sun overhead and easy to walk trails criss-crossing the surrounding terrain. Parking was easy near Mori Point in Pacifica. It's a residential area with pretty seaside houses and high fences, and a short walk to open views of the ocean.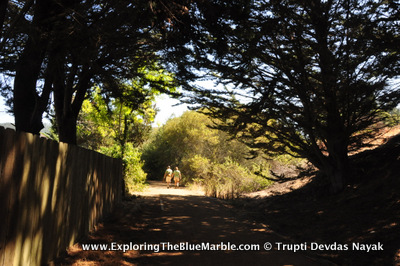 Wide shaded paths led us away from the busy highway traffic into a quiet serene world of its own. Who could imagine that the hustle and bustle of San Franciso city was just a stone's throw away.
There are lots of trails in the area, some going up to Mori Point for spectacular views of the oceanside cliffs, some leading to beaches with names like Rockaway beach or Linda Mar beach. Connecting trails allow enthusiastic hikers to explore much of Pacifica's coastal beauty. If planning for day hikes, make sure to carry plenty of water, snacks and sunscreen.
A boardwalk led us to the open beach and more connecting trails. Clear blue skies and not a single cloud in sight. Although it was mid-aftenoon and the sun was right above us when we visited, the ocean breeze is deceptively cooling, so it always feels less warm than city interiors.
Our first sight of Pacifica State Beach was wonderful! Scores of birds were flying about right at the edge of the ocean, fishing for their lunch. A handful of people, solo, couple, family were walking leisurely along the beach, taking in the beauty and enjoying the tranquil scenery.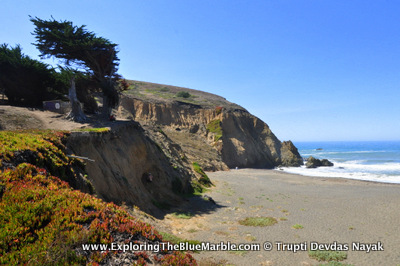 The trail leads up to Mori point which is atop this bluff. Views from Mori point are supposed to be spectacular. We didn't hike up all the way this time around and chose to do a beachside walk instead.
A couple had found the perfect picnic spot for their packed sandwich lunch. Enjoying the views of the ocean and relatively uncrowded beaches is a great way to spend a weekend.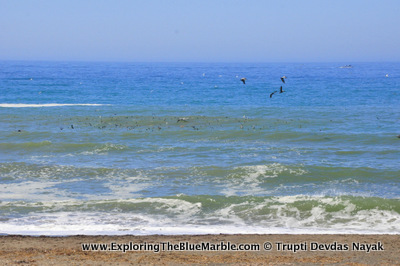 Walking along the beach, even the normally freezing Pacific ocean felt warm and refreshing. Taking our shoes off, we dipped our toes in the ocean and strolled leisurely along the entire stretch of the Pacifica State Beach.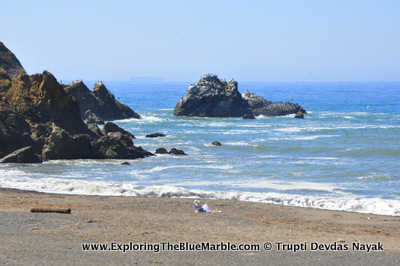 A solo visitor lay back in comfort very close to the ocean's edge. The tide was low and the ocean was far out. Much more of the beach was exposed and accessible. There have even been instances of beached whales here in the past that brought over intrigued visitors who wanted to take a closer look!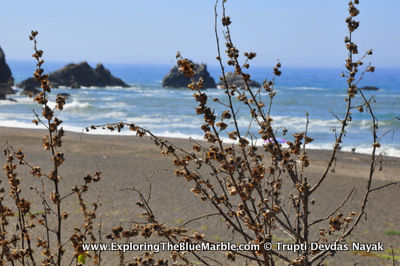 It is whale migration season right now. So there are high chances of spotting pods of whales along the coast. One visitor we spoke to said she had seen a pod of 30 grey whales that morning and they had been very close to the beach! Remember to carry your binoculars if you are planning on visiting any of California's beaches so as to not miss out on the opportunity to say Hi to a whale up close!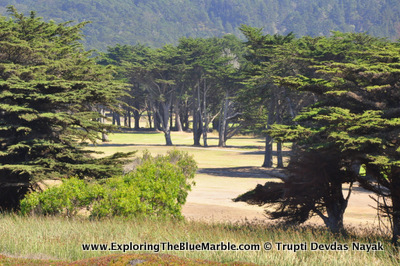 Pacifica State Beach is adjacent to a lush green Golf Course that is easy on the eyes. We spotted some golfers and caddy carts driving around playing a round and stretching their legs on the weekend.
Walking alongside the ocean on a sandy beach on a sunny afternoon is one of the simplest joys of life. The roaring ocean fills up the senses and calms the mind.
Rocky outcroppings added drama to the coastline. Reminiscent of Big Sur and Oregon's pretty coast, Pacifica also boasts many spectacular beaches and seaside hikes that one can explore.
All that walking and beach time made us hungry. We headed straight to Cafe Pacifica (merely a couple miles away from Pacifica State Beach) to indulge in some grilled panini, banana-walnut muffins and wake-me-up coffee. The perfect end to a day by the beach. Better yet, grab these wraps and sandwiches to go, and make a picnic meal of it by the beach.
Pacifica State Beach and Pacifica Pier is just one of the lesser known places we explored. There are so many more such hidden getaways, beautiful beaches, hiking trails, seaside towns and more both in California and in your own backyard. It is such a joy to discover a new place one hadn't heard of before. Make it your mission to seek such a place this weekend. Drive around and find your own private beach / pier / hike / viewpoint and soak in the tranquility! We would love to hear from you in the comments!
Happy Trails,
~ Trupti
Follow Trupti on Instagram and Twitter and like Trailbound on Facebook so that you never miss an update, a photo or a post!