Where are you headed this
summer
? If you're planning on
beating the heat
and heading to
alpine peaks
and
cooler climes
, don't forget to pack this super soft
Rosa Fleece 1/4 Zip jacket
 from
Royal Robbins
! I love all products from Royal Robbins as evidenced by my
product reviews
and the
Rosa Fleece
 is a gorgeous looking,
soft-to-touch fleece jacket
that is guaranteed to keep you
warm and toasty
no matter what the temperature is outside. I have several fleece jackets from other brands and I must say the
Rosa Fleece 1/4 Zip has quickly become one of my favorites
!
As soon as I unpacked it, the first thing that delighted me was running my fingers over the delicate embossed floral pattern that is all over the fleece jacket (front and behind). Unlike fully zippered jackets, the Rosa Fleece has a 1/4th Zip at the neck, making it easy to put on and stay snug in cold weather.
Sizes for Royal Robbins products have always run true for me and the Rosa Fleece is no different. The jacket fits perfectly, and is comfortable even when worn on top of a t-shirt. Thoughtful touches by Royal Robbins always make me fall even more in love with their products!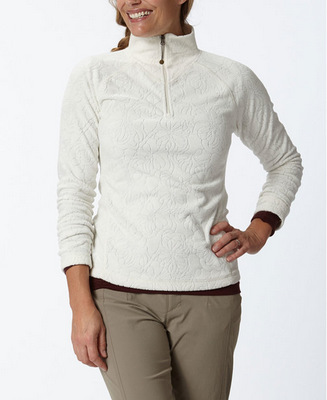 With the Rosa Fleece, they have designed the side seams with a slimming appearance in mind, as well as a straight hemline and raglan sleeve design allowing freedom of movement while still looking great. Stitching details and metal zippers with delicate floral designs add lovely touches to this beautiful fleece jacket. The Rosa Fleece is made with 100% Polyester and is very lightweight, coming in well under 5 ounces.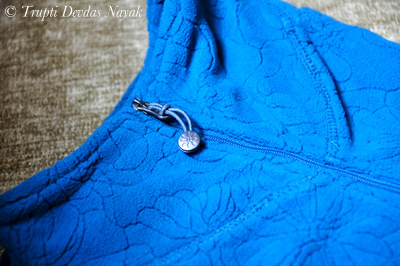 The material is quick dry with moisture wicking qualities, and I can see myself using the Rosa Fleece for any outdoor activity, from hiking and backpacking to wearing it for style and comfort when camping and anywhere outdoors. It's the perfect fleece jacket to pack for travel, because not only is it lightweight, but it is also wrinkle-resistant, so you just have to pull it out of your carry-on bag or backpack and throw it on, and you are good to go!
The
Rosa Fleece
jacket comes in a bouquet of gorgeous
colors
, from always-in-style
 Jet Black
to classy
Bordeaux
to cheerful
Deep Teal
(the one I got) to elegant
Creme
. Sizes from
XS to XL
are available. The jacket retails for
$90
and you can
buy your own here.
Have you tried the new Rosa Fleece 1/4 Zip jacket from Royal Robbins? We would love to know how you liked it in the comments.
Happy Trails,
~ Trupti
Disclosure: Royal Robbins provided for my Rosa Fleece 1/4 Zip Jacket in exchange for writing about my experience. Regardless, everything I have said in this post reflects my honest observations and opinions.