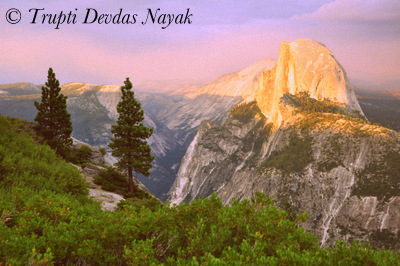 Sunset over Half Dome seen from Glacier Point, Yosemite National Park
Yosemite National Park is a great weekend getaway for Californians and visitors alike. The national park offers a variety of lodging and accommodation, including camping and tent cabins. We've stayed at rustic Curry Village's tent cabins and in more upscale Yosemite Lodge at the Falls. We love camping, especially car camping where you can throw everything you need for the weekend into the trunk of your car and just hit the road. Tent Cabins are always an upgrade from car camping and we love that Yosemite offers two great choices. Apart from Curry Village, there's also Housekeeping Camp along a section of the Merced River. Housekeeping Camp is different from Curry Village Tent Cabins because these cabins are made of 3 concrete walls and the 4th wall is made of canvas sheets that can be opened or drawn close.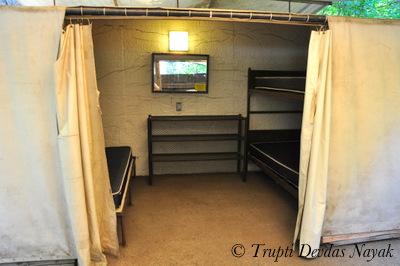 A double bed and two bunk beds inside our unit at Housekeeping Camp
We found Housekeeping Camp to be far more comfortable than Curry Village. With a spacious interior accommodating a double bed and two bunk beds, these units are comfortable for couples, families, kids and groups. After checking in at the nearby Reservations desk, we parked our car right outside the unit. Walking in, we were happy to see how spic and span everything was. Dry leaves and dust had been swept away, the beds looked comfortable and new. A spacious shelf was more than sufficient to unpack all our stuff and get settled. There was a electricity plug outlet and a light switch for the sole light in the room. Bring along your power strip and plug that into the electrical outlet inside the cabin to power all your electronics (like phone, camera battery charger etc).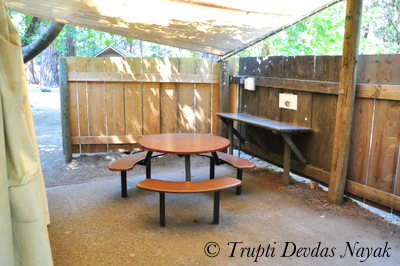 Private picnic table with benches
Every cabin in Housekeeping Camp comes with it's own private shaded patio area, complete with a picnic table and benches, along with a side table to prep and cook food. Right outside on the other side of the wooden fence is the very important bear box. When not in use, all food and toiletries has to be stored in the bear box. Yosemite is well known for it's curious bears and if they are able to get food easily from humans, they will not remain wild any more. This is a real danger especially when camping. Bears have a keen sense of smell and the only way to prevent them from getting to food inside campgrounds is by using bear-proof trash bins and bear boxes to store everything that has any kind of smell.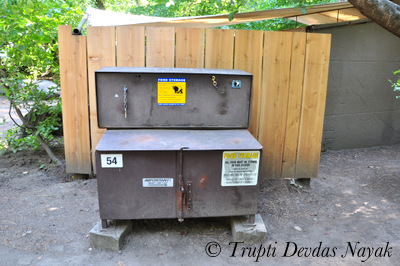 Bear-proof food and toiletries storage Bear Box
All the bear-proof boxes and trash bins have a locking mechanism that allows humans to operate it, but will prevent a wild bear from gaining access. Use this bear box at all times. Keep all food, drinks, toiletries etc inside the bear box. Even a small cooler will fit inside the bear box. It is important to not keep anything that has any sort of smell or can be associated with food inside the tent. There should be nothing stored in the car either!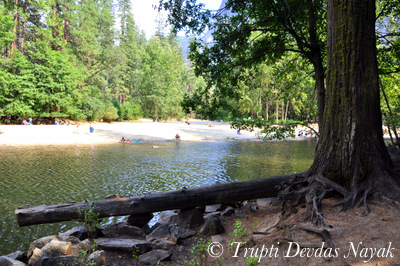 Merced River next to Housekeeping Camp
Now that we had unpacked and settled into our home for the weekend, we took off to explore our surroundings. Housekeeping Camp runs alongside a section of the Merced river and the scene that greeted us was one of quintessential summer bliss. A sandy beach, gently flowing river, cool water, picturesque stone bridges and beautiful nature all around us. Some of the Housekeeping Camp units are right alongside the river, with a view of the rugged granite peaks that dominate the valley floor. But the important thing to know about Housekeeping Camp is that you cannot choose a unit when making a reservation. All units are assigned on random basis ensuring a fair system.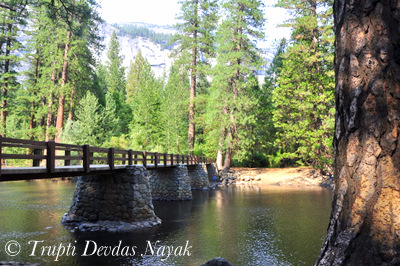 Stone bridge across Merced River
Housekeeping Camp is great for families and big groups of friends who want to spend time in Yosemite National Park without dealing with all the camping gear and setting up tents. With so many amenities nearby including a Grocery Store, a place to rent bedding (bedsheets, comforter and pillows) for $2.50 for the night, a place to buy firewood for campfires and recreational facilities like the beach and river, one can see Housekeeping Camp being like a paradise within paradise.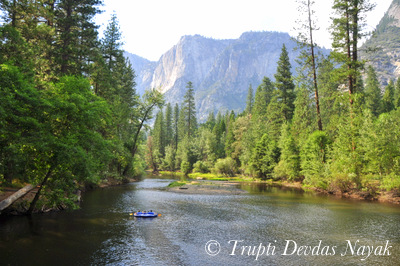 Endless days of summer
As we strolled on the gorgeous stone bridge crossing Merced river, a group of boys out in their inflatable floats caught our eye. Yosemite's granite peaks rose from the valley floor in the backdrop. Merced river flowed lazily. Green lush scenery surrounded us. It was hard to not be moved by a scene that epitomized endless days of summer.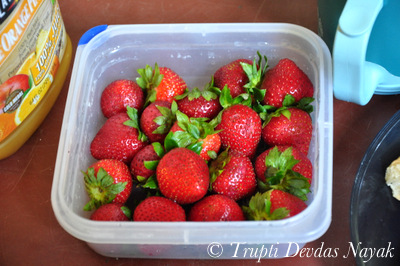 Fresh strawberries taste so good!
Back at camp, we indulged in fresh strawberries and set about making campfire and dinner. Housekeeping Camp is also one of the only accommodations in Yosemite where you can grill outdoors, since the campfire ring includes a grill grate. With our campfire roaring away, we sat back and relaxed, savoring our weekend getaway inside Yosemite National Park.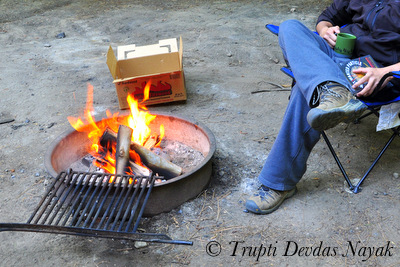 Campfire time in the evening!
Housekeeping Camp is a great option for those who want to visit Yosemite National Park but do not want to break the bank by booking expensive lodging and who are not keen on roughing it out with camping. Housekeeping Camp provides a perfect balance between being outdoors in nature with all the comforts for a good nights sleep. It is true that summer is peak season for Yosemite and most of the accommodations will be full. But keep an eye on cancellations leading up to the weekend you are planning for. We got lucky with a last minute availability at Housekeeping Camp and booked it right away. Check Yosemite Park Accommodations to make reservations. Sometimes, directly calling their front desk to check on recent cancellations works too!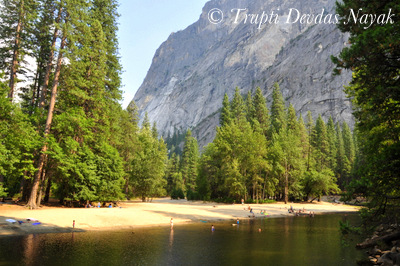 Sandy beaches and more
Housekeeping Camp is a great way to enjoy the ruggedness of California's favorite national park without need for intense advance planning. We stayed just one night and although one night in Yosemite is never going to be enough, we were thrilled that we got to explore the park over the weekend and experience staying at Housekeeping Camp. It refreshed our minds and souls to be amongst nature.
Have you stayed in Yosemite? Which was your favorite accommodation?
Happy Trails,
~ Trupti