I love this time of the year, when the weather starts getting warmer and the days are perfect for hiking while the nights stay pleasantly cool. Our camping trips usually begin in May and I'm looking forward to exploring several state and national parks in California next month. If you're still scrambling for campsites, this will be helpful. If you're looking for inspiration and wondering where you should head this summer, here's my list of top 10 places to hike in California.
Weekend hiking trips usually involve a night or two of camping. Depending on how many nights you've reserved at the campsite, you might be heading out in a rush on a Friday evening after work, or more leisurely on a Saturday morning. Heading out Friday evening is advantageous if you want to grab one of those first-come-first-serve walk-in campsites which typically cannot be reserved online.
Once you know where you want to go hiking and camping, what are some of the essential things you should pack? Here is my comprehensive packing list for hiking and camping! This list covers everything from inflatable sleeping pads to skewers for smores and camp chairs for comfort. It is by no means a list for backpacking or lightweight camping, but it's a handy place to start for a weekend of camping where you can load up your car with essentials and drive up to your campsite. Here we go!
Download a PDF version of this list.
Shelter when camping

Tent (including stakes, mallet, rain fly etc)
Ground Tarp – Choose a level spot and place tarp on the ground before setting up the tent on top of it.
Sleeping Bags – All-weather or 3-season sleeping bags are great.
Inflatable pads (optional)

 – These are completely optional, but the self-inflatable ones are great for a comfortable nights sleep.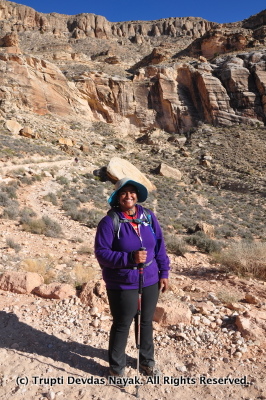 Clothing when hiking

Hiking Pants – Have you tried Royal Robbins Glen Canyon pants? Read my review about these wonderful pants here!
T-shirts – The wicking kind are the best, but anything you feel comfortable in is great.
Fleece Jacket – Weather is unpredictable. Evenings can get chilly after sunset, so its best to pack a light fleece to keep you warm.
Woolen cap + Gloves + Scarf – The night is always coldest before dawn. It might be warm and toasty when you go to sleep, but in the early hours of dawn, you don't want to wake up freezing. Keep these handy in your tent so you can stay warm if the temperature were to drop a degree or two.
Hiking shoes/boots + Hiking socks – Comfortable broken-in shoes for the trail.
Flip-flops/sandals for camp – After a long day out on the trail, you'll want to take off those shoes and stretch your toes.
Thermal wear (optional) – Only if you're likely to feel cold at night.
Sunhat – Good idea unless you want to show off a nice tan at the end of your hiking trip.
Rain Jacket / Ponchos – Again, these are optional. If the weather seems unpredictable, keep these handy.
Swimsuit (optional) – Good idea to pack these if you're visiting a park or campsite that offers rivers or natural pools that are safe to swim in.
Sleepwear
Lightweight Towel / hand towel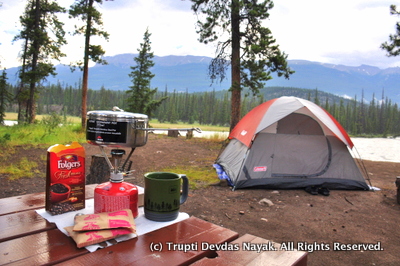 Essentials for cooking at camp

Camp stove + Fuel canister

Matches
Cooking pot(s)
Plates & Cutlery
Drinking Mugs
Skewers for smores (optional)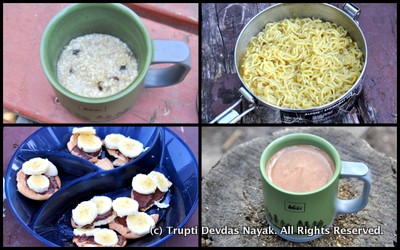 Camping Food
Instant Oatmeal – Instant breakfast!
Eggs – Easy to cook in a skillet over the fire. Add some onions, tomatoes and cheese for a hearty omelette.
Coffee sachets – Some of us need our daily caffeine fix even when camping. Also, isn't one of the joys of camping sipping a hot cuppa joe while hearing the birds sing and watching the sun rise?
Energy bars – Take these along on the hike to keep yourself nourished.
GORP (Trail mix) – Dried nuts/berries/chocolate – great for instant energy!
Biscuits, chips and other snacks.
Ramen noodles – Always a comforting dish to tuck into on a cold night. And so easy to make!
Ketchup, Hot sauce – To satisfy those cravings for savory and spicy foods.
Bread + Cheese – Grilled cheese sandwiches, yum!
Bread/Crackers + Nutella + Banana – Makes for a great dessert.
Fresh corn on the cob – Skewer these and grill on an open fire until well roasted and dark brown, sprinkle some salt, pepper, cayenne powder and a dash of lime for a scrumptious snack.
Condiments – Salt, Pepper, cayenne powder, Sugar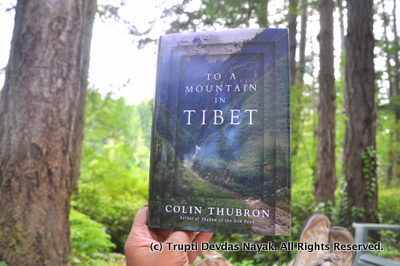 Miscellaneous
Headlamps
Tent lamp
Sunglasses
Sunscreen
Toiletries
Hand sanitizer
First Aid Kit
Camera gear
Extra toilet paper rolls
Earplugs – For a sound nights sleep.
Books / Journal
Binoculars – Great for birding and spotting wildlife when hiking.
Mosquito repellent / Bug spray
Ziplock bags – To gather trash or keep other items organized.
Cleaning supplies – to clean mugs, dishes and cookware.
Hiking and exploring outdoors
Day pack – Best way to keep all your stuff handy in one place.
Camelbak and/or water bottles – Don't drink water from any natural sources without filtering/boiling it first. Even then, it's advisable to always carry potable water with you at all times on the trail. 
Hiking poles – Great when hiking steep trails.
Bell for keeping away bears + Bear mace/spray (optional) – This is often not needed in many parks unless you are hiking in a park which is known for frequent bear sightings. Ask a ranger before you start your hike about recent wildlife activity on the trails.
Water-Filter – A good idea to keep with you when hiking if you're planning on relying on natural sources for drinking water.
For starting a Campfire
Long lighting matches
Fire-starter
Newspaper sheets
Chopped logs of wood are usually available at most campgrounds for a nominal fee
Additional comfort
Bath-shower wipes (optional) – For those sweaty days when you need freshening up!

Camp chairs – Nothing like coming back to camp and sinking into a comfortable camp chair while making dinner and enjoying the campfire.
Cooler – Great to keep perishable food longer. Eggs, cheese, milk, icecream, the possibilities are endless.
What is a must-have on your packing list for hiking and camping trips? Let me know in the comments!
And for more packing tips, also check out: Packing for Ski Trips | More Packing Tips
Download a PDF version of this list.
Happy Hiking!
~ Trupti