Jay and I woke up to sunshine streaming into our condo that faced the golf course during our recent weekend at The Resort at the Mountain in Welches, Oregon. After breakfast we headed over to the sports room by the pro shop. Dawn, a friendly and knowledgeable employee, told us all about the resort and everything it has to offer — skiing in winter on Mt. Hood, as well as year round on Palmer Glacier; three golf courses and two putting greens at the resort; trails for walking and biking; four tennis courts; a heated pool and hot tub; a workout room; bocce ball and professional croquet courts; horseshoe pits; a child's playground; and volleyball and badminton courts. There is something for every age, athletic ability and interest.
We chose to go on a bike ride through the woods surrounding the resort; take a drive to Mt. Hood, which is about 20 minutes away; hike around Trillium Lake, located a bit further up the highway from the turnoff for Timberline Lodge; and then return to the resort to play a round on the 18-hole putting green. It was great to have so many choices available, and we both agreed that we could have spent a week enjoying the resort and the area.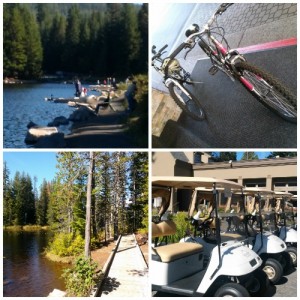 There's plenty of room to spread out and be alone or engage in group games and interaction at The Resort. If pampering is what you want — especially after a day of activity — The Spa offers a menu of massages, body wraps and scrubs, and manis and pedis. I enjoyed a 10-minute introductory massage at the Howling in the Hills Festival the resort hosted on Sunday afternoon (more about that in my next blog) and I would definitely go back for more — it was fabulous.
Accommodations at The Resort range from condos that sleep eight to suites for couples. The primary circle of these surrounds the outdoor heated pool and hot tub. The décor is Northwest modern with a gas fireplace and flat screen television in every room. Outdoors is woodsy with lots of paths for guests to walk between buildings.
There are two restaurants at The Resort – Altitude is fine dining and Mallards serves casual fare. Executive Chef  Matthew Grimsley specializes in farm to table cuisine and the pastry chef invents delicious one-of-a-kind desserts. Surprisingly with this talent, the prices are really reasonable, with the most expensive item on the menu – Roosevelt Elk – only $32. Most of the burgers and sandwiches at Mallards are under $10. We had lunch there — a chicken wrap with garlic fries for me and a Reuben with sweet potato fries for Jay (photo right).
The Resort at the Mountain is about a four-hour drive from Seattle and well worth it for a weekend or longer getaway. I highly recommend it for a family gathering because of the diversity of activities and spaciousness of the grounds, as well as the accommodations that have the option of cooking onsite in a fully stocked kitchen. But it's also great for a couple getaway. We had a great time!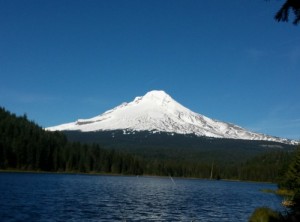 Enjoy!
Elizabeth
Photos by Elizabeth Griffin.
Weekend courtesy of The Resort at the Mountain.