Ah, that was a funny joke.  Yep, a really good one.  Wheeeew….
One second of silence: the person to your left sighs.  Two seconds of silence: "yep," the person to your right mumbles. Three seconds of silence: oh no, it's happening.  Four seconds: no.  No one needs to say anything.  Silence is natural.  I'm comfortable with this.  Five seconds: okay, someone needs to say something.  Six seconds: "awwwkward," someone blurts.  Seven seconds: come on, why did they have to say that?  Eight seconds: standing on tiptoes, smiling at the ground, shuffling through bag.  Nine seconds: Semi-related story?  Tomorrow's weather report?  Oddly colored mole?  Nope.  Nothing.  Ten seconds: "Well, I should get going," says everyone at once.
For moments like these, it's always helpful to have a few fun facts up your social sleeve; and thanks to Prince of Whales – the largest, safest, and most environmentally sustainable whale watching and eco-adventure company in both Victoria and Vancouver – my latest conversational go-to has revolved almost entirely around large aquatic mammals.
In mid-July, I had the great pleasure of joining the Prince of Whales' Ocean Magic Cruiser Tour.  Complete with an outdoor deck and an indoor heated cabin, the boat ripped out of Victoria's Inner Harbour and cruised all the way to the San Juan Islands in search of Southern Resident and Transient Orca whales.  Within minutes of idling, fins were breaking the surface left and right.
To my delight, Prince of Whales employees (which includes at least one certified naturalist) are bonafide knowledge bags, and each crew member seemed genuinely passionate about marine life.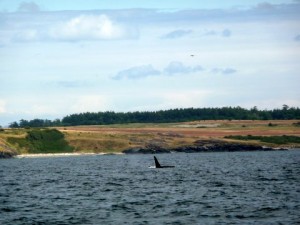 The three hour tour was filled with unbeatable scenic views of Victoria and the greater Pacific coast – all set to the soundtrack of irresistibly nerdy knowledge.  The Prince of Whales team was even able to distinguish each whale (age, pods, breeding habits, etc.) based solely on its dorsal fin.
To experience the thrill of seeing whales peak out of the Pacific, you'll have to book the tour and see for yourself.  In the meantime, it is my pleasure to share some juicy tidbits about our gigantic warm-blooded friends.  I have divided each fact into scenarios in order to help you play the hero in your next ailing conversation.  Big thanks to the helpful folks at Prince of Whales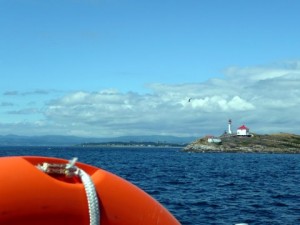 for increasing my collection of random facts:
Mother's Day Brunch/Defending Your Decision to Move  Back in With Your Parents: Male whales live and travel with their mothers even after they are full grown.  Males live for approximately thirty years while females have an average lifespan of seventy years.  As a result, males live their entire lives with their mothers.
When You Want to Talk About Sex but You Don't Actually Want to Talk About Sex: In addition to enhancing balance and navigation, the dorsal fin of a male whale is also used to regulate the temperature of the mammals' sperm.  Unlike their human equivalent, male whales' reproductive organs are located internally to prevent drag (three plus feet would certainly slow a swimmer down).  To maintain fertility, the whale must keep its good cooler than the rest of its body.  Enter dorsal fin.    Both fashionable and functional, the dorsal find houses major veins that connect directy to the whale's genitalia.  To throw a pun into the mix:  a glimpse of an Orca's fin is "cool" for eager tourists and whales alike.
While Watching a Difficult Birth: Baby Orca whales are born tail first at approximately eight feet and 440 lbs.
Pride Parade/Making Conversation with  a Human Rights Campaign Canvasser: During the summer and fall, males of all ages often engage in homosexual courtship and sexual behaviors.  Male-only group sessions include "beak-genital orientation" (a sexual act also seen in heterosexual courtship) which involves rubbing, nudging, and chasing that results in erections.  Some males have favorite partners with whom they interact year after year.
When You Feel Like You Ate Too Much: An adult Orca can eat as much as 500 lbs of food per day.
During Your Next Trip to Your Local Feminist Bookstore: Resident whales have a strict matriarchal social structure linked through the genealogy of the mothers.