I recently had the chance to get out of the big city of Los Angeles and head into the hot desert to the J.W. Marriott Desert Springs Resort and Spa. The resort itself is easy to access and just far enough outside bustling palm springs that you will truly feel like you are in a desert oasis.
the property is absolutely enormous and has everything you could possibly want all in one place. Activities? Check. Fine dining? Check. Nighttime entertainment? Check. Amazing spa? Check. Check. Check.
I was extremely impressed with the J.W. Marriott Desert Springs Spa. It was easily accessible, but exclusive enough that you felt like you were just far enough away from the general population to experience true tranquility.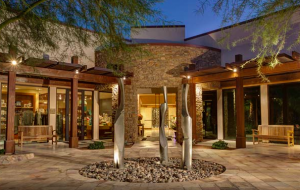 Date scrub
The resort was kind enough to offer me a trio of their signature date (yes the dried fruit) collection. Dates are used as a natural folic acid, which is actually known to help counter the effects of vitiligo. Although most people do not suffer from this skin discoloration disorder, the effects can be transferred to everyday use, improving the appearance of skin and combating any discoloration due to age or sun exposure.
I got to try out the scrub and it felt quite luxurious against my skin. I've had scrubs before and sometimes they can get so rough on my sensitive skin that they actually scrap my skin, leaving marks. This date scrub was gentle, but effective. It smelled amazing and my body felt so soft after the fact.
Massage
The massage was offered as an extension of the scrub. My advice: if you are ever going to go for a body scrub, make sure it comes with a gentle massage at the end. It's really important to include the massage to sooth the skin at the end. Scrubs are meant to take off any dead skin, but can also leave your body feeling a little raw, so a soothing massage with some great lotion can really make a big difference.
I also wouldn't recommend doing a sports or deep tissue massage after a scrub because it's a lot for your body — one or the other at one time. This massage was the perfect combination of gentle and soothing. I always love to feel like i got the complete package when i do a scrub, since they are not always my favorite (although i know necessary when it comes to wellness).

Facial

My favorite part of the experience at the J.W. Marriott Desert Springs Resort and Spa experience was the facial. She really took the time to examine my skin under a microscope and understand the personal needs of my skin. I have very dry skin, which my therapist determined immediately. She took the time to really scrub and even did a couple of extractions where necessary (if you don't know what that is, look it up, it's not the most pleasant of things!) She used quite a bit of moisturizing lotions and serums on my skin and really massaged them in.
She also used the clarisonic facial cleanser to ensure optimal cleaning before starting. I really loved the feel of that and the product she used. It had quite a bit of tingle in it, but not to the point of discomfort. I really felt like the facialist was examining my skin and doing what she thought was right for it, as opposed to going through the motions. She also ended with giving me a rundown of exactly what she used, so if i liked any of them or felt they made a difference i could go back and purchase the product at a later date. She did not try to pressure me into buying them there, which i really appreciated.
Overall, if you are looking for an experience that brings you out of your day-to-day and truly experience something unique, check out the J.W. Marriott Desert Springs Resort and Spa. It's close enough to the Palm Springs airport or just a two hour drive from Los Angeles, so easy to access! The entire resort was inviting – a little busy during the weekend, with everyone in the pool trying to avoid the heat. If you are looking for a more subdued experience – still come here! Just check out the spa. Even if you don't get a treatment, you can purchase a day pass, which gives you access to the entire spa, including a great restaurant and lunch menu by your own separate pool. It's totally worth it!
Photos Courtesy of JW Marriott Desert Springs