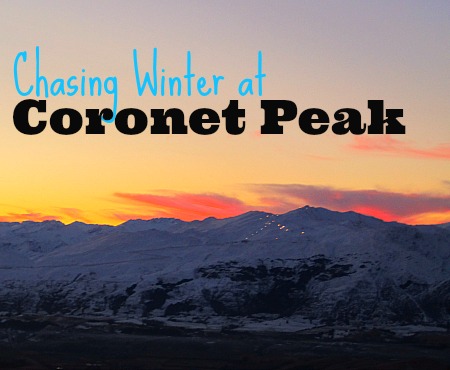 I still find myself explaining to people that summer in the Northern Hemisphere is winter in the Southern Hemisphere. For the skiing and snowboarding obsessed, it can be a truly magical discovery. Indeed, it's true: in New Zealand (as in a number of other countries), it's currently winter. Traveling between both hemispheres to experience cold climates again and again is known as chasing winter and it's wonderful.
A couple posts back, I delved into the beauty and majesty of the Remarkables in Queenstown, New Zealand. Its sister mountain, Coronet Peak, lies just across the valley. On a clear day, I liked to think that my instructor friends could see me waving over at them from the Remarks (is there such a thing altitude insanity?).
Stunning views, modern base building, high-speed lifts and quality grooming only begin to describe The Peak. Similarly to The Remarkables, the mountain offers endless possibilities with it's bare landscape—you could quite frankly ski/board anywhere there's snow. That being said, Coronet differs from The Remarks in a number of ways:
It offers a vast amount of night skiing over the weekends, adding to it this season with an additional 80 lights amounting to 4 kilometers of newly brightened terrain.
The access road is provides a far gentler journey. Completely paved, its a short 20 minutes from Queenstown.
It's larger, but also busier. Crowds fill the main trails, especially over the holiday periods, making it a far more challenging experience for novice skiers.
In my experience, Coronet Peak takes the cake for families and skiers/riders that enjoy groomed runs. The facilities are well suited to serving large groups of people ranging from complete beginners to strong intermediate skiers. Experts may be able to get some thrills, namely in the back bowls, but there are certainly more exciting resorts in New Zealand.
Coming up on July 26th, the sister mountains will be hosting the annual Peak to Peak race; an exhilarating five part race that can be completed individually or as a team. Totalling an epic 44 kilometers, participants ski/board, run, paddle and bike their way to glory.
Have you been to Coronet Peak? Tell us about your experience in the comments below.
Winter is coming,
K