I still remember the first time Big Papa and I ate Lahmajun, Armenia's take on pizza. On our first trip to Armenia in 2009, our translator took us to Mer Taghe, a tiny slice of a restaurant on bustling Tumanyan Street in the heart of Yerevan. Lamb and spices atop a thin crust of dough, add a squeeze of lemon and a side of "Tan with gas" (a fizzy salted yogurt drink) to sip, both of which offer a tangy foil to the succulent lamb.
I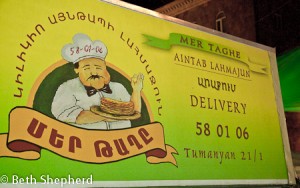 was instantly smitten. This says a lot, because I am not a huge (American) pizza fan, which I generally find to be too cheesy-bready for my taste. Big Papa, surprisingly, was not so over-the-moon. I say "surprisingly" because he is a fan of lamb and also falls in the likes cheesy-bready food camp.
Mer Taghe's main gig is Lahmajun with lamb (or, for vegetarians, with herbs), and although there are a few other dishes on the menu (like Georgian Khachapuri), I've never been there and ordered anything else. There are four small tables with high stools inside and a smattering of plaid tablecloth-covered tables outside. Dinner arrives quickly and two people can have one Lahmajun and one Tan each for less than $10. It's quick; it's cheap; and, it's so dang good.
Flash forward to 2012: Big Papa's fourth trip to Armenia, my fifth. And, this time we have a baby along for the ride.
"Do you want to go to the Lahmajun place?" Big Papa queries.
"Uh, we've already been there several times," I reply.
"Yes, but I've really come around. I'm a Lahmajun beliver," he tells me with a pleading tone in his voice.
"Okay," I say. "Those guys at Mer Taghe are pretty awesome and they adore Baby Bird."
Two more nights pass. We have a cranky baby on our hands.
"Do you want to go to the Lahmajun place?" Big Papa lobbies once again. "We could get take out."
I smile. "Sure."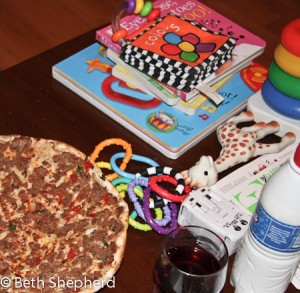 We go. Our favorite four guys are there, instantly cooing, oohing, and entertaining Baby Bird. In minutes, our Lahmajun is ready for the road. And two Tans.
Back at our apartment, on the coffee table littered with baby toys and books, and after we put the baby to bed, we eat our Lahmajun and drink our Tan.
"Mmmm," says Big Papa.
"Mmmm," I echo.
Mer Taghe Lahmajun was one of the first meals we had in Armenia and it was also one of the last. Back home in Seattle, I can't stop myself from reminiscing…and wishing Mer Taghe was right around the corner from the Urban Cabin, instead of half the world away.
Want a slice of more deliciousness? Check out Wanderfood Wednesday!