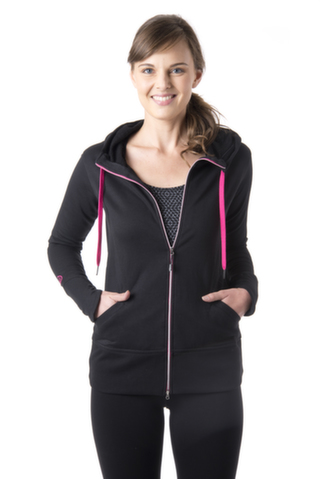 First there was polypropylene. Then, merino wool. Now… it's bamboo.
Advances in technology allow use to continually improve our clothing and its' uses in our active endeavors. In the case of bamboo, the inner "pilth" of this hard wooden plant is mixed with a variety of other materials, such as organic cotton or merino wool. The rayon fibers are used from the bamboo to make textiles, and the result is a softer, less likely to smell, stretchable article of clothing. I've had a bamboo/organic cotton blend t-shirt for a year and I've loved the feel of it against my skin. I was looking forward to testing out the Escape Full Zip Fleece Hoodie, which is made from Velu Performance Fleece, a material created by Tasc Performance.
The first thing I noticed in my testing was how warm it was. The 51% cotton/44% Viscose from Bamboo/5% Elastane hoodie was surprisingly thin for a hoodie, given the warmth it provided when worn as an additional layer or light jacket. The hidden, zippered pocket easily stored some cash and my license when I went out to run a quick errand. The hood provided ample coverage, and the loose, relaxed fit allowed me plenty of room to stretch and move about. The angled sleeve cuffs let me pull my hands up into the sleeves, and keep my hands warm during an evening jog.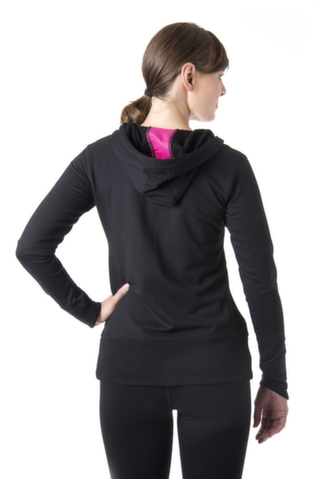 There are two deterrents to this hoodie for me that are easily fixable and will probably be updated in the near future. One, the only colors available are a black and hot pink combination. I don't usually wear hot pink, and quite simply, it's not my style. I would prefer a solid blue, black or green hoodie. Again, this is an easy fix. The other modification I would suggest is a thicker, more durable zipper. I found the zipper troublesome to connect, though once in place, it would work fine.
What I loved:
Very comfortable against the skin.
Can be worn in active outings or lounging at home.
Hand pockets and one zippered pocket very useful.
Longer sleeves provide good coverage when cold, but also can be rolled up easily.
Relaxed fit allow for easy layering.
Not so much:
Zipper is a bit flimsy and gets stuck often.
Only color options are black and hot pink.
The Escape Full Zip Fleece Hoodie can be bought for $108 here on the Tasc Performance website.
Adventure On, 
Joslin