Anyone who has spent a long time in Thailand has made a visa run.  Often Vientiane, Laos is the location of choice.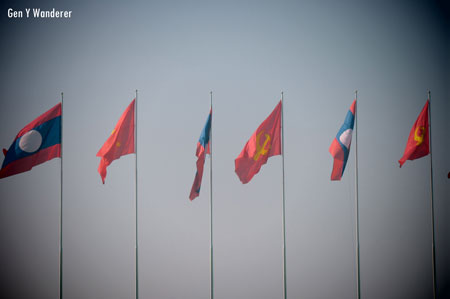 Basically, you hop on an overnight bus, cross the border the next morning and head straight to the embassy to fill out forms and wait in line.  After your paperwork and money is in, you have an evening in the Laos capital before returning to the embassy the next day, beginning at 12:00 p.m., to pick up your completed visa.  Then it's back to Thailand.
All in all, it's a pretty straightforward and quick process – you get your visa and are good to go in 24 hours.  Whenever I hear expats complaining about visa rules and costs I have to bite my tongue because, really, having to pay $60 or whatever in order to stay in the country is nothing.  For a Thai citizen to simply apply for a U.S. tourist visa they must pay a $160 fee and go through an interview process on top of the usual paperwork.  Of course that fee, which is more than my monthly rent in Chiang Mai, is nonrefundable if the application is denied.  If you're a Westerner trying to stay in Thailand you have it easy – stop whining.
However there are several time and money sucks throughout the whole ordeal that can add up if you're not aware of them.  Here is what I wish I had known before my Thai visa run to Laos.
Transportation options: You can either piece together local buses/transport to Nong Khai (the Thai side of the border with Laos closest to Vientiane) or choose to be a 'visa run' package from a tour operator.  In northern Thailand AyA Service runs daily minibus trips to Vientiane to do just this.  Seating is tight, with little legroom, for a long overnight ride, but sometimes the piece of mind knowing your transportation is taken care of is worth it.
While the actual time it takes to apply and get a visa is relatively quick, it takes a while to just get yourself to the Thai/Laos border, get across to Vientiane, and then through the waiting line at the embassy – and then to do it all again the next day in reverse.  I was picked up by the bus service in Chiang Mai at 7:00 p.m., arrived at the company offices in Nong Khai around 5:30 a.m. then did the short drive to the border at 7:00 a.m.  Crossing the border was slow being in a group with 12 people (two who had overstayed their time in Thailand) and the drive from the border to the embassy was about 20 minutes.  There I waited about an hour to turn in my application.
Dollars vs. baht vs. kip —  Pay less for your entrance fee to Laos with U.S. dollars — The actual costs are still a little unclear to me as there are no actual signs or listings and different entry fees apply to different countries.  But if you past to get into Laos with U.S. currency you end up saving between $10-$15 or about 300-500 baht.  Considering $1 can get you a full meal in both Thailand and Laos, this makes a difference.
Thai visa fees are only accepted in baht —  Look up what the fee is for the visa you're applying for and make sure to have that amount in cash.
Organize your paperwork ahead of time —  If you have questions about what you need, check out http://www.thaivisa.com and then download the appropriate forms from the Thai Immigration Bureau here.  It's quicker and easier to have everything filled out and sorted before you get to the embassy.
Have two copies of your paperwork and information/photo page of your passport.
Have at least two passport photos – you need one to get into Laos and one for your Thai visa application.
You don't need anyone to help you fill out your forms – there may be people near the embassy entrance saying they'll do your paperwork/copies for a small fee.  No need.  (You can also pay to have someone take care of turning in your paperwork and picking it up the next day so you don't have to wait in lines for about $30 or 1000B.)
Change your money at the border —  If you are heading back into Thailand with Laos kip BE SURE to exchange it into baht at the border.  There are money exchange booths right at border control, but once you get into Thailand it will be very hard to find anyone willing to do the exchange.  Banks won't do it and the few money exchange shops that will will only do so at a poor rate.  I got stuck with kip back in Chiang Mai and finally found a place that would exchange it at 350 kip to 1 baht, instead of the actual going rate of about 250 kip to 1 baht…but…better than nothing.