I love Thai food.  It's that simple.  There are few things I've tried that I don't enjoy…but moo ka ta, or Thai barbeque, is one of them.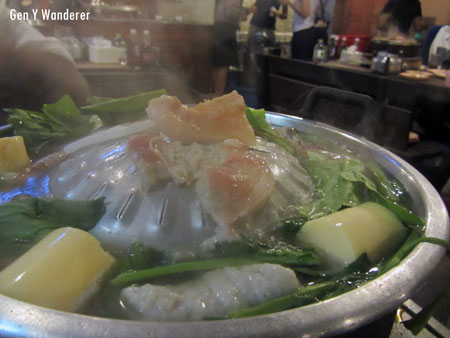 Thai barbeque buffet places come in several different forms and price ranges, with the lower- to middle-range costing about $5-6 for all you can eat.  A metal tray with slits is fit over hot coals.  Meats like pork and chicken are cooked over the the smoke coming through the slits, while vegetables and tofu are heated up in water simmering along the edges.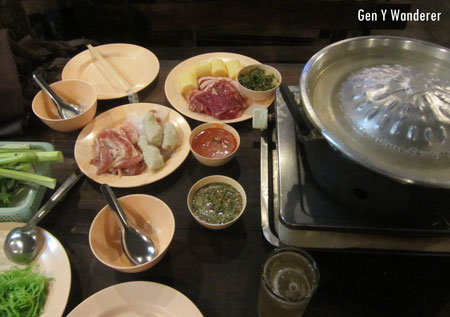 Getting ready
Once your meat of choice is done, you dip it in a sweet and spicy chili sauce then start cooking something else.  It's not horrible…but after going to different places and trying to enjoy the experience with people who really wanted to go, I still can't see the fun in it.  I'd much rather go pay $1-$1.50 for a full plate of fried noodles, egg, veggies and shrimp, then spend an hour waiting for individual pieces of unseasoned meat to cook.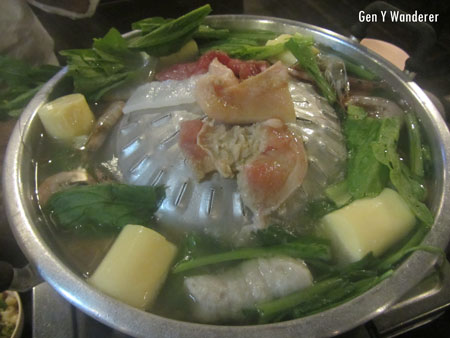 The obsession doesn't stop at moo ga ta though – Thais love to eat and they apparently love to do it buffet-style.
There are tons of buffets here and they're usually packed with people.  Japanese-style shabu-shabu or suki yaki places are popular with several large Japanese food and beverage companies offering different restaurants to the hungry public.
At Oishi's Shabu Shi restaurant it is about $12 for one hour.  Here raw meats, fish, seafood and vegetables continuously come around on a conveyor belt for you to drop into your hot pot.  Like moo ga ta, these are then eaten with a chili dipping sauce.  They also have sushi, salad, tempura shrimp and vegetables, and ice cream to round out your meal if you weren't already full.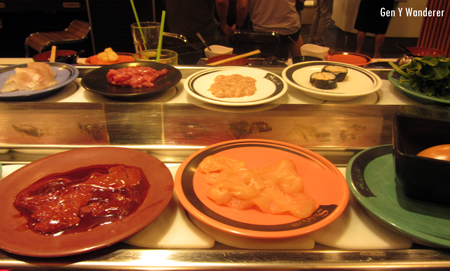 I like to eat, but I don't really care to eat as much as I can in a given time.  I'm also not a big meat-eater…maybe if these places were filled with bread and cheese instead of pork and chili sauce I'd be a bigger fan and get my money's worth.
The aftermath…look appetizing?
Whatever it is, I just can't seem to get on board with the buffet scene.  What do you think?  When is a buffet worth it?  Do you like cooking at your table?  Tell me in the comments!