How to plan a staycation in less than 48 hours: Request time off work for a week in mid-October. Decide where to go – San Juan Islands. Do a bit of research on several activities, including hiking. Call a few boat businesses inquiring about excursions to some of the smaller islands that have lighthouses. Reserve beds-and-breakfasts on two of the main islands. Print ferry schedules. Hope for good weather.
That was my Facebook post at the end of September this year, after I spent a weekend planning a 9-day trip for my husband and me to the San Juan Islands in the northwest corner of Washington State. My main goal during the trip – to visit the five San Juan Islands lighthouses, because for several reasons, I am intrigued by lighthouses.
Burrows Island Light Station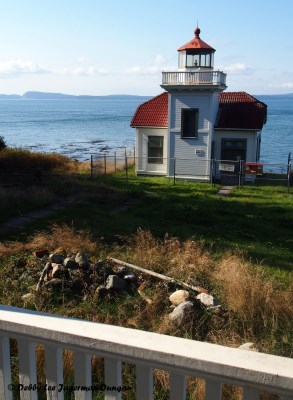 Technically Burrows Island, home of the Burrows Island Light Station, is not really part of the San Juan Islands. However, it is near Anacortes, Washington, the gateway to the ferry system to get the San Juan Islands. From Anacortes, Burrows Island is just a short charter boat ride away, and can be easily visited with a bit of planning, before boarding a ferry. We used Island Express Charters, Inc. to get to Burrows Island the first Saturday morning of our travels. After a couple hours drive from our home near the Seattle area, we arrived in Anacortes, and took the approximate 15-minute boat ride to Burrows Island. To disembark the boat, we climbed a staircase at the edge of a cliff. We then had an hour to walk around the outside of the lighthouse grounds, take pictures, and eat a picnic lunch on a park bench overlooking the lighthouse and Rosario Strait. It was beautiful.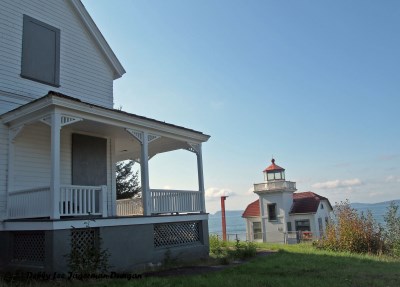 This wood-framed light station, that went into operation on April 1, 1906, is the oldest intact wooden light station in Washington State. On the grounds of the Burrows Island Light Station are also a boathouse, a workshop, and the Keepers' Quarters, a "massive 4,700 square foot duplex that housed lightkeepers and their families for over 60 years." Automated in 1972, and powered by solar cells, currently the Burrows Island Light Station is undergoing restoration of the Keepers' Quarters, boathouse, workshop, and grounds. As a project of the Northwest Schooner Society, they say, "there's a great deal of work to be done on the keepers quarters, but it's a building well worth saving."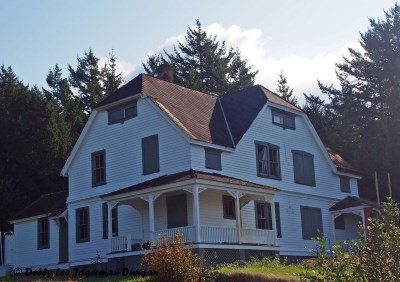 The light station was built on one of the few level spots on Burrows Island. Most of the shoreline of the island is made of sheer rock with sharp drop-offs, and much of the island's interior is made of steep hills covered with evergreens or grass. Lighthousefriends.com writes, "Forty acres of the island now make up Burrows Island State Park, which includes the light station and 1,000 feet of shoreline. A trail behind the lighthouse winds through groves of madronas to the top of the island, where the 650-foot climb is rewarded with a spectacular view of Rosario Strait."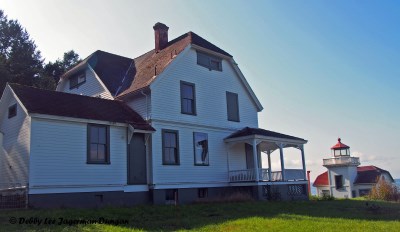 You could probably spend more than an hour on Burrows Island, visiting the grounds of the light station, climbing the trail behind the lighthouse, having a picnic, and perhaps exploring more of the island. Kayaking around Burrows Island is another option for seeing the lighthouse from a different point of view. I personally would love to be involved in the restoration of the Burrows Island Light Station's Keepers' Quarters.
Cattle Point Lighthouse
After our great excursion to Burrows Island, we boarded our ferry with our car to Friday Harbor on San Juan Island itself. San Juan Island is home to two lighthouses accessible by car or bicycle once you are on the island. It was only about 5:00 in the afternoon on that first Saturday of our trip, so with some daylight left, we drove to Cattle Point Natural Resources Conservation Area, home to several trails in the area, including some to the Cattle Point Lighthouse.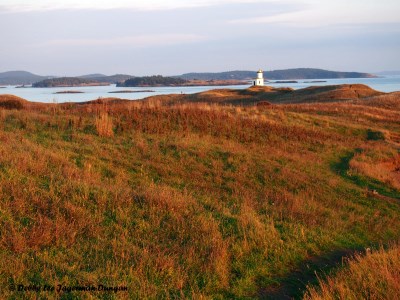 Located on the southern end of San Juan Island following Cattle Point Road about six miles from Friday Harbor, the thirty-four foot, octagonal, concrete tower and fog-signaling building was built in 1935. Prior to this "modern" building, the first light located here was a simple brass lens lantern on a post established in 1888, and in 1921 the U.S. Navy built a radio compass station near the light to aid with navigation. Sitting on a 94-foot bluff, overlooking Lopez Island and several smaller islands, the Cattle Point Lighthouse was automated in the late 1950s.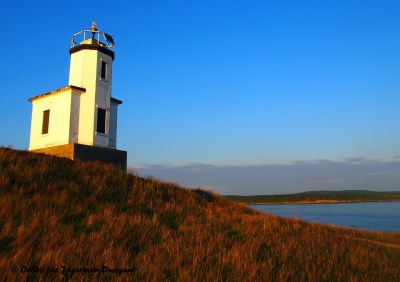 Because my husband and I stayed on San Juan Island for three-and-a-half days, we visited the Cattle Point Lighthouse a second time two days later, after doing a 4-mile walk up nearby Mt. Finlayson, to Third Lagoon and Jakle's Lagoon, and back along the ridge towards the lighthouse overlooking the Strait of Juan de Fuca and the Salish Sea. It was beautiful.
Lime Kiln Lighthouse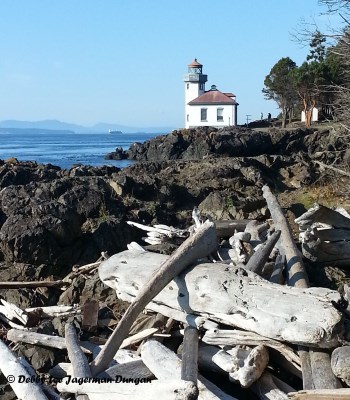 Our second day on San Juan Island was spent visiting the Lime Kiln Lighthouse, twice in one day, on either end of a several hour walk in the 36-acre day-use Lime Kiln State Park. Located on the west side of San Juan Island, the name of the lighthouse and park comes from the lime kilns that were built in the area in the 1860's, where limestone was quarried. You can even see the remains of the kilns as you walk around the park.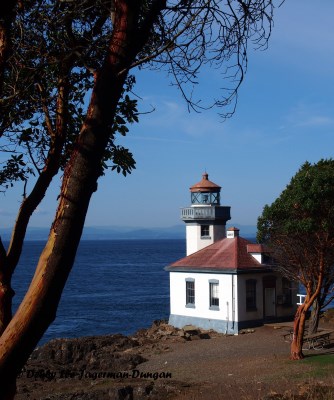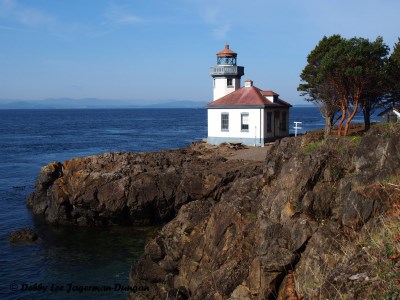 Lime Kiln Lighthouse was the last major lighthouse established in Washington State, when the lighthouse began its operation on June 30, 1919. Sitting on a 55-foot rocky shoreline, the lighthouse was automated in 1962, and today the tower flashes a white light once every 10 seconds, which is visible for 17 miles. While we didn't see any that day, Lime Kiln State Park is said to be one of the best places in the world to whale watch from a land-based facility. We did however go back to the Lime Kiln Lighthouse the next evening (thus a third visit) to watch a spectacular sunset overlooking Haro Strait, and onto Vancouver Island across the U.S.-Canadian border. It was beautiful.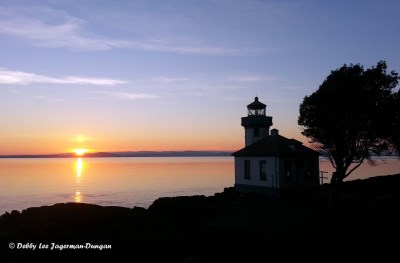 I think some of my intrigue with lighthouses comes from wondering what it would be like to live and work, sometimes a century ago, at a lighthouse. I even wonder what it would have been like to have been a lightkeeper's wife (don't tell my husband). It all seems so exotic, yet it was undoubtedly a tough and very important job, most likely for the entire family, with the constant activity of making sure the light was shining when needed in order to keep those safe at sea. I learned that at the Lime Kiln Lighthouse, "two lighthouse keepers were required to keep constant vigils in alternate 12-hour shifts, seven days a week. For this, they each received a salary of $800 per year plus housing."
Continue on our journey of visiting the remaining two San Juan Islands lighthouses, Patos Island and Turn Point, in my next blog. In the meantime, you may also be interested in our visit to 10 lighthouses on the Oregon Coast, plus two on the Washington Coast, that my husband and I also visited earlier this year.
By the way, we did have good weather!
Sweet Travels!
Some information in my blog on Cattle Point and Lime Kiln Lighthouses obtained from:
Lighthousefriends.com – Cattle Point
Lighthousefriends.com – Lime Kiln
HistoryLink.org – Lime Kiln and Cattle Point