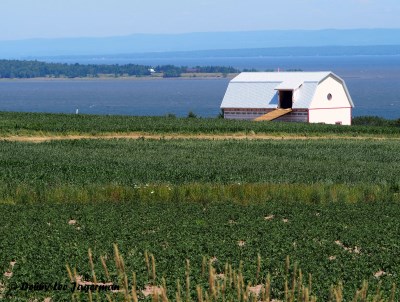 Île d'Orléans is a small island of only 76 square miles, but with nearly 20 boutiques and galleries representing over 80 artists and craftspeople, and with over 40 businesses and restaurants representing the agritourism industry on the island, Île d'Orléans is large in what it offers the visitor. It is an island where there are no fences between the homes and farms, and where people leave their clothes hanging out to dry on a line in the fresh air. Products are locally made and businesses are locally owned. The one road that encircles the island, the 42-mile Chemin Royal (Royal Road), is referred to in a song as "forty-two miles of quiet things." There is only one stop light on the entire island.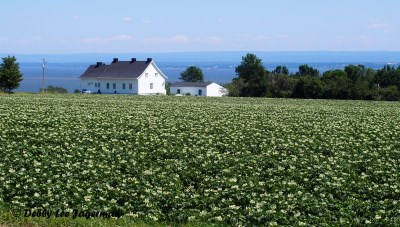 Located approximately 15 minutes from Québec City, Canada, about 170 miles from Montréal, and 525 miles from New York, Île d'Orléans has a 300-year old religious and cultural heritage. Whether you tour this island by car, bicycle, or even walking, the architecture of the 600 historical buildings and monuments, including churches and homes, and the landscape of farmland and the Saint Lawrence River, make Île d'Orléans an amazing place to visit, whether for a day or for a week.
I present this Île d'Orléans travel guide based on my experience of walking the Chemin Royal in four days, and from my creation of a series of blogs on the "42 Reasons to Visit Île d'Orléans."
Food – Dining, Drink, and Dessert
From bakeries to boulangeries to bistros, and from restaurants to cafés to pubs, there is a wide variety of delicious food on Île d'Orléans. You can find anything from local, regional, and Québécoise style cuisine, to a variety of European style foods, including French, English, and Italian. There is also Asian cuisine, and one restaurant offers international cuisine made from local products. A countryside grocery store, a fine selection of wineries and breweries, and three chocolate and candy shops on the island, all round out any meal. Many restaurants offer terrace seating to enjoy the panoramic view while you dine.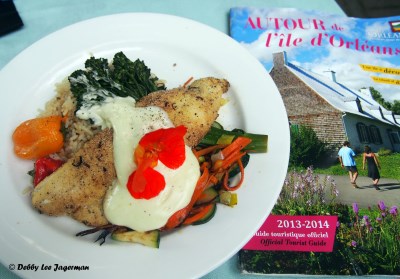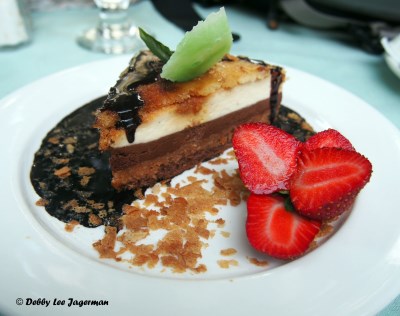 Lodging and Accommodations
There are many options for sleeping on Île d'Orléans, with nearly 40 choices including beds and breakfasts (gîtes), inns and auberges, tourist homes, and hotels. You can also rent an entire fully-equipped cottage, or go camping in one of two campgrounds, one of which is rated "five-star."
Transportation to and on Île d'Orléans
Québec City is the gateway to Île d'Orléans. Most likely you will visit this city first, and then travel to Île d'Orléans. You can get to Québec City by airplane, car, bus, or train, and from there, you can get to Île d'Orléans via car (either your own or renting one), or via taxi or a limousine service. Once on the island, transportation is via car, bicycle, or walking, as I did.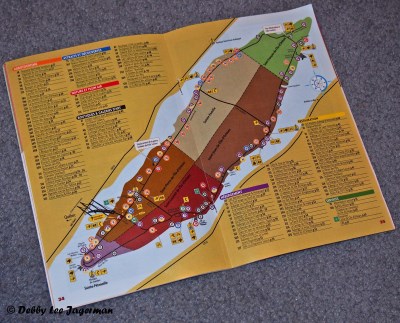 Arts and Crafts
Île d'Orléans is an art-lovers paradise. The island is home to over 80 artists and craftspeople, with a complete range of art forms exhibited in nearly 20 galleries and boutiques. These shops display and sell anything from paintings, sculptures, ceramics, and silkscreen, to stained glass, leather, jewelry, weaving, woodworking, and blacksmithing. One gallery alone exhibits arts and crafts created by nearly 60 local Québec artists, and there are even a few antique stores on the island.
Recycled Folk Art and Textile Weaving
The Art in the Garden and The Garden of Arts
Woodworking and Blacksmithing
Agritourism
Known as the "Garden of Québec," most of Île d'Orléans is devoted to agricultural and horticultural activity, producing a wide range of fruits and vegetables, vineyards, dairy, honey, maple, poultry, and fish. As you travel along the Chemin Royal, there are plenty of opportunities to stop at roadside stands to buy fresh fruit and vegetables, and you can pick your own fruit and vegetables in the orchards. A large number of businesses create a wide variety of products based on what is grown on the island. Blueberries, strawberries, raspberries, apples, grapes, and blackcurrants, just to name a few fruits, are created into jams, jellies, vinegars, wines, ciders, and pies, just to name a few products.
Wineries, Cidreries, Vinaigreries
Strawberry Season
Strawberries and Raspberries and Blackcurrants
Maple Syrup and Cheese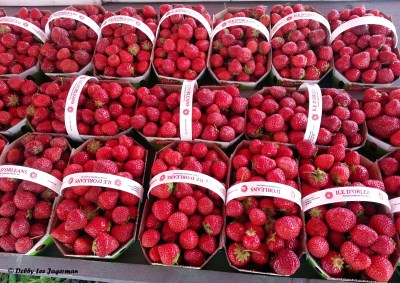 Things to do Outside
Strolling through gardens and parks, playing a round of golf, climbing an observation tower, and fishing are just a few of the things to do outside on Île d'Orléans. There is even one garden in particular where you can experience a 10-acre field filled with over 75,000 lavender plants, as well as a fruit garden, a five senses garden, and an Amerindian, Japanese, and Zen gardens all in one location. Children can enjoy a petting zoo, and a summer and day camp, and the entire family can enjoy taking a boat excursion on the Saint Lawrence River to surrounding islands. Walking and bicycling around Île d'Orléans are two ways to see the island at a different pace.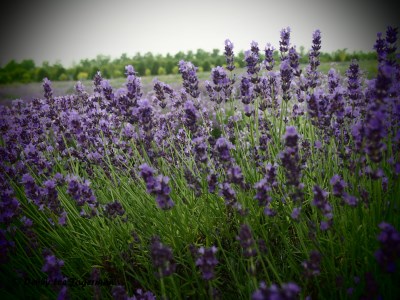 Religious Heritage
There is a great religious patrimony on Île d'Orléans. Each of the six parishes on the island has a church as a focal point, many dating from the early 18th century into the 19th century. In addition to eight churches total on Île d'Orléans, there are also six procession chapels, five calvaries, 19 roadside crosses, an oratory, and a cemetery. They are all places to visit not only for the religion, but also for the history, and their grand art and architecture.
The Churches
Procession Chapels and Roadside Crosses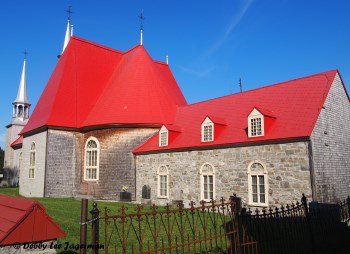 History and Culture
Île d'Orléans has a 300 year-old New France history, and an even longer native history. With over 600 buildings and monuments considered to have significant heritage value by the Government of Québec, and a rich maritime history, there are plenty of places to visit to get the feel of all the historical and cultural heritage of the island. You can visit historical homes, a place to learn history of the island, a genealogy center, a maritime park, and a museum honoring the French-Canadian singer-songwriter Félix-Leclerc who wrote the song Le Tour de L' Île, The Tour of the Island, which describes Île d'Orléans as "forty-two miles of quiet things." There is also a Memorial to the Founding Families which honors the genealogy and centuries-old ancestral heritage of the 300 founding families of Île d'Orléans.
Parc Maritime de Saint-Laurent and the Maritime History
Landscapes, Homes, Porches, and More
In addition to all the food, arts and crafts, agritourism, things to do outside, religious, cultural, and historical heritage on Île d'Orléans, there are many other reasons to travel to the island. The landscape of farmland, with its farmhouses, barns, fields, and crops, and the river scenery of the Saint Lawrence River is beautiful. The views beyond the water include Québec City, Canada and the Laurentian Mountains to the north, and part of the Québec Province to the south.
The architecture of the homes is fascinating as well, especially with their grand porches. Based on the historical and cultural heritage of the island, the porches of the homes are quite unique in-and-of themselves, and offer one of my favorite reasons to visit Île d'Orléans.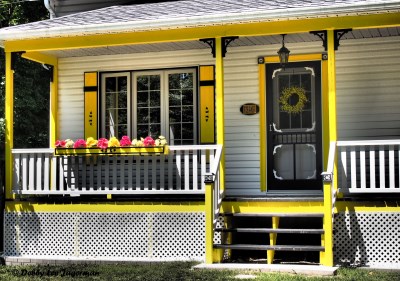 I always like to find something unique about a place when I travel there, something that I can photograph as a different way of describing a place. In addition to the porches, one such subject is the mailboxes of Île d'Orléans, which in my interpretation, are a small-scale representation of the island itself.
Another reason of mine to visit Île d'Orléans is the "quiet," as described in Félix-Leclerc's song. Even though there are many activities on the island, it is also a place to enjoy the scenery, and the slow pace. Instead of the hustle-and-bustle, traffic, and noise of a big city, Île d'Orléans has a small, quiet, country feel.
Finally, my blog on the porches of Île d'Orléans also talks about my "final" 42nd reason to visit the island.
The Farmland and The River Scenery
The Mailboxes
The Quiet – 42 Reasons to Visit Île d'Orléans
The Porches and My "Final" Reason (out of 42) to Visit Île d'Orléans
Contact Information
In addition to this Île d'Orléans travel guide, for more information, if you need help with planning your trip, or if you have any questions about the island, please visit the Île d'Orléans tourism website, or contact the Île d'Orléans tourism office who will be more than happy to provide assistance. You may call them toll free at 1-866-941-9411, local phone at 418-828-9411, fax at 418-828-2335, or email them at [email protected] You can also write them via their website on their Useful Information/Contact Us page.
Sweet Travels!
Some information in this blog was obtained from the Île d'Orléans tourism website.
My walking tour of Île d'Orléans was sponsored by Tourisme Québec (Québec Original) and Québec City Tourism (Québec Region). For more information, please visit:
Tourisme Île d'Orléans
Quebéc Region
Quebéc Region-Québec City and Area-Île d'Orléans
Quebéc Original