A pilgrim makes the journey for a variety of reasons.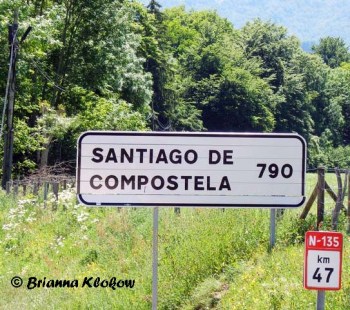 Ever since I decided to walk 290 kilometers of the approximate 790 kilometer Camino Francés, one of the many pilgrimage routes throughout Europe (this one being in northern Spain) leading to Santiago de Compostela, I have been thinking about my own personal reasons for walking a pilgrimage.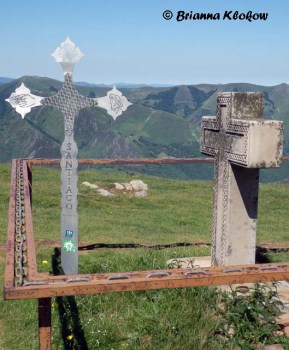 The main question, of course, is am I walking for religious reasons? This pilgrimage itself is a Christian pilgrimage, which is actually not my religion, either by birth or by practice. Therefore, one would think that my reasons would not be religious. However, some of the motivations behind the Christian religion, such as to receive blessings, to obtain relief from sins (not that I have any), or to seek forgiveness (not that I really need that) still sound like a few good reasons for my own pilgrimage. In addition, during my previous travels to Europe, I found entering churches and cathedrals to be very calming and spiritual (not to mention, beautiful with all the grand art and architecture). I think that I would like my pilgrimage to include learning more about Christianity, and the motivations behind pilgrims of this religion.
Buddhism, which I recently encountered during my journey to Bhutan last October, is also not my religion by birth. However, I studied this religion/philosophy before I went to Bhutan by going to a Buddhist temple in Seattle to listen to Dharma talks and doing some meditation. While I was in Bhutan, I visited many, many temples and monasteries. I studied rituals, beliefs, and history of Bhutan's Buddhism. Since I have been back from Bhutan, I have been reading more about Karma, about living the Middle Way, following the Eight-Fold Path and the Four Noble Truths, developing peace and compassion, and possibilities of Enlightenment and Rebirth. Perhaps my Pilgrimage will include Buddhism somehow, maybe in the form of a moving/walking meditation.
My birth religion is Judaism. While I wasn't completely raised in my religion, and while I don't practice it much now, except for holidays, this religion is a very important part of my heritage. The last time I was in Europe I learned more about my family history, visiting several Concentration Camps, and realizing more about the atrocities of the Holocaust which affected some of my relatives. Perhaps my Pilgrimage will somehow also include getting in touch with my birth religion and ancestral history even further.
Maybe my reason for doing the pilgrimage walk will just be spiritual, not related to any particular religion, but more about my own inner journey. About personal transformation, rest and renewal, new ideas, new thoughts, new perspectives on life.
Maybe my walk will be a combination of all of the above, a spiritual-Christian-Buddhist-Jewish-personal pilgrimage.
**********
But then there are other non-religious or non-spiritual reasons for going on such a journey. I love to travel. And what a great way to see some of Spain up close and personal, and slow, than by walking. To experience the scenery, the beauty of nature, the countryside of Spain, and the towns and villages, as I walk through. To taste the food as I stop in many restaurants along the way. And to meet people, both locals and others walking along the same path as I, with different (or similar) reasons.
Of course another reason for the El Camino de Santiago pilgrimage is the benefit of exercise when walking, somewhere between 10 to 15 miles a day. And fresh air for miles on end.
Or as my Mom said, another reason is…"because it's there."
But maybe there is a reason that I don't know just yet, at this moment. Perhaps there will be a reason that I will find out when I am walking.
**********
Maybe my reason for walking (for a few weeks) is the same as Forrest Gump's reason for running (for a few years)…
Forrest Gump: That day, for no particular reason, I decided to go for a little run. So I ran to the end of the road. And when I got there, I thought maybe I'd run to the end of town. And when I got there, I thought maybe I'd just run across Greenbow County. And I figured, since I run this far, maybe I'd just run across the great state of Alabama. And that's what I did. I ran clear across Alabama. For no particular reason I just kept on going. I ran clear to the ocean. And when I got there, I figured, since I'd gone this far, I might as well turn around, just keep on going. When I got to another ocean, I figured, since I'd gone this far, I might as well just turn back, keep right on going. When I got tired, I slept. When I got hungry, I ate. When I had to go, you know, I went.
Elderly Southern Woman on Park Bench: And so, you just ran?
Forrest Gump: Yeah.
Interviewers: Why are you running? Are you doing this for world peace? Are you doing this for the homeless? Are you running for women's rights? Or for the environment? Or for animals?
Forrest Gump: They just couldn't believe that somebody would just do all that running for no particular reason.
Interviewers: Why are you doing this?
Forrest Gump: I just felt like running.
And that's all I have to say about that.
Sweet Travels (for any reason)!
The introductory quote is from my previous blog on El Camino de Santiago.
Photo credits: By my friend Brianna Klokow who completed the 790 kilometer journey in 32 days of walking (and 2 days of rest) in 2011. Note that the Scallop Shell is a significant symbol of El Camino de Santiago, and she happened to see some Prayer Flags along the way.
For the entire INSPIRING and humorous Forrest Gump movie scene "Running on Empty," (including the motivating music and scenery in the background), please see this link. I guarantee, you will cry, because really…there are real true reasons Forrest decided to run.