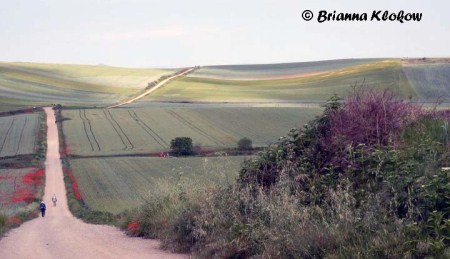 They say that there are about 1,800 buildings of historic interest, both religious and secular, along the Camino Francés pilgrimage route in northern Spain. They also say that there are about 166 towns and villages along the way. A 500-mile route from the border with France to a destination that hundreds of thousands of pilgrims have been walking to for over 1,000 years. To the Cathedral in Santiago de Compostela, where Christian pilgrims go to pay homage to the shrine of St. James the Great, one of Jesus' 12 apostles, whose earthly remains are believed to be buried there.
A pilgrimage is a special journey. A journey of moral, spiritual, or religious significance. A journey to some sacred location, like a shrine or temple, which perhaps was the birth- or death-place of a certain figure, a place of a spiritual awakening, where a miracle was witnessed, where a deity lives, or a place of special spiritual powers.
A pilgrim makes the journey for a variety of reasons. Perhaps to delve deeper into spiritual or religious matters, or to enrich one's own spirituality or religion; to have a closer relationship with the divine, with God, or with nature; to show one is devoting themselves to their religion; to seek forgiveness, and cure sins; for physical or spiritual healing; for guidance and to seek answers to questions; or for personal transformation, such as rest and renewal, to seek inspiration, for a new perspective, and personal discovery. Or perhaps to contemplate the meaning of life.
Most, if not all, religions on this planet have pilgrimage destinations all over the world. There are hundreds of them. At least 75 in the Hindu religion alone, for example. Mecca is the most important and largest Muslim pilgrimage for the Islam religion. Even some places like Jerusalem, also known as the Holy Land and the Kingdom of Israel, is a pilgrimage site for several religions including Judaism, Christianity, and Islam. Buddha's birth place in Lumbini, Nepal is significant for Buddhists. And I was recently at a pilgrimage site located in Bhutan for Buddhists, the statue of Buddha Dordenma.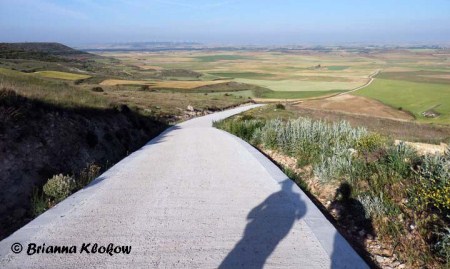 Some walk for months to get to Santiago de Compostela. Some literally walk right out of their front doors, down their street, around the corner, and through several countries just to get to Santiago. There are pilgrimage routes to Santiago de Compostela from many countries in Europe, such as Portugal, France, Italy, Poland, and Switzerland, to name a few, and even routes from northern Africa. And really, a route right out your own front door, from anywhere on this planet, can be the beginning of a pilgrimage.
I myself will depart on my own pilgrimage in a few weeks. I am planning on doing a 180-mile section of the Camino Francés, starting in Léon, walking to Santiago de Compostela, and continuing on another approximate 56 miles to Finisterre (translation: Land's End or The End of the World) and Muxia, either by foot or by bus depending on my timing, two towns on Spain's northwest Atlantic coast. I guess that means that I could see about 650 of the 1,800 historical buildings, and walk through about 60 towns and villages, along the Way of St. James.
Sweet (and spiritual) Travels!
Photo credits: By my friend Brianna Klokow who completed the 500-mile journey in 32 days of walking (and 2 days of rest) in 2011.
Information on pilgrimages in general, and El Camino de Santiago specifically from:
Unesco.org World Heritage Sites – Route of Santiago de Compostela
Pilgrimage – Wikipedia
Ehow.com – Why Do People Go on a Pilgrimage?
Wiki.answers.com – Why Do People Go on Pilgrimages?