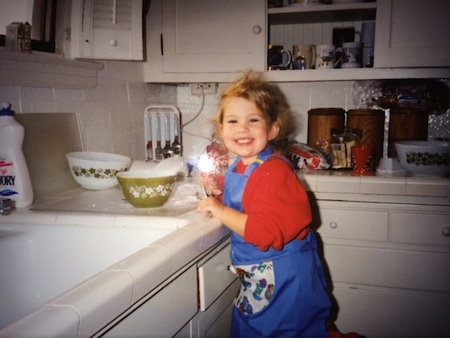 I was never really that into cooking when I was younger. I never felt like I particularly excelled at it and there was usually a crucial step I would miss because I got nervous, resulting in a disappointing outcome. (These include but are not limited to: forgetting to take plastic wrap off before putting something in the oven and using a tablespoon of salt instead of a teaspoon. Worst Cookies Ever). Learning patience in the kitchen has been a journey. It's mirrored my personal growth, becoming a woman, and becoming an adult.
Growing up, one thing that sticks out in my memory is how much fun we all had around the dinner table: always there was laughter, good conversation, and of course, good food. Our dinnertime was a distinct break from the day and responsibilities we had after dinner. I learned how food can bring people together and how slowing down to prepare meals was so important, whether it be for a normal Tuesday night or an occasion.
Even though I never gravitated to cooking I would occasionally help out in the kitchen. This was where I realized how uptight I got while following recipes or under the pressure to be creative with food. I had a weirdly clinical reaction to "a dash of this" or "stir regularly." I'd be like "well what if I dash too much—then it will be ruined!" or "What does regularly mean? If I do too little, will it stick, or I over stir will it not get thick enough?"
Like many children I had a flair for the melodramatic.
But over time I've observed the women in my life in their kitchens. They have a calmness and serenity even among the most chaotic of families or guests. This is not to say they don't get stressed, but they have a sense of authority at the helm of the intricate ballet that is planning and executing a meal. And my mom and I have mutually learned to be experimental and adventurous, consistently interested in discovering new flavors and celebrating different cuisines.
Food is such an integral part of culture and family and gathering for a meal ought to be a celebration. The creation of that meal and the final product is all about togetherness. People hanging out in the kitchen while cooking is going on is one of the most wonderful senses of community you'll ever have.
Tell me about the women in your family. What do you think is the most important life-lesson you've learned in the kitchen?
Add a comment