I ran across an article recently highlighting a new cookbook by Michael Ruhlman that is all about eggs. Considering Easter is right around the corner, I wanted to write my own appreciation post for this quite extraordinary food!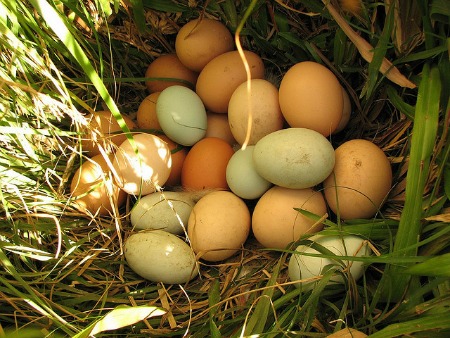 Remember that scene in Sabrina when Audrey Hepburn is back from cooking school in Paris (or was it finishing school?) and has learned how to elegantly crack an egg with one hand, not spilling a drop? "It's all in the wrist" she says to Humphrey Bogart, mimicking her teacher.
I've tried that many times and made many messes.
That scene to me illustrates both the simplicity and complexity of eggs. These lovely fragile little things can do so very much! They're essential in cakes and cookies, you need them to make meatballs and meatloaf, you can cook them on their own fried, scrambled, poached, hard-boiled, you can coat virtually anything you might want to fry in them…I mean these little dudes are seriously powerful.

Which came first? The Spatula or the Egg?
When did people first discover they could cook eggs for food? Well since forever according to
foodtimeline.org
. Early humans discovered that they could gather eggs  for consumption before they hatched. They also realized that doing this did not prevent the egg layer from producing more, therefore ensuring a steady food supply. Once fowl became domesticated this knowledge helped in establishing farming and agriculture as humans gradually became more domestic and less nomadic. Some of the first documented instances of eggs being used as an ingredient in baking come to us from Ancient Egypt, where baked goods were a luxury enjoyed by the nobility.
Since then, we have discovered a multitude of uses, including raw. That's right, eggs are not actually as dangerous as your mother said they were. Of course it matters where you get them, fresh is best and from a reputable source. But raw eggs are not quite as scary as they were once thought to be. So if you want to make a Rocky-esque protein drink…go for it. Just promise me you're blasting Eye of the Tiger while doing so.
Happy Easter!
Photo Credits
Egg Assortment: Rob and Stephanie Levy via Flickr
Eggs for Cooking: JFXie via Flickr
Fried Egg: Snow Pea & Bok Choi via Flickr
Eat Well, Travel Well ~ Samantha
Add a comment