It's that time of year! Ghouls and goblins are about and they need to eat. With a few tricks in the kitchen it's easy to craft fun and creepy Halloween treats! Here's some great ideas to get you started. What are some of your favorites?

Lady Fingers
For the classy cannibal, serve up some dainty lady fingers. These are a simple sugar cookie, and blanched almonds with red food coloring for the nails. You can find a recipe here. And I love this clever fry fake-out display!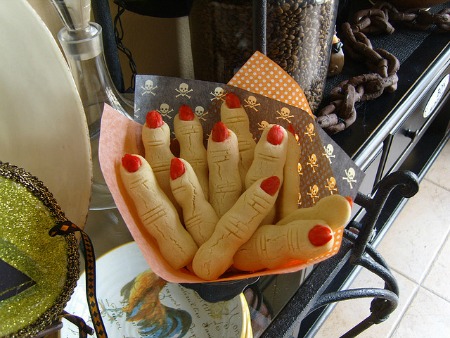 Mummy Hot Dogs
This easy treat is great for kids! And it's a classic. I remember many a Halloween party at school where these were an essential part of the menu. They're tasty and being able to serve with blood red ketchup makes this a win-win! Perfect for dinner before heading out trick-or-treating.
Day of the Dead Inspired Cookies
Use up that leftover food coloring and have fun decorating sugar cookies in the festive style of Day of the Dead skulls. Not exactly a scary item, but super fun and colorful!
Lychee Eyeball Martini, pictured above
For the adult Halloween party, serve up a creepy eyeball Martini. Several Halloween recipes with eyeballs use Lychee's, so it's also a nice trick to have up your sleeve! The Martini recipe can be found here and here's a great video tutorial for how to make the eyeballs.
Share some of your favorite spooktacular Halloween treats in the comment section!
Eat Well, Travel Well ~ Samantha
Photo Credits
Lychee Eyeball Martini: Shanna Schad via Flickr
Day of the Dead Cookies: nicole danielson via Flickr 
Finger Cookies: kinwart via Flickr
Add a comment