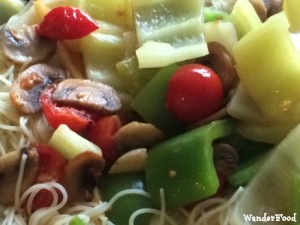 Last week, I posted a list of Farmers Market Tips, and here is one of my favorite Farmers Market Meals to make!
I love doing a really simple stir-fry, putting it over pasta or just having it on its own.  Best thing about this is the ingredients can change depending on what 's fresh!
It's one of the greatest ways to showcase the beautiful flavors of farm fresh ingredients, and doesn't take long to prepare.
1. Chop all vegetables to give yourself an idea of how much you have and what you're using. This is also the time to put a pot of water on to boil if you'd like to serve over pasta.
2. Melt about a tablespoon of butter in a frying pan on medium to low heat.
3. Once the butter is melted and coating the entire surface of the pan, add anything you want to brown, or anything that might take a little longer. For me this is usually mushrooms or halved brussel sprouts. Give them enough time to get fully browned, flipping once.
4. Add all other veggies except tomatoes. These will go in near the end. Give a big stir, add a small dash of salt, and let simmer.
5. Add chopped garlic and stir again.
6. If I'm planning to put my stir fry over pasta, this is usually the time when the water is boiling and I can put the pasta in.
7. If you are using tomatoes, add them now. The pan will be hot enough so they will cook but maintain flavor and some shape.
8. Drain pasta and put on a plate in layers, alternating with your delicious Farmers Market stir-fry, so that every bite is full of different flavors!
Do you have some favorite Farmers Market meals to make with your market finds?
Eat Well, Travel Well ~ Samantha
Add a comment