Thanksgiving is right around the corner and anything that helps make the day easier is alright in my book! It is one of my favorite holidays, but it can be stressful, so here are some super simple Thanksgiving side dishes guaranteed to please.

Brussels Sprouts and Garlic
Brussels Sprouts are one of my favorite things to make and they are so versatile. This is one of my favorite ways to make them, it really lets their flavor shine, and I love how their bright green color adds to the festive browns and golds of the season. Plus the addition of garlic makes this not only delicious but super healthy!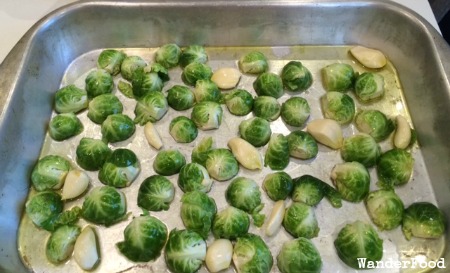 Pre-heat oven to 425 degrees F. Wash sprouts and peel away loose leaves. Halve and spread in one layer on a shallow baking pan. Intersperse with 8-10 cloves of garlic. Drizzle generously with olive oil (1/4 to 1/2 a cup) and kosher salt.
Roast in oven for 20 to 30 minutes.

Roasted Butternut Squash
For a sweeter yet delightfully nutty, earthy counterpoint to the strong savory taste of the Brussels, this butternut squash recipe is perfect.
What I like about this recipe, adapted from Inspired Taste is that you really can adapt it according to taste. And I love that it uses olive oil which I think helps it stay enough in the savory camp so as not to be like a dessert. Which is ironic because I first tired making this thinking it would be a good dessert. Spoiler alert: it's not.
For more manageable cutting and peeling I used the tips highlighted at the bottom of the Inspired Taste blog post.
Cut the squash into quarters. These sqush are very hard, so be sure you have a sharp, strong knife, and be very careful when cutting. I found a steady shimmying motion worked much better than trying to just cut straight down.
Remove guts and seeds with a spoon and peel. Surprisingly a standard vegetable peeler worked just fine.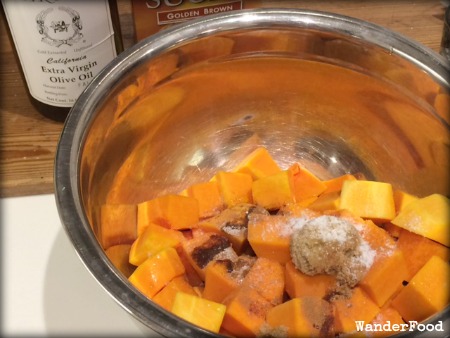 Cut into 1 inch cubes and add brown sugar, olive oil, cinnamon, salt and a pinch of cayenne pepper. It was the touch of cayenne that really drew my attention to this recipe. I love when a spice like that is added, it makes the taste much more interesting and cuts the sweetness. And it's a great conversation piece for those awkward Thanksgiving dinner conversation pauses…
Roast in a 425 degree F oven for 40-45 minutes. Serve and enjoy!
What are some of your favorite simple Thanksgiving side dishes?
Eat Well, Travel Well ~ Samantha
Add a comment