My husband wasn't too sure about my plan of inviting a mixed martial arts fighter to crash on our couch for a few days this week. Can't imagine why. I was super excited – I mean, how often do you get to meet an MMA fighter who is also a nanny (or "manny" as he calls it), and a burgeoning superfoods expert? See, that's the great thing about couchsurfing – you have a chance to meet really interesting people who can teach you something brand new. Like last night, when I learned how to make easy Thai Red Curry.

That's Couchsurfer Mike giving his curry the Thumbs-Up, just after adding in a handful of fresh chives.
Mike is just what the
Couchsurfing
site is all about. Cool people freely giving (a couch) and getting (red thai curry dinner extraordinaire), but Mike came with an unexpected bonus he doesn't even know about. Maybe it was the Goji berries we snacked on (aka. "the happy berry" – and No Mom, I'm not doing drugs), but I think it was more being required to focus on meeting someone new that lifted my spirits on a really rough day. So there you have it. For one couch, you too can have a great dinner with great company and feel the weight of the world very briefly lifted from your shoulders. Not a bad deal.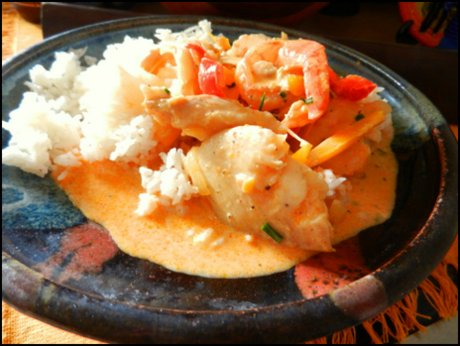 Here is the recipe I learned from Couchsurfer Mike for
Thai Red Curry:
1 Tb olive oil


2 heaping spoonfulls of Red Thai Curry paste


Chopped onions, and as many colors of bell peppers as you can find


1/2 lb shrimp


1/2 lb tilapia


Salt (or chicken bouillon packets) to taste


Chives or chopped green onion.


1 cup dry Basmati rice (and 2 cups water for cooking the rice on the stovetop)


Cook your rice first using package directions and set aside.


Heat the oil and add Red Thai Curry paste. Stir occasionally and cook until aromatic (ie. until it makes your entire kitchen smell amazing).


Add the onions and bell peppers and cook for a few minutes.


Add shrimp and tilapia, cooking until shrimp turn pink and tilapia turns opaque.


Salt to taste, and make sure it's spicy enough (may have to add cayenne if you like it as hot as I do).


Garnish with chives or green onion.


Serve over rice and enjoy with a nice cold beer.


Did you learn any new tricks in the kitchen this week?  Share them in the comments, and if you've got a food or travel post, join today's link party and share it!
Here's how to join the WanderFood Wednesday Food & Travel Link Party:
Post a food-related post on your blog.
Include a link to WanderFood Wednesday in your post, like "Part of the WanderFood Wednesday Recipe Swap."
Add your blog name and post title to the "Mr. Linky" form below, with a link directly to your post. That's it!
Add a comment