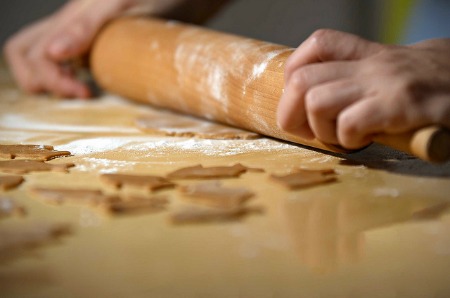 Christmas cookies around the world are loved by all every year. And as one of the most widely celebrated holidays, there's a lot to choose from! And I found it interesting how many countries have their own variations on the same basic cookie types.

One of my favorites for the holidays, a simple treat that's easy and fun to make. It's a great option if you want to throw your own spin on it, or pair with interesting jams, jellies or chutneys.

I'd say this is one of the most universal Christmas cookies out there! So many places had some version of this almond cookie with jam filling. Often heart or star shaped, it is definitely a classic for the holidays.

Intricately decorated with various scenes, these German cookies are typically hard in texture (though the link provides some tips on how not to make them too hard!) and perfect for serving with coffee or tea.

Okay, so not technically a cookie but I couldn't resist including these after reading the comments on the recipe in the link above. So much nostalgia just gleamed through and I've never heard of them before! I'm anxious to try these this season!

Where does gingerbread come from? The process of making gingerbread cookies has roots in Europe, and was popularized around the 1700's though ginger had been present in Europe centuries earlier. But nowhere could I find a definitive pinpoint for where gingerbread cookies were first made. Such a quintessential Christmas treat proves once and for all the universality these cookies around the world share.
What Christmas cookies do you make in your family?
Eat Well, Travel Well ~ Samantha
Photo Credits
Making Cookies: Valters Krontals via Flickr
Scottish Shortbread: storebukkebruse via Flickr
Austrian Linzer Cookie: Family O'Abe via Flickr
German Springerle: Tim Sackton via Flickr
Swedish Cardamom Rolls: Celeste Lindell via Flickr
Gingerbread Cookies: Kate Farquharson via Flickr
Add a comment