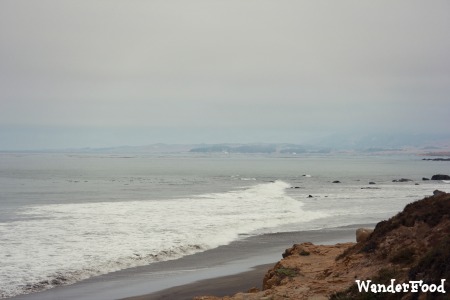 Part 2 of my journey through the Highway 1 Discovery Route began in the wonderful little town of Cambria. This ocean side town boasts a plethora of restaurants, gift shops and art galleries. I stayed at the fabulous Olallieberry Inn a charming B&B located right on Main St.
The house is old, celebrating its 140th year, and it creaks in all the right places, creating a truly unique vibe. Romantic, yet welcoming to solo and family travelers, it's a comfortable spot with a great outdoor area, delicious breakfast (banana pancakes with olallieberry jam…need I say more?), and outstanding hospitality.
A short walk from the inn brings you to the lovely Main St drag. I noticed as I drove out of town that there seem to be two main drags for shopping and restaurants. As my time was limited I only got to explore the first one. Cambria is definitely a big enough small town to warrant staying a few days!
I had dinner at Robin's Restaurant, located just off Main St. Larger than it looks, with a beautiful garden area out back, which features live music on Sunday's,  this fabulous restaurant offers an eclectic mix of choices, such as curries, and Spanish cuisine. World cuisine influences are sprinkled throughout the menu from appetizer to dessert, along with an equally eclectic wine list. Every Sunday, they feature a different local winery, which I thought was a wonderful touch.
I started with fried artichokes, paired with an unapologetically bold and spicy sauce, and this trend would continue throughout the meal, with the pork chop I had as my main course. Bold flavors sprang forward, making each bite exciting and delicious. The Ancho chile sauce tasted so unique: at once exhibiting new world BBQ characteristics and old world spice and smoothness. Like a nineteenth century American cowboy collided with the conquistadors of old Spain. Paired with a beautifully interesting chorizo cornbread stuffing which, aside from being amazing and way lighter than it sounds, also brilliantly blurred cuisine lines.
Finishing up, I couldn't resist the sound of Goat Cheesecake. And I was most definitely not disappointed. This milky, creamy, flavorful cheesecake melts in your mouth as subtle flavors and aromas dance around your nose and mouth. It was the perfect way to finish a perfect meal.
The following day I spent the morning strolling along the enchanting Moonstone Beach Boardwalk. This long stretch features beautiful views, plenty of places to walk down to the beach itself, and more ground squirrels than you can shake a stick at. It's a wonderful place to view the changing colors along the coast as the morning fog lifts.
Not far from the town of Cambria is the wonderful Stolo Family Winery. Featuring a focused list of supreme, small lot wines, the winery boasts a beautiful tasting room, bright and airy, with high ceilings, local art for sale (including ceramic tiles by Laurel Sherrie!), and old photographs adorning the walls, bringing the history of the land right into present day.
As general manager Maria Stolo Bennetti described to me, the land was first owned by Italian dairy farmers and planted with a few vineyards which they tended in secret, making Grappa during prohibition. Today, those old vineyards are still very much in use, contributing to the production of the winery's flagship varietals of Chardonnay, Pinot Noir and Syrah.
I rounded out my day with a stop at Hearst Ranch Winery Tasting Room, located in the historic Sebastian's General Store in San Simeon. This fun tasting room offers a wide range of wines to try, and it's hard not to be awed at the Hearst story. Definitely worth a stop, and the deli reportedly serves amazing sandwiches, although it is closed on Monday's so beware of that!
A short ways up the road is one of the best viewing areas along the coast for elephant seals. These remarkable animals are part of the Stewardship Travel portion of Wine Coast Country's 10 Destinations. Visitors can contribute to the preservation of this beautiful natural habitat if they wish, and this option is available every day of the year.
This ended my wonderful journey through the Highway 1 Discovery Route. What a beautiful area to visit, offering such a diverse group of activities and sights. Highly recommended; I was even there in peak tourist season and did not find that to be a deterring factor, which is saying something.
Do you have a favorite stop along the Discovery Route? I'd love to hear about it! Be sure to share your stories in the comments below.
Eat Well, Travel Well ~ Samantha 
*While this itinerary, accommodations and meals were arranged and provided for me by WineCoastCountry.com and Mental Marketing for review purposes, all views and opinions expressed are my own.
Add a comment