When I was little, I wanted everything about my life to be the same as I saw in Christmas movies. Christmas was certainly portrayed as a day when the world transformed from the chaotic place it actually was to a snow – covered landscape, magically silent and peaceful.
Unfortunately for me, I spent my childhood in sunny California, and my later childhood in rainy Washington. Though my Christmas memories are relatively peaceful (except for the time my dog stole my sister's entire brick of fudge and spent the entire day throwing up) – we didn't have many white Christmas's. The Northwest just didn't seem like a very Christmas-y place when I was a kid. It always seemed like we did things just a little bit differently here, and I wanted to fit in with all those folks in Vermont who had snow and cabins and maple syrup.
Of course, I look back at those childish memories now and wonder what I was thinking. Of course there is not a typical Christmas, every family rejoices in it's own unique traditions. Though I still think there is something slightly magical about Christmas time, I realize the snow-cabin-maple syrup combo is not where the magic comes from.
That being said, I wanted to take the time to document what's different about a Christmas spent in the great northwest – if someone where to visit Seattle during this time of year what would make their Christmas season uniquely Northwest-y? These Northwest Christmas traditions are just what I've gathered, I'm sure there are many more out there! 
Aside from the specifics I'm about to launch into, a Christmas is the Northwest just feels different than Christmas's I've spent elsewhere. Our tables are generally stocked with lighter fare, it's not too cold to enjoy long periods of time outside (snowshoeing or skiing if you live in the mountains, or just longs walks if you don't), and everywhere you turn are evergreen trees, just waiting to be decorated.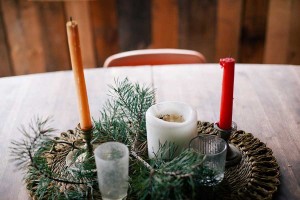 Perhaps the most exciting part of this post is the food part. This is a food blog, after all. Us Northwest folks love to celebrate the Christmas season with fresh, Dungeness crab, simply prepared with garlic and butter. Dungeness is delightfully in-season during the holidays, and families from San Francisco to Seattle love to stock their holiday tables with it.
The demand for crab on Northwest Christmas tables is enough to make the headlines this year because of the shortage of the fresh seafood in Northwest waters. Warmer than usual water temperatures have allowed toxic algae to stick around longer that normal, contaminating crab normally wild caught for Christmas tables. The crab is most affected in California and Oregon waters – some Washington fishing folk are still able to safely catch crab.
If you're looking for a little northwest holiday fare for your table, the best way to prepare crab is simple. Boil live crabs in salted water with lemon and vinegar, then roast them with butter oil and garlic. Serve with fresh sourdough bread, a simple side salad and pingo grigio. For a more in-depth recipe, see Crab For Christmas, from SFGate. 
The other holiday food tradition that seems fairly unique to this part of the country is the growing popularity of going out for Chinese food rather than cooking Christmas dinner at home. Of course, eating Chinese food over Christmas is an American tradition, but Seattle's awesome Chinese food scene makes our celebration extra-special.
Seattle's International District is home to a plethora of restaurants, many of which will stay open over the holidays. Many folks choose to dine out over the holidays so more time can be spent enjoying the company of friends and family. For others, it's a great way to be around people if you're family isn't in town, or you're looking for a lively atmosphere in which to celebrate.
Many restaurants in the International District will serve special menu items for the holidays – things like turkey potstickers.
For an in-depth look at where to find great dining on Christmas, check out Best Asian Restaurants: Northwest By Far East from Seattle Met. This article breaks down Asian cuisine into multiple different cuisines, from all over Asia, but I'm not complaining. 
The final holiday tradition that is distinctly Northwest inspired is watching the Christmas ships float by. In true Northwest style, the water is where many of our traditions stem from. The ships (bedecked with Christmas lights) travel to multiple water destinations throughout the season, bringing carolers and Santa along with them. Coastal communities gather to greet the ships, usually around a large bon fire.
Though food is not the staple tradition of the Christmas ship event, many Seattle natives plan specific celebrations for the arrival of the ships. Cooking outside is a common practice while awaiting the ships – meals of smoked meats, bbbq'd salmon and simple picnic fare are highly anticipated.
For those celebrators who want an even more Northwest experience, you can get on one of the Christmas ships and sail around the area. For more information about the ship schedule, see Argosy Cruises. 
Never miss a chance to eat, drink and travel with Wanderfood. Follow me on  Facebook, Pinterest  and Twitter, and subscribe to my RSS.