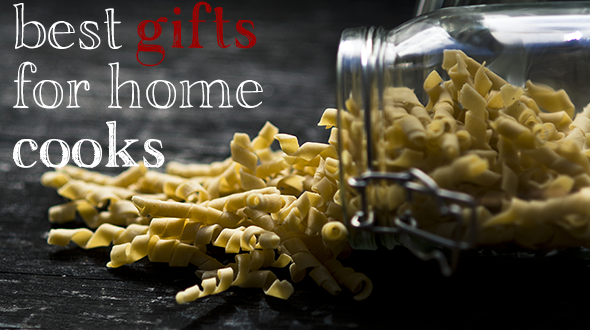 If you are anything like me, the holidays are approaching, fast. Though most of my gifts are settled, wrapped and sitting nicely under the tree (ha!) there are few home cooks on my list that aren't quite covered yet.
Never fear food – loving friends! This post is dedicated to the procrastinators out there, those of you who haven't even started shopping. It also serves nicely as a running list of items that can be purchased for me, if anyone out there has me on their list. Hint, hint.
These kitchen – inspired gifts range from the obsessive home cook to the person who watches the kitchen from afar, dreaming about all the meals they'll make, someday. I think you can find something on this list for everyone – I mean, eating is essential to the human condition, so how could you go wrong?
These are the best gifts for home cooks, but they might just be the best gifts, ever. 
Mini Round Cocotte – Le Creuset 
Le Creuset anything is really a fantastic gift choice. Mini Cocotte's are a perfect gift – they can serve as a lovely introduction to the world of Le Creuset (or the world of cooking en cocotte) or round out an already impressive collection of Le Creuset. They are an item a home cook is unlikely to purchase for themselves, but once they have them, they'll use them all the time. Part of the fun is thinking of new ways to use your cocotte's – this gift is especially good for cooks who are always making meals for one or two, or who love to experiment.
Fresh Cheese Making Kit – Cultures For Health
There is nothing like fresh cheese, especially cheese you've made yourself! Cultures for Health sells all sorts of fermenting kits, but cheese-making always sounds the most exciting to me. It's also much easier than it seems, especially with the thorough instructions the site provides. A great gift for those that covet the natural and homemade.
One knows they are moving up in the home cooking world when they acquire a scale – and this one is one of the best. Easy to ready, a huge variety of colors, and the capacity to weight up to 15 pounds of goodness makes the Arti Scale by Escali a perfect choice for home cooks everywhere.
Coffee Subscription – Blue Bottle
Giving a gift that lasts beyond the Christmas season is always exciting – for both the gifter and the giftee. A subscription to a high-quality coffee delivery service like Blue Bottle is a lovely surprise for a food loving friend, especially when paired with a festive french press.
Mortar and Pestle – Milton Brook
 A mortar and pestle is admittedly a bit of luxury item when it comes to a home kitchen, but what is gifting for if not luxury? In some circles, you aren't considered a real cook unless you're using a mortar and pestle to grind the true flavor out of everything. So there's that. This one by Milton Brook is also gorgeous. I got it as a gift last Christmas, and it hold a coveted spot on my counter top.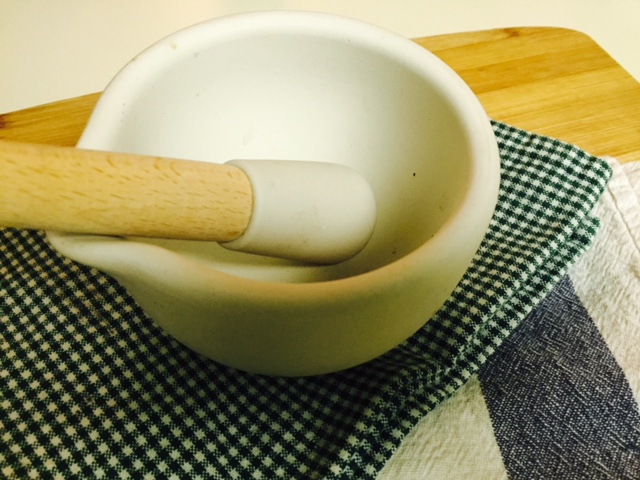 Sous Vide Cooking Tool – Joule
If you're buying for a home cook who seems to have it all, Joule may be your answer. This brand-spanking new cooking innovation isn't technically available yet – you'll be purchasing an item that will start shipping in May. Joule utilizes the art of sous vide cooking (a method that uses low temperature water and long cooking times to cook food to perfection) combined with high – tech software. One can monitor and control Joule from a phone app – essentially creating gourmet meals at the touch of a button. Sign me up!
Fancy Oils and Vinegars – Wei Kitchen
Wei Kitchen is a small, Seattle – based company that seeks to bring the art of Asian cooking to everyone's home. Wei sells unique oils and vinegars that can be used for a huge variety of home –  cooked goodness – from fancy dishes to bread dipping.
A CSA Subscription 
Another gift that keeps on giving, especially for the adventurous home cook. It might be hard to find a CSA subscription that starts in the winter, depending on where you live, but even a summer CSA to look forward to is a welcome gift for a foodie.
Ready-To-Grow-Herb-Kit – Wind and Weather
Ah, fresh herbs! We all know they taste better, look better and make us all around more impressive home cooks. The trouble is having them on hand when we make a spur of the moment meal. Fret over the herbs no more, and give the gift of a ready to grow herb kit. What could be lovelier than a pot overflowing with edible shrubbery?
I love cook books. I'm the kind of person who reads a cookbook like a novel though, so keep that in mind while I wax poetic. If you have a home cook on your list anything like me, you really can't go wrong with a cook book. If the person is new to the home cooking scene, consider a classic, like  Saveur – The New Classics Cookbook. If you are shopping for someone more seasoned, a specific cook book might hit the spot – my personal favs are The Smitten Kitchen, Bowl + Spoon, and Super Natural Everyday. 
Did I miss something? Feel free to let us know in the comments section!
Never miss a chance to eat, drink and travel with Wanderfood. Follow me on  Facebook, Pinterest  and Twitter, and subscribe to my RSS.