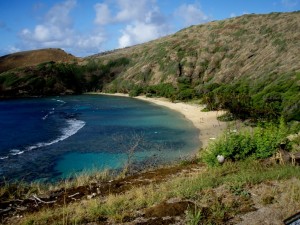 The word of the day was WOW!
WOW! – the view looking into the remains of an extinct volcano from the rim above.
WOW! – the water so clear and blue it felt as though you were swimming in a pristine aquarium.
WOW! – the number and colors of friendly fish (and turtles!) swimming around us.
Hanauma Bay Nature Preserve is one of the most popular snorkeling destinations in all of the Hawaiian Islands and it's easy to see why. The Preserve is home to over 50 different species of rainbow colored fish with some total fish counts numbering over 400,000 at one time! Visibility is 80 to 100 feet. The floor of the bay is actually the crater of an ancient volcano that flooded when the exterior wall collapsed and the ocean rushed in.
While swimming through the 74 degree (chilly for us!) waters, we were surrounded by so much beauty it was quickly worth the shivers. We were fortunate enough to see a graceful Green Sea Turtle (honu in Hawaiian) swim off for deeper feeding grounds. The state fish of Hawaii, Humuhumu-nukunuku-apaua (a species of triggerfish with a huge name) were out in abundance. We even startled a large moray eel as it was moving from one coral crevice to another (or maybe better said – it startled us!)
We took the advice of the locals and got there early. Though bleary eyed at 7:30 am, we were able to get a good parking spot and have the beach fairly to ourselves. By noon on a Sunday, it's almost too crowded to move. A great time to pack up the gear and head to Teddy's Bigger Burgers for a well-deserved lunch – and the BEST burger we'd ever eaten!
Hanauma Bay is open daily in the summer (except Tuesdays) 6 am til 7 pm. As a special treat, on the second Saturday of the month the Preserve is open until 10 pm for NIGHT TIME snorkeling. We'll have to give that a try and post pictures next month!