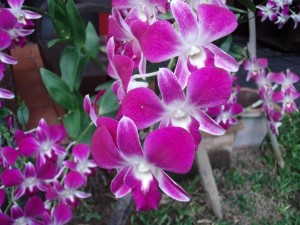 To celebrate the incredible efforts of Passports With Purpose to raise a school in Cambodia, this week's Wander Food Wednesday is dedicated to Sweet Asian Orchids. These delicate candied flowers are easy to make and almost always bring oh's and ah's when served!
The recipe is modified from Epicurious.
Ingredients:
edible flowers (organic, pesticide-free)
superfine sugar
1 egg white, at room temperature
1/4 cup water
To Prepare:
Brush petals with an egg white that is slightly beaten with a couple of drops of water.
Hold the petal with a tweezer, and sprinkle with superfine sugar. Tap the tweezer to remove excess sugar.
Remove to a rack to dry completely. Store in an airtight container.
Sugared flowers can be made in advance and stored with minimal wilting for up to one week.
This is the last week to support Passports With Purpose, so be sure to donate and GOOD LUCK winning those awesome prizes!
ENJOY!