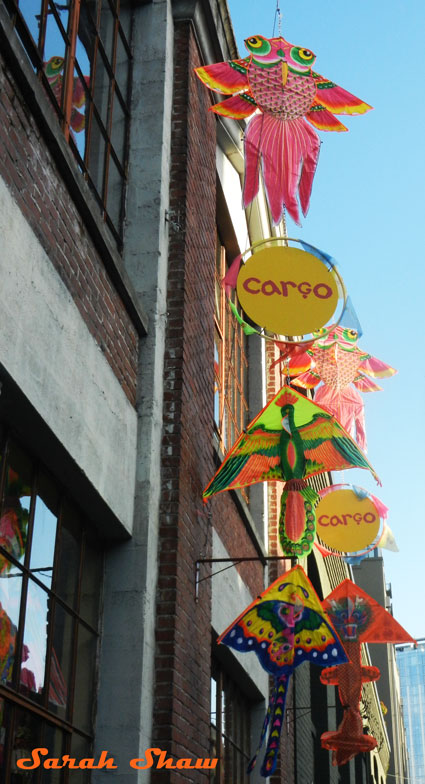 Last September, I made my way to Oregon for the first time. There to go white water rafting on the Rogue River, I added on days in Portland at both ends of the trip so I had some time to explore the city. Somewhere I had heard that Cargo was a cool store that I should find some time to check out. That turned out to be a gigantic understatement. Cargo is an incredible wonderland of import shopping that was love at first sight. Before I had even set one foot through the open doorway, I knew I had found my people in Portland. I remember being giddy and overwhelmed. Not knowing where to look first. I also knew that I didn't have the time to do this store justice as I had to be somewhere for dinner in an hour. So I immediately made the resolution that I would see what I could and get the lay of the land. And assuming I survived the rafting trip, I would come back with an afternoon at my disposal and linger over everything.
A few days (and several encounters with bears) later I found myself back in front of Cargo more hungry than ever for a shopping adventure. If you like to travel, you will enjoy shopping at Cargo as they have taken all the work out of it for you. Treasures from all over the world have been reassembled between the walls of this old tire factory in the Pearl District. And I think it is safe to say that if you can't find it here, you probably don't need it. Please keep in mind that my photos were taken during my visit in September so there is no guarantee that the items pictured are still available although I am sure that the wonderful staff at Cargo will do their best to find something similar to delight you. Please join me for a photo spin around their store as its a feast for the eyes. Then run, don't walk, to Portland and go shopping at Cargo yourself!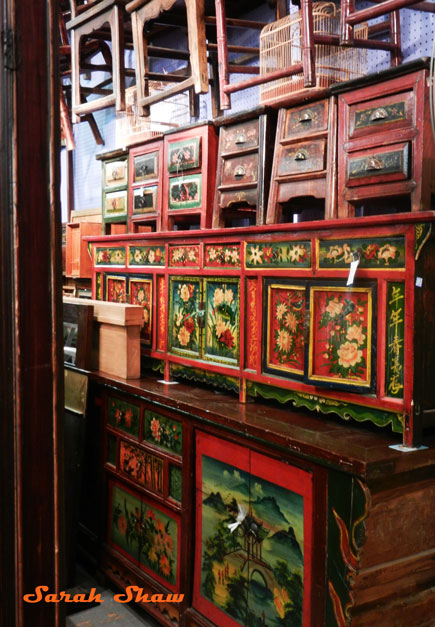 One of the things that instantly grabbed my attention was the stacks and stacks of vintage and antique furniture. I was amazed by number of options Cargo had available. I found dozens of Chinese trunks painted with colorful floral patterns perched atop one another creating aisles in one section of the shop. Nearby were altars and tables painted with similar floral designs or with landscapes with majestic mountains emerging from the mist. They had stacks of chairs in many colors and styles. Everything had a beautiful patina to it so you knew that it had once been loved and was just looking for a spot in your home now too. I would love to have a new home and be able to come to Cargo and select furniture to feature in its special spaces. If only I lived in Portland so I could easily add these wonderful finds. Cargo will ship so when you find something you absolutely must have, there is a way for you to have it!
Another thing that really impressed me was the large selection of architectural salvage items in another section of Cargo. It was all I could do to contain a squeal as I made one discovery after another. I found stacks of carved doors and screens. Decorative fretwork and other ornamental pieces to fit into archways, doorways, windows or maybe into an arbor or patio area in your garden. I found colorful columns with a variety of shapes and details carved along their length. The remains of fences, partitions and privacy screens were stacked one after another. Many of the items had been painted with a variety of bright colors so popular in Asia's hot climate. In many places, the paint had been worn down by time and the elements and the grain of the wood underneath peaked through. Others still wore no paint at all, showing off the natural grain the artisans surely lovingly stroked as they carved and cut each piece. To me these finds from another time and place are so inspirational and I would love to make them a part of my home.
Each time I turned a corner in Cargo, I made a new discovery of something I couldn't imagine not having in my life now that I had found it. That was definitely the case with these Indian plaster figurines. They stopped me in my tracks and I was immediately struck with the pain that comes from knowing that I couldn't have them all. I had to go through the collection carefully and select my three favorites that I knew I could successfully bring home in my suitcase. Many of these vintage figures are of Hindu Gods like Krishna. I think they are all really special as I've never seen others like them anywhere in the U.S. before. I hope next time I get to Portland that Cargo will have more as I would like to grow my own collection.
I was really excited by the extensive collection of jewelry that Cargo offered. They had so many beautiful pieces from all over the world. Many artisanal traditions were represented including a lot of tribal pieces. I especially love the big presence of gemstones and silver found in the earrings, pendants and rings from Pakistan and Afghanistan. I also discovered some beautiful pieces from India that were really special. In the end, I selected a blue enameled Hand of Fatima pair of silver earrings to come home with me from this journey.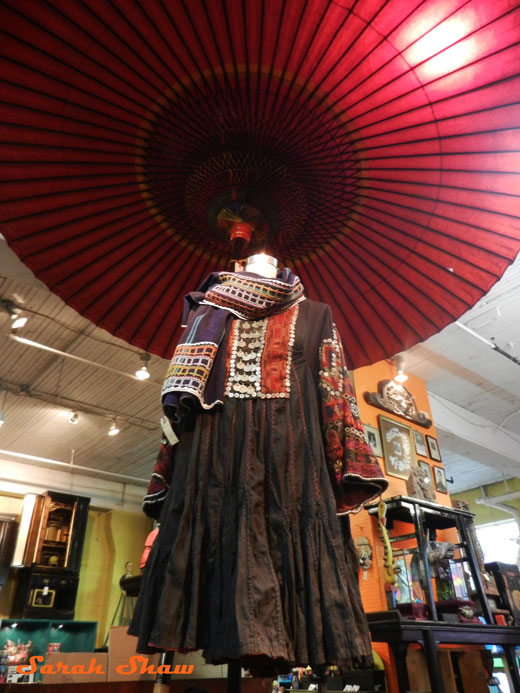 Vintage textiles were in abundance at Cargo. I found racks and racks of silk kimonos from Japan. The beautiful muted colors and sophisticated patterns called you to touch them and make them your own. I also discovered a collection of tribal clothing like the dress pictured here. The colorful embroidery and glimmer of silver accents contrast against the black fabric and the giant burgundy umbrella. I was delighted to find stacks and stacks of ikats from Uzbekistan which has launched itself to the top of my wished for destinations list. I selected one ikat in indigo blues and another piece with yellow, maroon, white and blue to come home with me. I always found more pieces I wanted than I had room to carry home. That's the best kind of problem to have.
One of my biggest weaknesses is books. I always get in big trouble with books because I find them so easy to buy. Novels, design inspirations, travel guides, cookbooks and photography collections all want to come home with me. They really can create problems when I travel as they start to contribute significantly to the weight of baggage. Cargo has such a wonderful collection of books though that it's hard to resist. On this trip I made a compromise. I purchased a few books that I wanted right away and I took pictures with my cell phone of a couple other covers I desired so I could try to track them down back at home. Silbella Court's "Nomad: A Global Approach to Interior Style" was one I couldn't live another minute without. As soon as I got back to my hotel, I poured through it page by page. At Cargo, I also discovered Dan Eldon and started to learn of his story. I was captivated by his scrapbook journals and found I couldn't leave without "The Journey is the Destination: The Journals of Dan Eldon." In addition to books, Cargo has a wall of greeting cards to express any sentiment you desire. You can also find a variety of wrapping paper, blank journals, calendars and even some fun paper masks so you are prepared for the next carnival.
I have only begun to scratch the surface of all the fantastic items you can discover on a shopping excursion to Cargo. I will share more of my photos at WanderShopper's Facebook Fanpage in the Oregon album. Be sure to check them out and let me know what images are your favorites. You may remember that I featured Cargo as one of my Twelve Best Shopping Experiences of 2012. If you missed it, check it out!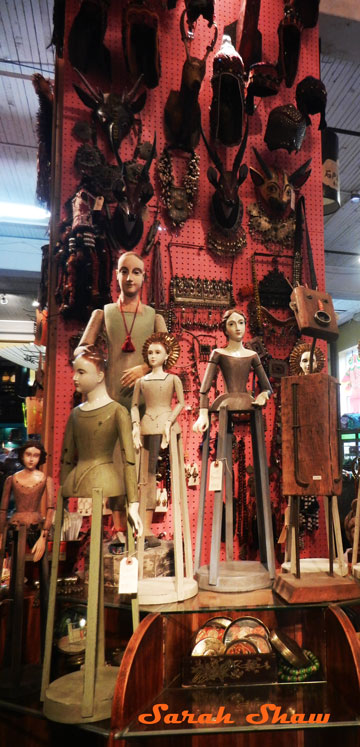 Don't despair if a trip to Oregon is not in your immediate future. Great news, Cargo has some select items for sale on their website. If you are headed to Portland, go straight away to Cargo and be sure to let them know you are a WanderShopper. You can find Cargo at 380 Northwest 13th Avenue in the Pearl District. Give them a call at 503-209-8349. I guarantee you'll love shopping at Cargo. Your only problem will be trying to decide what makes the final cut and heads back home with you. Enjoy!